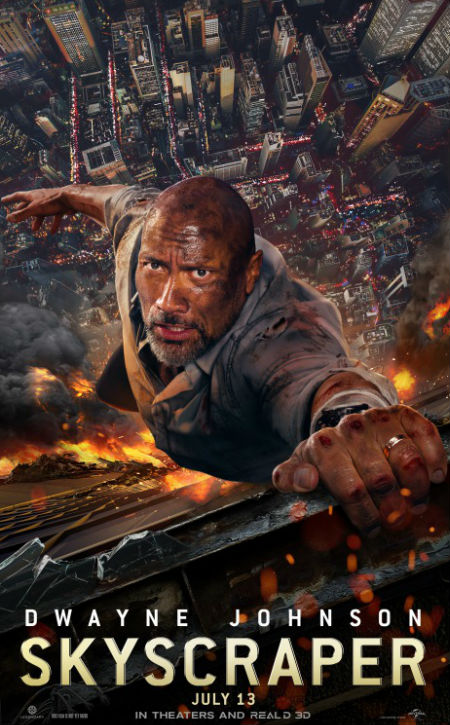 SNAPSHOT
Global icon Dwayne Johnson leads the cast of Legendary's Skyscraper as former FBI Hostage Rescue Team leader and U.S. war veteran Will Sawyer, who now assesses security for skyscrapers. On assignment in China he finds the tallest, safest building in the world suddenly ablaze, and he's been framed for it. A wanted man on the run, Will must find those responsible, clear his name and somehow rescue his family who is trapped inside the building…above the fire line. (synopsis via Coming Soon)
It goes without saying the Dwayne "The Rock" Johnson is the Bruce Willis of our time. (Well, to be fair, not being dead, Bruce Willis is still the Bruce Willis of our time; that being said, he's not as able to leap around buildings as he used to be which is why the world needs The Rock to step into Willis's bloody, ripped-to-shreds, glass-impregnated bandage shoes.)
But while he is the star of some mighty successful movies of late such as Rampage and Jumanji: Welcome to the Jungle, there is one thing he has yet to add to his glittering list of achievements as Nerdist sagely notes:
"But while The Rock might be a modern day John McClane with better leaping abilities, there's one thing he doesn't have that John McClane did. No, we're not talking about a machine gun, we're talking about a cheesy, narrated trailer full of terrible puns. Until now that is, because we gave Skyscraper the retro teaser it deserves."
Thank got they did because this is as puntastic as they come, a brilliant companion to what appears to be a gloriously, cheesily over-the-top disaster movie.
Skyscraper opened 12 July in Australia and today in USA.
Even better, it comes with Dwayne Johnson's own heartfelt approval, a clear sign he knows a good thing when he sees it …