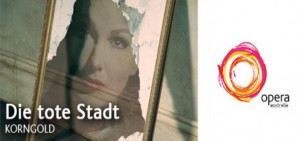 Die Tote Stadt, by feted composer Erich Wolfgang Korngold, which fell into obscurity for much of the 20th century after it was banned during the Nazi regime to Korngold's Jewish ancestry, is one of those operas that is immediately accessible and attractive to anyone without a natural predilection for this art form.
Anyone like me that is. I will confess I am not a natural patron of operas. While I appreciate the lyricism inherent in the songs, and the grand orchestral movements are epically inspiring, and often profoundly moving, I will not naturally seek out operas, preferring cinema or pop music.
But Die Tote Stadt, which thanks to the success of three earlier works by the composer was the subject of a bidding war before it debuted simultaneously in two cities, Hamburg and Cologne on December 4, 1920, is the sort of opera that draws in both the ardent opera buff, and those who are largely opera agnostic like myself.
That was clearly the case on the night I went to see the opera. The audience looked to be a mix of opera diehards, thrilled to have the chance to see this long-neglected opera's premiere in Australia, and people like myself attracted by the fact that acclaimed film director Bruce Beresford was directing another opera after last year's collaboration with Opera Australia, Of Mice and Men.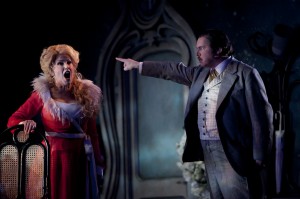 So why is this opera such a drawcard to such a mixed group of people?
I think it is partly due to its emotionally involving storyline which focuses on the almost harrowing journey of one man into the long dark night of the soul following the premature of his young beautiful wife. Adored to an all-consuming degree by her grieving husband, Paul (played in this Australian debut performance of the work by Stefan Vinke), she has enshrined in their home in Bruges, her memory kept alive by a large ghostly painting on the wall, and a glass box that houses the long golden braid cut from her hair.
Paul, aided by his faithful housekeeper, Brigitta, is a man trapped in the past, unable to move beyond the death of his wife by a grief so compelling and overpowering it consumes every waking moment. Any attempt he reluctantly makes to move beyond this dark chapter in his life usually comes to nothing, founding on the rocks of an all-encompassing guilt that he is betraying the memory of his one true love.
So when he spies Mariette, whose name is eerily close to his dead's wife's name Maree, and who bears an uncanny likeness to her – something that stops her in her tracks when she sees Paul's wife's portrait gazing down upon her – he is consumed by desire.
But crippled by guilt, he is unable to act on his desires to get to know Mariette better, casting her out of his home almost as quickly as he invited her in. His enfeeblement by grief causes him to act out in his mind what he might have done had he pursued Mariette as he desired, and this projection of what might have been which takes places when he falls asleep after Mariette is gone (though it is never explicitly stated he was dreaming) occupies much of the opera's narrative.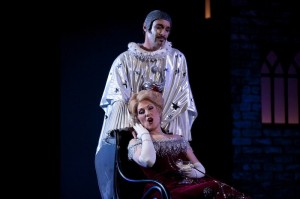 And what he imagines himself doing is black, dark and quite horrific as he first murders his close friend, Frank (Michael Honeyman) in a fit of jealous rage believing him to be infatuated with the woman he loves and hates in equal measure, before turning the full blast of his grief-fuelled anger on the object of his desire, Mariette and killing her in his own home, in the "temple" to his wife no less.
He is clearly a troubled man, something he realises once he awakes. While he does not immediately agree to leave the "City of Death" to forge a new life as his friend Frank suggests, you can tell he is so shaken by the violence his sustained grief has given birth to, even though it was not actually acted upon, that he is considering abandoning Bruges and the painful memories it holds.
While this might seem like overly dark material to be exposed to for almost 3 hours, the dense narrative, which Beresford described as a study in "obsession, fantasy and delusion", is leavened by some light hearted moments, usually supplied by the theatrical troupe that Mariette is a part of.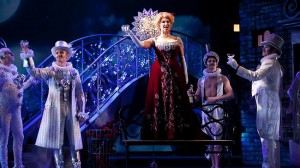 It is also offset by music that is so beautiful and lushly cinematic that it reminds me of those wonderful scores that accompanied movies in the 1930s and 1940s. There is such a richness of melody to the opera's score that you are inclined sometimes to forget momentarily about the tortured emotional outpourings of the characters.
But the music is not so much a counterpoint to the lyrics as an enhancement to them. It underlines perfectly the sadness, and hope, the excitement of the new, and the suffocating ability to abandon the old that permeates this tale. It draws out again and again how each character in their own way is struggling to make sense of life – allowing each of them, even humble, devoted Birgitta the chance to lay their feelings bare.
For a narrative that is a dark journey into one man's tortured soul, the music is surprisingly beautiful, and that was my greatest surprise.
What marked this production out too was the lush staging. The set design captured the darkness and sadness, the ghostly pallor of half-life that stalked many of the characters. The blues and browns of the backdrops were almost constantly dappled in fog and shadows, ripples of blurred blue and grey washing across them in unceasing waves. It effectively evoked a city of death, and the deathly existence of its inhabitants and was another tortured character in an opera overflowing with them.
According to my friends who came with me, and have been to the city in question, the "brick" buildings of the second act were accurate evocations of the city of Bruges and brought to life even more for them the sense that we had been transported to this astonishingly beautiful city in Belgium.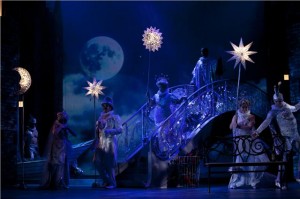 At every stage of the production, you had a feeling you were in a real living breathing city, capable of great beauty, such as when Mariette's troupe arrive for their party carrying brightly light celestial symbols, and great unutterable sadness, and it was all thanks to an elegant, beautifully realised set that felt like a real place.
Real sense of place. Real people who were living our real problems (in an operatically heightened way of course). Music to move the soul.
Die Tote Stadt was a glorious excursion into the drama, the beauty and utter sensuousness of a perfectly realised opera.
My great hope is that it doesn't take another 92 years before it is performed in Australia again.