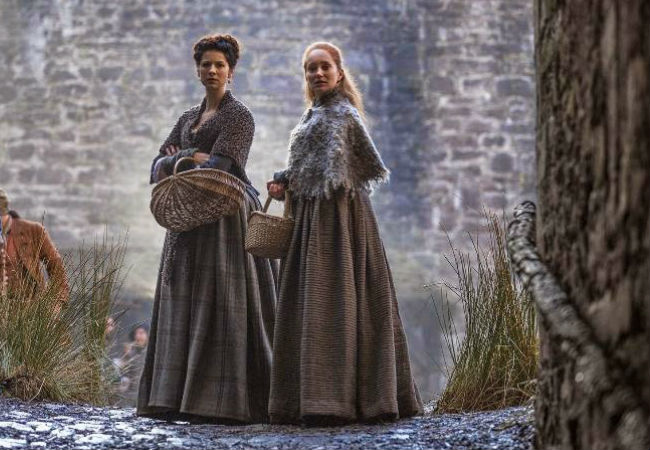 *SPOILERS AHEAD AND ALL MANNER OF FAERIE FOLK*
Sir Bedevere: There are ways of telling whether she is a witch.
Peasant 1: Are there? Oh well, tell us.
Sir Bedevere: Tell me. What do you do with witches?
Peasant 1: Burn them.
Sir Bedevere: And what do you burn, apart from witches?
Peasant 1: More witches.
(Monty Python and the Holy Grail)
In the wonderfully wacky world of Monty Python's The Holy Grail, much skilful and hilarious satirising arose from merrily mocking the way otherwise intelligent, caring folks could be whipped into a frenzy of witch-burning ardour by the simple declaration that someone was a witch.
No proof was required really – all you needed was an enthusiastic accusation, behaviour a little or a lot out of the ordinary – if you think the Twitter hordes can be judgemental, they have nothing on a bunch of parochial medieval villagers in action, pitchforks and burning torches at the ready – an efficiently conducted trial, and clearly, lots and lots of wood.
It was an efficient way of getting rid of your enemies without the annoying bother of actual corroborated evidence and it was used by the lovesick Laoghaire MacKenzie (Nell Hudson), still rather psychotically pining for "her man" aka Jamie Fraser (Sam Heughan), to get Claire (Caitriona Balfe) and her BFF Geillis Duncan (Lotte Verbeek) – to be fair it's doubtful the good burghers of 18th century used that term but let's pretend for the purposes of this review that they did shall we? – into a whole heap of trouble by accusing them of … WITCHCRAFT!
Yes WITCHCRAFT!, and while the arresting warden didn't exactly shout like a baying mob – though clearly the only way to say the word is at the top of your lungs, even in "print" – it was the sort of charge that stands a good chance of sticking thanks to Claire's 20th century-gifted advanced medical skills which like all good technology no one understands looks like magic, and Geillis's predilection for orgasmically-communing with Mother Nature in dark Scottish forests in the middle of the night naked.
While only Claire saw that particular performance, Geillis's role as a dispenser of medicinal remedies has aroused all kind of suspicions, which are only fuelled when both her husband, Arthur Duncan (John Sessions) and the wife of her lover – WAIT FOR IT! – Dougal MacKenzie (Graham McTavish) – GASP! – die within days of each other, just like she'd asked Mother Nature, with fire, nudity and chanting, to arrange.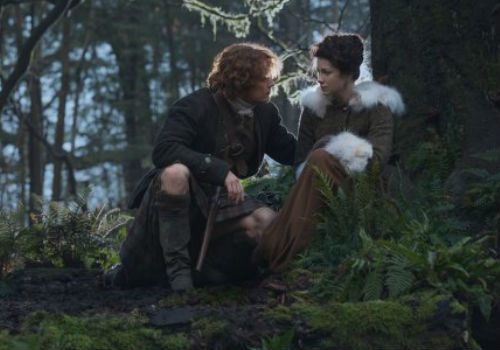 As you might imagine it was all suitably, writ-large dramatic but as is Outlander's way, it was all presented in the same considered, slow-burning way that has marked the show's writing and production since the first episode.
It's one of the pleasures of watching Outlander – unlike many other current TV shows which race through their narratives as if a thousand angry "She's a WITCH!" screaming villagers are at their back, the show is content to let things unfold slowly, rhythmically and naturally, even when the events are, in all fairness, gloriously soap operatic.
It's that willingness to let key scenes play themselves out in their own space and time, such as the scene where Claire witnesses Geillis at one with her pagan beliefs in the forest, or where Jamie passionately makes love to her, that grants viewers the sense that they really have travelled back to a time when, by the simple virtue of distance and time not being so easily or quickly bridged, events don't transpire quite as we are used to in our frenetically-wired, 15 seconds of fame 21st century existence.
This slow mindful building of an 18th century world entirely not our own but which is as real to its inhabitants as ours is to us, lends a believability to events that might not be as pronounced had not a great deal of trouble been gone to ensure that we understand that what we watching is entirely possible in the culture and politics of the time.
The strength of the writing though is that it doesn't confuse slow moving with nothing much of anything happening, and the writers have shown great skill in folding a bold, action-packed plot, and a huge amount of burning love and desire from just about everyone involved in "By the Pricking of My Thumbs", into a seductively-realised pace.
They allow us time to take in the fact that Dougal and Geillis are lovers, that she is carrying his child and that she is willing to go so far as to invoke pagan rituals to have them both free of their loveless marriages.
That her plans don't quite come to fruition is also allowed to play itself out in an organic way with the Laird (Gary Lewis), who frankly does not miss a single bagpipe-blowing beat, quickly surmising, amidst much blustering anger, that great mischief is afoot, exiling his brother sans Geillis who he is forbidden to marry, to his estate far from Castle Leoch (along with sadly Jamie who is separated from his beloved wife because of a skirmish, not of Jamie's making with the Mackenzies' adversaries, the clan MacDonald).
Grand sweeping events of great import yes but all of them brought forth in a way that makes sense in the time and place we are inhabiting along with the sassenach Claire, and in a way that allows their impact to be fully felt.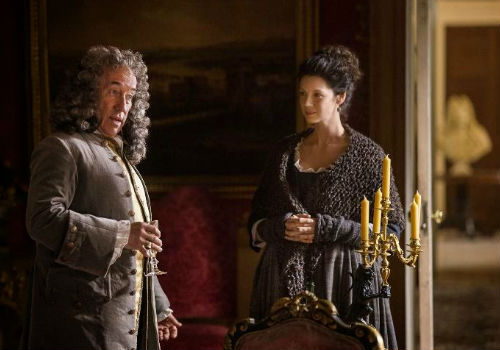 As is Claire's sudden role as a Machiavellian political operator, a good couple of centuries after the man himself trod the earth, when she stops in for a spot of sherry with the visiting amusingly fey Duke of Sandringham (Simon Callow) to ensure that he treats Jamie's formally-lodged written complaints about Captain "Black Jack" Randall (Tobias Menzies) with the seriousness they deserve.
If they are treated with the necessary vigour, and Captain Randall is deemed an unfit officer and exiled to the West Indies or some other remote spot of the burgeoning British Empire with the coterminous imputation that his word cannot be trusted, then Jamie can be pardoned and his life resumed.
But ah, the Duke, who is rather closer to the Captain than is widely known – though not as close to Jamie, ahem, as he would like to be – and a Jacobite to boot (not the sort of thing a member of the nobility, ostensibly loyal to the crown, is supposed to be what ho) tries to bully Claire into submission, thinking he is dealing with a compliant woman of the age.
She is, of course, nothing of the sort and quickly makes it clear that she knows things, damning things, and could undo the Duke's cosy existence with one "Did I say that?" slip off the tongue.
And just like that The Duke agrees to play ball and Claire is one step closer to successfully navigating her way through the perilous terrain of 18th century life.
Well, that is until the WITCHCRAFT! charges of course but right at that point she is a woman triumphant, her knowledge of what in her original 20th century time is history coming successfully to her aid.
Even so, she is still thrown by the customs of the age, such as the propensity of people to leave sick or deformed children out in the forest on faerie hills so that the fey folk will leave a healthy child in their place, but again as I observed last week, she is coming to realise that these beliefs matter and are real to the people of the time, something Jamie underlines once more to her in an intimate moment, and that she can't simply dismiss them from her more "advanced" position as a woman of the future (even if in the case of the tragedy of a baby being left to die she is right on the money).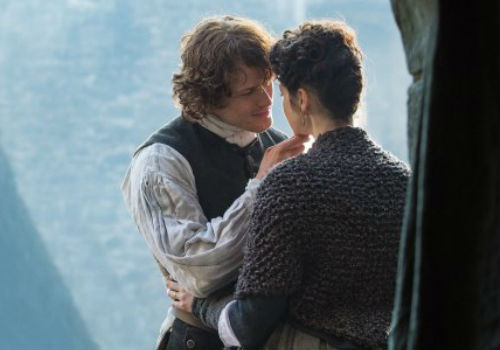 This is what really makes Outlander tick – it's articulation in ways small and large that simply because we don't understand the way in which things work in a particular place and time, and let's face it, for all her newly-acquired understanding Claire is still a stranger in a strange land, doesn't mean they can be ignored or summarily dismissed.
They may be misinformed, they may be lacking in the advanced scientific knowledge of our time but they have validity and worth to the people of the time and Claire cannot simply pretend they aren't there (though she well within her rights to subtlely influence them for change if she can; although this can backfire because, you know, WITCHCRAFT!) and must learn to work with them as she can.
Once again the writers have done a masterful of illustrating just what Claire is up against, and that for all the gorgeous scenery, rhythmic pace of life and romanticised feel of the past, that the world she now inhabits has a great many alien and dangerous things with which to contend.
This is not a Mills and Boons romp through the past and that is made abundantly clear, although again in ways always measured and subtle, time and again.
Just how much power Claire has to change things for the better is something that will become starkly evident in next week's episode "The Devil's Mark" when she comes hard up against the beliefs of the time in a way that will make everything up this point look like child's play …