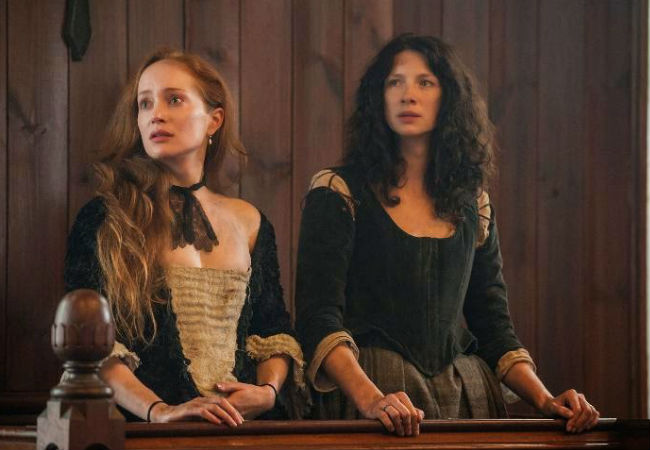 *SPOILERS AND "WITCHES" AND EYE OF A NEWT AHEAD!*
"Looks like I am going to a f**king BBQ!" (Geillis Duncan)
It's been obvious to every viewer of Outlander, and most acutely to its protagonist Claire Randall/Fraser (Caitriona Balfe), since the show began that we are not in Kansas anymore, Toto.
(OK fair enough we were never in Kansas to begin with and I will grant you that London and the Scottish Highlands in the 20th century do not look ever remotely like a farm in midwest America but my point holds nonetheless.)
In fact the producers of the show have gone to extraordinary lengths to underline just how different 18th century Scotland, in the midst of a simmering proto-rebellion against the English crown, and riven by domestic grievances and politicking, is from Claire's home time of the mid 1940s.
We have seen Claire variously horrified and appalled by her new time's attitudes to religion, infant mortality, the rights of women, servitude, war, and human rights in general, all of which lag behind the attitudes Claire is used to and routinely embraces.
But to the credit of Diana Gabaldon's book series, upon which the series is based and Outlander's writers,  great care has also been taken to present these attitudes, unenlightened though they may been, as authentic for an age in which superstition and the prevailing idea that the church was the fount of all un-challengable authority held great sway.
They may shock us and they have certainly shocked Claire but the point was always made, and rightly so, that Claire could not hold the good citizens of the time to the same standards as the people of the twentieth century who have had a good 200 more years to ponder the value of human life, science and a good many other things.
(Rather cleverly though by commencing Claire's story in the aftermath of the most tumultuous and destructive war in human history, World War Two, we have also been reminded that any idea that twentieth century humanity has a stranglehold on the truth of the human condition and how it should be handled must be assessed as dubious at best.)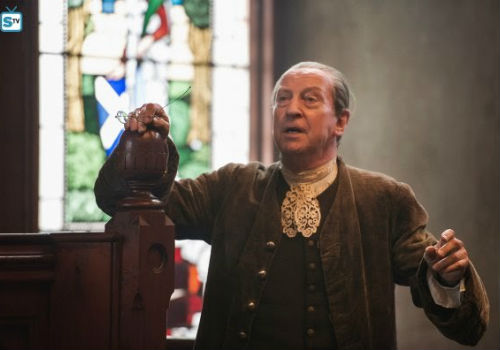 You couldn't have blamed Claire though for wanting to throw that growing sense of reasoned understanding and nuanced perspective out the window in "The Devil's Mark", an episode which saw Claire and her bff Geillis Duncan (Lotte Verbeek) accused of dabbling in the unholy dark arts by a church court which did not exactly cleave close to the idea of innocent until proven guilty.
In fact, as a sign that justice was a different, far more subjective affair 250 years ago, the people of Cranesmuir, the town adjoining Castle Leoch, were happily chanting – far too happily chanting if you a fan of the rule of law; although such was their illogical fervour that they could have filled in for the nonsensical crowd in Monty Python's The Holy Grail without too much trouble at all – "We're going to burn the witches" as they enthusiastically built the pyre upon which the gleefully-awaited burning would take place.
It was apparent to one and all, but most especially to Claire and Geillis, who had spent a bitterly cold night in a rat-infested pit that did duty as the church's jail, that the verdict has been determined way before a word has been spoken in the trial.
And frankly it would've all been a foregone conclusion had Castle Leoch's lawyer Ned Gowan (Bill Patterson) not decided to step in, without telling the Laird (Colum MacKenzie), and act as the defense lawyer for the two ladies who though deep in the legal doo-doo found the time and spirit to make jokes about what they'd do if they were in fact witches.
Witness after witness, including Geillis's bitter maid and Laoghaire MacKenzie (Nell Hudson), Jamie Fraser's (Sam Heughan) spurned lover, deranged romantic stalker, were rendered as lacking in any credibility and Claire and Geillis dared to believe they may become the exception to the burn all witches rule.
Alas, the verdict was clearly preordained, not so much by God as his rather fallible, prone to emotional outbursts and rash judgements flock, and it wasn't long before all of Ned's arguments were for nothing and burning seemed nigh.
But not before Geillis fell on her satanic sword so to speak, and proclaimed that she was in fact a witch and damned good one thank you very much who enjoyed lying with Satan and flying merrily through the air (not to mention some rather dramatic bodice-ripping), allowing Claire and her knight in shining armour Jamie, who had arrived in the nick of time with not one but TWO swords (how's that for being prepared?) to slip out the side door and bolt to freedom.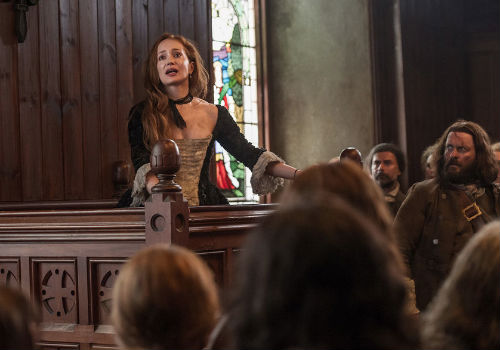 But before she nobly gave herself up for the greater good of Jamie and Claire's love and that of Scotland – both Lotte Verbeek and Catriona Balfe were superb as women with their heads on the chopping block, resigned to their fate but determined to fight to the dying breath – she revealed that she was – GASP! – in fact from 1968 and that the so-called "devil's mark" on her shoulder was a smallpox vaccination scar.
In most other shows, this kind of groundbreaking amazing news that Claire is not the only future person lurking in 18th century Scotland unawares, would be shouted from the narrative rooftops.
But such is the sophistication of Outlander, a show that has demonstrated in all respects that it is beautifully, wonderfully and near-flawlessly made, that Geillis's true origins were unveiled quietly and discreetly with only Claire aware of their true import.
In the same under-the-radar but narratively ground shattering way, it was also made clear that Geillis appeared to have travelled back in time quite deliberately to aid the cause of her beloved Scotland, rather than "accidentally" as she gently accused Claire of doing, and so saw her death as some kind of noble act in the service of her country.
But Outlander was not done with grand yet quietly announced revelations at this point, nosirree Sassenach!
Claire, safe away from the brooding pitchfork and flaming torches mob of Cranesmuir, finally 'fessed up to Jamie about EVERYTHING, who God bless his forward-thinking, open-to-all-things cotton socks and kilt, wholeheartedly believe Claire's story about being from the future.
It was an extraordinarily moving declaration of love on his part, especially considering Claire's tall though true story came with the stinger that she was married back in the twentieth century, a beautiful moment only enhanced by his later willingness to take her to the stones so she could finally go home.
Now that, my friends, is unconditional love writ large!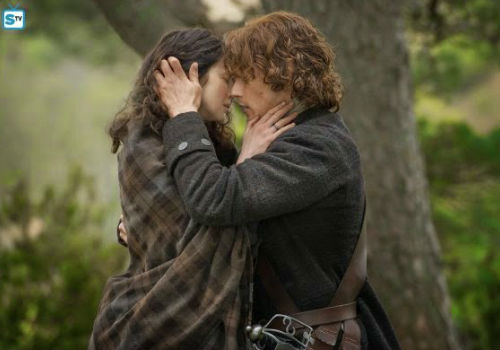 Both Balfe and Heughan gave all these interconnected and poignantly heartbreaking and heartwarming in equal measure moments all the gravitas they deserve, managing with every well-placed word and movement to convey that this was love as it was meant to be lived and not some cheap and tacky melodramatically Mills and Boon which in lesser hands it could have quite easily become.
But rather than overwrought romantic trash, what we got from the producers of Outlander, and its superb actors and writers, was a deftly nuanced set of scenes that convincingly conveyed why Claire would choose NOT to go through the stones right now thank you and stay with her beloved Jamie, whose smile when he awoke and saw Claire still by his side was a sight to behold.
It speaks once again to the all round sophistication of Outlander that "The Devil's Mark" took both the far-too-easily potentially laughable plot points of witchcraft charges and the love true love of Jamie and Claire, and fashioned out of them engrossing, emotionally-involving drama of the highest order.
Frankly after that kind of superlative, brilliantly-made and moving drama, next week's episode "Lallybroch" has a lot to live up to …