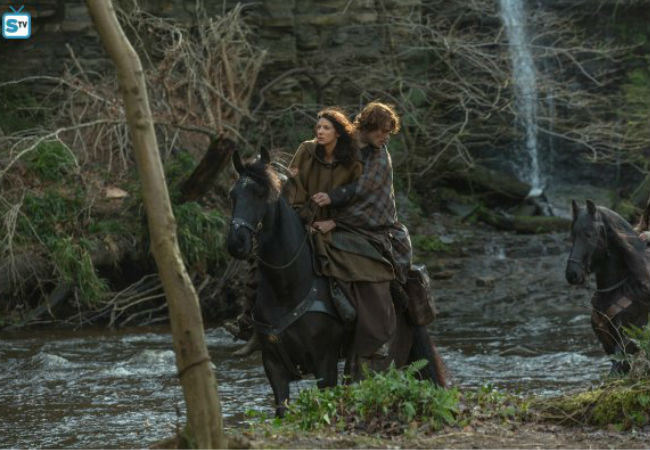 After waiting far longer than any Scotland-based historical fiction-loving TV fan with a burning predilection for time travel, kilts and romance of the bodice-ripping kind should legitimately have to wait, Outlander, based on the novels of Diana Gabaldon, came roaring back atop a Highland steed in "The Reckoning", in which you'd expect that ruggedly handsome Jamie Fraser (Sam Heughan) and lost in time Claire Beauchamp Randall Fraser (Caitriona Balfe) would be once again sharing the saddle o' love.
But can anything ever really be that simple? Likely, no.
After being taken captive by the nefarious English Captain Jonathan "Black Jack" Randall (Tobias Menzies) after she disobeyed Jamie's instructions and went back to the magical standing stones of Craigh na Dun in an attempt to return to her own place and time of the mid-20th century – though it is increasingly debatable where that is now – and then finding herself dramatically-rescued at the start of "The Reckoning" by her dashing husband, you would think the two lovebirds would be in the throes of second honeymoon.
Alas, it was not initially the case with Jamie, suffering from a near terminal case of time-appropriate but no less odious misogyny, berating his beloved and severely traumatised wife, who barely escaped being violently raped by "Black Jack", for disobeying his orders to stay put and play the simpering docile partner.
To be fair, he did have a point, one that was reinforced again and again in the episode, that the Scottish Highlands in the 18th century are a wild and dangerous place full of political intrigue and mortal peril where seemingly innocuous acts can have devastating consequences.
Case in point – Jamie's utterly heroic scaling of the walls into the English fortress where Claire was being held prisoner is likely to have all kinds of nasty repercussions for Jamie himself, the MacKenzie clan of Castle Leoch headed by the Laird (Gary Lewis) and a whole lot of innocent Scots whose wellbeing seems to matter little to the occupying English forces.
Unfortunately for Jamie, whose adherence to "It's the way things have always been done" costs him a great deal, chooses to make his point in a less than loving way, earning him the kind of icy blast from Claire that almost leads to a debilitating case of frostbite and even more worryingly for the newly-deflowered Scottish warrior, the cessation of his long lovemaking sessions with his equally passionate wife.
That they eventually make their peace, not once but twice and very loudly in a way that everyone can hear – there is precious little privacy in Castle Leoch or small wayside inns with not much in the way of insulation – is pretty much expected; how they get there is not, with some pleasing and deeply uncomfortable explorations of sexual politics along the way.
Specifically, we see the way in which Claire's more enlightened approach to the role of wife and lover clashes dramatically with Jamie's of-his-time idea that his wife is effectively his property and should unquestioningly obey him in all respects and at all times.
Outlander has of course spent a great deal of its narrative time charting the yawning gaps between life in the relatively safe 20th century and the far more dangerous 18th century but nowhere has the difference between the two time periods been more starkly demarcated than in "The Reckoning" with writer Matthew B. Roberts doing an impressive job of comparing and contrasting Jamie and Claire's attitudes to the business of love and marriage.
It's a meeting of ideas that doesn't render Jamie as some Neanderthal fool and Claire as the font of all socially progressive thinking but rather allows the two to come to a semblance of an agreement about the way in which their relationship will proceed from this point on.
That they err more on the side of Claire's feminist line of thinking is not a complete surprise since Jamie has largely shown himself to not be a captive of other people's agendas or of mindless tradition but the reasons why Jamie would do what he does in the episode, actions that shock and appal Claire, are explored so we understand he is simply a man trapped between the past and the future, and not some misogynistic lowlife.
Robert's Jamie-centric approach is a marked change for Outlander, which has told its story from the outsider's perspective, that is Claire's, up to this point, but which uses "The Reckoning" to tell things from Jamie's side of the loch, a viewpoint just as valid as Claire's, even if it is deeply unsettling to our modern sensibilities.
Of course being the thinking, man-ahead-of-his-time, proto-feminist that he is, Jamie comes around to Claire's way of thinking but we are given the chance to see into his mindset and world and to understand, more fully, the way in which his culture in still a major influence on him for better or worse.
It's clever, intelligent writing that belies the image many people probably have of Gabaldon's books as Mills and Boons-ish bodice-ripping sagas full of swooning females, rugged, protective men and romance writ large.
That is all there to an extent of course but it is suffused with historically-accurate observations and perceptive dissections of the stark differences between the two centuries that Claire straddles, acknowledging in the process that while people are largely still people, they behave in markedly different ways which is creating and will continue to create all kinds of challenges for Jamie and Claire.
When we weren't being given ringside sides to the messy machinations of Jamie and Claire's marriage, life at Castle Leoch continued apace with the Laird none too pleased with news that his brother Dougal (Graham McTavish) has been raising money in secret for the Jacobites who are seeking to bring the Scottish heir of Catholic Stuart King James 1 back to the throne – the Laird dismissively refers to his sibling's actions as "playing rebel" – his hand only stayed by Jamie's expert political reasoning that coming down too hard would only lead to civil war within the often fractious MacKenzie clan.
While internal dissension within Jamie's adopted clan has been silenced for now, rest assured it will likely percolate to the surface again since while Dougal is avowedly loyal to the Laird, he is also steadfastly committed to the jacobite cause.
Also committed to her own cause, and with every bit as much passion, is Jamie's onetime dew-eyed lover Laoghaire MacKenzie (Nell Hudson) – that they never actually made love is beside the point for the young lady who has been mooning over Jamie since she was 7 years old – who is determined through brazen bosom elevation and coquettish persuasion to draw Jamie back to her.
The fact that he was never really hers is clearly beside the point in Laoghaire's delusional world, and we can expect a great deal more posturing and fighting between the would-be temptress and Claire as the final seven episodes of season 1 play out.
This was though largely Jamie's story, one told with elegance, brutality, honesty and evenhandness, with Scotland looking as fetching as ever, Jamie and Claire back in love and events building to what we all know will be an explosive clash, both of cultures and nation-building.
* You can get a taste of where things are heading in the promo for next week's episode "By the Pricking of My Thumb" …