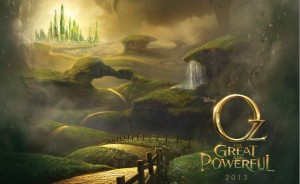 The Oz books by L. Frank Baum are a magical series that transport you to a land filled with wonder and creatures strange from our dreams. They are populated not just by the Wizard, the cowardly lion, the tin man, the scarecrow and Dorothy but by a plethora of creatures who bring to life a land teeming with all the imaginative possibilities L Frank Baum could conjure up.
Yet they retain a basic humanity – love and concern for others, greed and avarice, hope for a better life, good vying for power with evil. They spoke to people as much about the human condition as they transported them to the far, exotic realm of Oz, and people embraced this magical land as if it was their own.
Metro Goldwyn-Mayer's 1939 classic production of The Wizard of Oz (which was based on L. Frank Baum's 1900 novel The Wonderful Wizard of Oz), with its luminous colours, its vibrant songs, and its focus on friendship, home and the things that truly matter in life, perfectly captured the spirit of the books, and brought the books back into the zeitgeist in a big way.
And there they have remained ever since.
So it's only fitting that at long last, a prequel of sorts is being made. It centres on the Wizard's arrival in Oz, and looks, by the visuals in the trailer and the lush posters released to coincide with this year's Comic-Con in San Diego, to match the gloriously colourful tones of the 1939 movie. Of course the key thing will be whether it captures the magical tone of the books so beloved by many.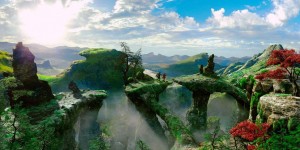 In the hands of the supremely talented Sam Raimi, who was responsible for the recent successful Spiderman trilogy, I think that is entirely possible. Gifted as a director who imbues his movies with as much humanity as spectacle, this movie has every chance of being a worth accompaniment to the 1939 classic.
The plot, according to the Oz: The Great and Powerful Wikipedia entry is as follows:
When Oscar Diggs (James Franco), a small-time circus magician with dubious ethics, is hurled away from dusty Kansas to the vibrant Land of Oz, he thinks he's hit the jackpot—fame and fortune are his for the taking—that is until he meets three witches, Theodora (Mila Kunis), Evanora (Rachel Weisz), and Glinda (Michelle Williams), who are not convinced he is the great wizard everyone's been expecting. Reluctantly drawn into the epic problems facing the Land of Oz and its inhabitants, Oscar must find out who is good and who is evil before it is too late. Putting his magical arts to use through illusion, ingenuity—and even a bit of wizardry—Oscar transforms himself not only into the great and powerful Wizard of Oz but into a better man as well.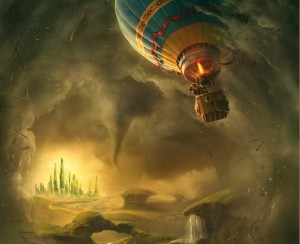 Oz: The Great and Powerful (with music by Danny Elfman) is due for release in 2013, and I can't wait to once again head down the yellow brick road …