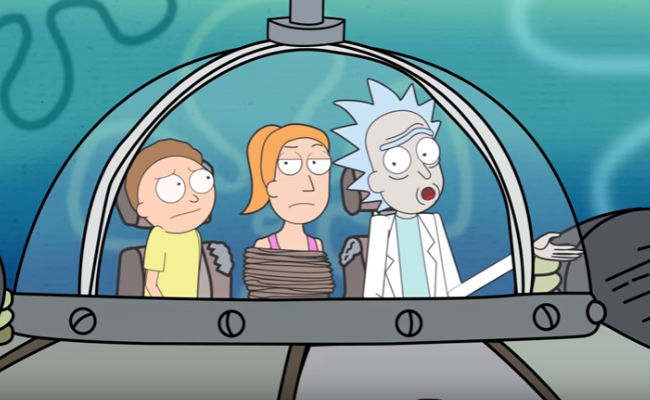 SNAPSHOT
Vulture sat down with the co-creators of Rick and Morty, Dan Harmon and Justin Roiland, along with producer Ryan Ridley, and voice actors Spencer Grammer (Summer), and Sarah Chalke (Beth), and asked them to improvise an episode in a Spongebob-like world.

In this Vulture-animated short, Rick and Morty overlook a domestic dispute between Sponge-eons, and are interrupted by guest appearances from underwater heroes from both the DC and Marvel universe. (source: Laughing Squid)
Rick and Morty, Dan Harman and Justin Roiland's gloriously, fabulously demented creations have been to lots of weird and wonderful places.
Gazorpazorp. Citadel of Ricks. Dimension C-137. The Teenyverse. (And lots more.)
Now you can added the quirkily crazy world of Spongebob Squarepants, courtesy of an non-canonical, improvisational mini-episode engineered by Vulture that is every bit as as funny and deliciously demented as you might imagine it be.
So throw away your stark divisions between cartoon properties, get your postmodern mindset up and running, and glory in a world where Rick and Morty and Spongebob Squarepants are part of the same gloriously demented world.
(source: Laughing Squid)