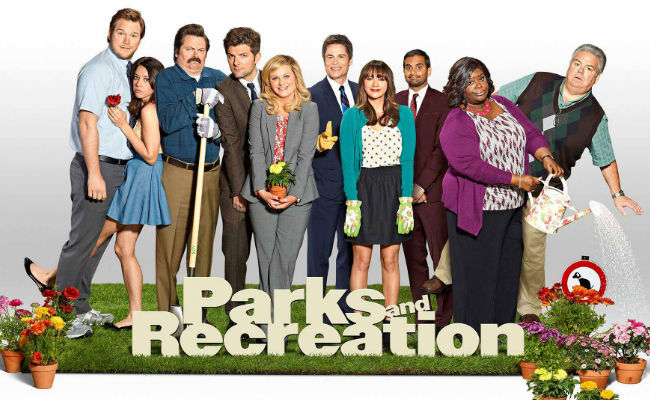 Some wise person once remarked, no doubt in an advanced state of rationalisation wherein they tried to convince themselves that something truly awful coming to pass was in fact a blessing in disguise, that all good things must come to end.
I am not quite sure why that necessarily has to be the case, unless again you're rationalising like a banshee 'til your brain explodes, nor why no one has ever challenged the implied obverse of this much-repeatedm rarely-challenged truism, that all really evil things must go on and on and on and …
Perhaps a little too much glass half empty and not enough blue bird of optimistic happiness?
Whatever the case, I really wish with all my heart that all the good things in the world would just go on and on – many do, O' wise but downcast rationalising guru of old; think Christmas, time with family and friends and delicious salted caramel everything recipes – including one of the funniest sitcoms to ever grace our screens, Parks and Recreation.
The brainchild of one of Saturday Night Live's golden graduates, Amy Poehler, Parks and Recreation has over six seasons to date, done a superlative job of affectionately lampooning the mechanics of government, the delusions of the super-ambitious and gloriously un-self aware and creating a family out of a group of truly dysfunctional but appealing local government workers in the town of Pawnee, Illinois.
Like all classic sitcoms worth that accolade such as Frasier, Friends and Community, the show has let the comedy spring forth from the characters themselves, rather than half-baked, manipulatively-constructed and groan-inducing situations and has been all the better for it.
Now comes the news that we have been both dreading (since it means the end of the show for real) and hoping for (more new episodes to watch – hurrah!) – the date that NBC will begin burning off screening the final season of Parks and Recreation.
It is – drum roll please Andy! – 13 January, the date from which NBC will broadcasting double episodes of the show till the final one hour finale on 24 February when one of the best shows on TV will in fact come to a much-mourned end.
Of course, NBC, are trying to persuade us that getting rid of episodes with the all unseemly haste of a widow remaining on the day of her husband's funeral, is a Very Good Thing, even using the monster nonsense world "eventize" to make it all seem like goosebump-generating thrilling golly gee-whiz FUN:
"In an effort to give it the send-off it deserves, we wanted to 'eventize' the final season to maximize the impact of these episodes, which really do take the show to a new level. The highly-anticipated one-hour finale will air behind 'The Voice' in order to lead the largest audience possible into what promises to be a very special hour of television." (NBC Entertainment Chairman Robert Greenblatt)
One thing we do for certain – whether it will be an "eventizing" moment can be said at this point – is that many of the show's favourite guest stars will be back, we'll get to see where everyone ended up after that season 6 finale time jump, and that the show will be end on a happy note, according to showrunner Michael Schur who spoke to Zap2it during a recent press event:
"When the show is over people can project forward and go, 'I think I know what's going to happen to that person. What I always liked about my favorite shows was that when they ended, you could imagine the characters sailing off into the sunset.

"Part of what we decided when we made that decision [to time jump] is that everyone should have changed a decent amount. We didn't feel like it was worth doing unless everyone was significantly different from where they were before we made the jump.

"We made a long list of the people we wanted to have back at least one more time. We didn't get everyone because some people are unavailable and some are on other shows or whatever — but we got back a lot of the people we wanted to see one more time," he says."
Still even though it will be a case of all's well that end's well – another truism of dubious merit – it will be sad to see the last (bar the inevitable repeated screenings) of Leslie (Amy Poehler), Tom (Aziz Ansari), Andy (Chris Pratt), Ron (Nick Offerman), April (Aubrey Plaza), Ben (Adam Scott), Donna (Retta) and Gerry (Jim O'Heir) and all the other more than a little quirky inhabitants of Pawnee.
Parks and Recreation returns for a big old episode burn-off season 7 at 8pm on 13 January 2015.
Now to on some lighter fun moments starring Amy Poehler and Nick Offerman.
First up is Amy Poehler in the last of her wonderful Old Navy ads as a pop star who may be short an entire bargain-hunting audience (via TIME) …
And here's Nick Offerman proclaiming to the world how much he loves whiskey (via Paste Magazine) …