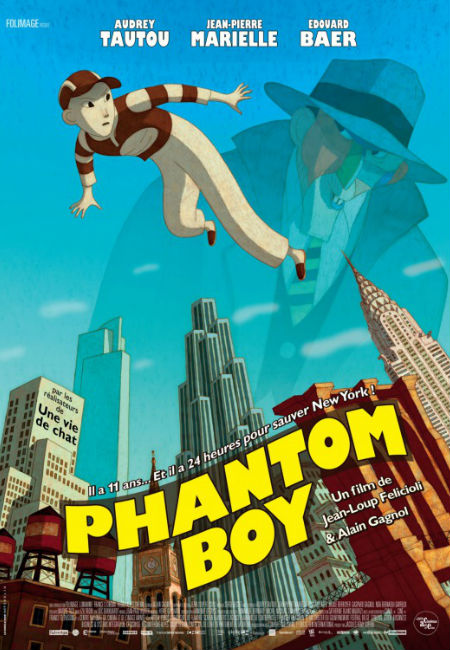 SNAPSHOT
Leo, 11, spends his days in bed in a New York hospital due to a serious illness. He discovers he has an extraordinary ability to separate from his body and fly over the city while his physical body sleeps. Along the way, the boy meets Alex, a detective who has been in a wheelchair since he was the victim of an evil mob kingpin.

This crime boss has since taken control of New York City's power supply and threatens to take full control using a computer virus unless the mayor does what he says within 24 hours. To counter this sinister machination, Leo, a.k.a. "Phantom Boy," joins Alex and Alex's girlfriend, a fearless reporter named Mary, to thwart the criminal's plan. (synopsis via Showtimes)
Sitting in a hospital bed recovering from a serious illness is usually not the most exciting of activities.
But what if you had the ability to leave your recuperating physical body behind and travel to wherever you wanted in an out-of-body state? Ah then that would be a brilliant way to spend your time.
And even better if you discovered you could separate the physical from the spiritual just when a grave threat arose to imperil the city and people you love.
It's an entirely imaginative premise and one that grants Phantom Boy, a French/Belgian production directed by Alain Gagnol, Jean-Loup Felicioli – who gave the enchanting Academy Award-nominated film A Cat in Paris – a thousand wondrous dimensions, if perhaps making it a little busy in the process according to Sheila O'Malley at RogerEbert.com:
"The film can be smothered by the obligations of its plot, but it's still beautiful and original, extremely funny, and sometimes very moving."
It's a rare thing to find a film that lives up to its extraordinary promise so beautifully but by all accounts Phantom Boy does that and more, and it looks like it'll be well worth catching when it reaches a cinema near you.
As far as whether that'll be in corporeal form is anybody's guess; either way it'll be magical.
Phantom Boy is currently screening in USA and Norway.