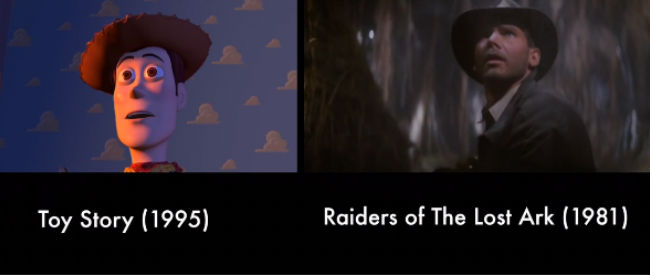 There are a great many things to love about Pixar.
Their ability to conjure up a fully-formed world whether it's a child's room or a facility where monsters go out to scare children and harvest their fright energy. Their attention to detail, their rich characters who leap off the screen, and yes into your hearts, and scripts that bristle with intelligence, humanity and deep insights into the human condition.
One thing you may not have noticed, but which didn't escape Jorge Luengo Ruiz, are the many clever tributes that Pixar makes to iconic Hollywood films such as Raiders of the Lost Ark, Vertigo, Star Wars and A Clockwork Orange to name but a few.
Pixar's love of film is obvious to anyone who's watched any of their gorgeously crafted films, but Ruiz's perfectly put-together montage underscores it all the more.