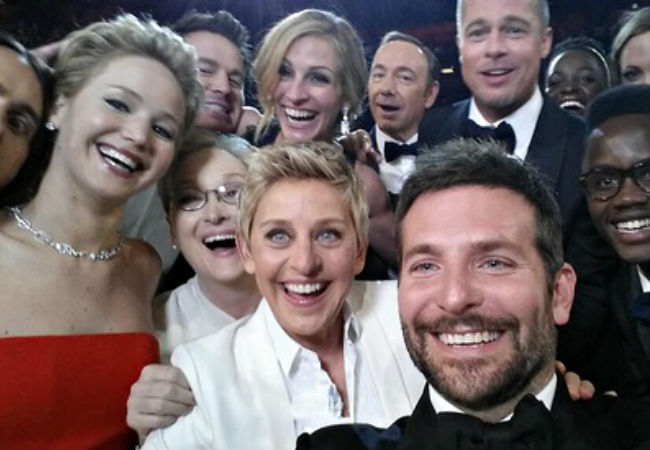 It's not often you walk away from an awards ceremony, whether it's the Grammys, the Golden Globes or the local sports club's annual pats on the back, and think to yourself "Damn, that was fun!"
Yes you wanted to know who won, and that's why you sat through the whole thing.
But did you actually enjoy it? Ah, there's the rub. You didn't really.
The 86th Academy Awards, much like this year's Golden Globe Awards, actually ended up being a whole lot more fun that anyone had a right to expect them to be.
Sure über-popular day time Ellen Degeneres was going to be hosting and could be relied for some gentle fun and mirth-inducing frivolity – more "affable antics" as one site termed them than gut-busting laughs but that's OK – but still, the Academy Awards are LONG and it's hard to keep the endless round of awards upbeat, interesting and engaging over that extended period of time.
But you know what? They kinda managed to!
Not completely successfully sure since there were some jokes that didn't quite work (the sequence where Ellen checked if everyone was having fun fell a little flat and went a little too long) and people who didn't quite set the world on fire with either their botched teleprompter reading or their speeches, but overall, it was a bright, frothy affair punctuated by some very happy people holding the iconic gold Oscars status aloft (and the ever adorable and down to earth Jennifer Lawrence tripping on the red carpet once again).
To my great delight, Gravity won 7 of those awards including Best Director for Alfonso Cuarón, Jared Leto and Matthew McConaughey deservedly picked up Actor in a Supporting Role and Actor in a Leading Role Oscars respectively for Dallas Buyers Club, Pharrell Williams got real "Happy" (even convincing Meryl Street to shimmy with him a little when he came down into the audience) and 12 Years a Slave picked up a Best Picture Oscar, hardly a surprise but nonetheless deserving for it.
You can check out the full list of winners here.
And then there were the five moments that really made the show for me, that filled me with joy or got me giggling or simply filled me with patriotic pride.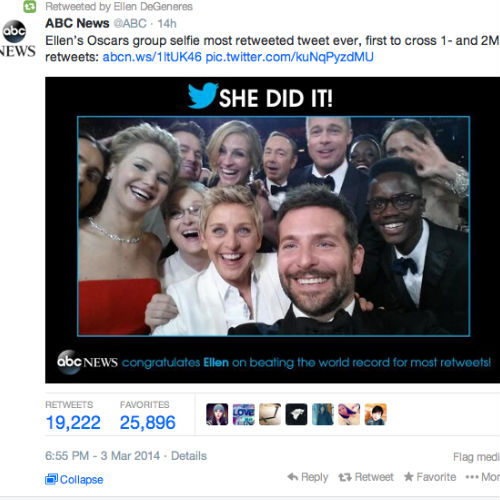 ELLEN DEGENERES BEING ELLEN DEGENERES
She may not be as cutting edge or sharply observant as Tina Fey 0r Amy Poehler who hosted this year's Golden Globes, but Ellen Degeneres, who sported a snappy line in tuxedos, suits and a rocking Wizard of Oz Good Witch outfit throughout the night, still has a way with the humourous observation.
Among the lines that garnered her some laughs were gentle digs at June Squibb, up for Actress in a Supporting Role for Nebraska, who at 84  was the oldest nominee on the night:
"June Squibb is nominated for Nebraska. At 84 she is the oldest nominee. She was wonderful in Nebraska. (Addressing Squibb) I'M TELLING EVERYONE YOU WERE WONDERFUL IN NEBRASKA."
And the cult of youth in Hollywood:
"I'm not saying movies are the most important thing in the world, because we all know the most important thing in the world is youth. But really, we know that the most important thing in life is love and friendship and family. And if people don't have those things, they usually get into show business. We are all one big, frightened family."
And an amusing riff on the usual "everyone looks beautiful" line:
"I'm not going to say who looks the most beautiful, but it's clear: It's Jared Leto."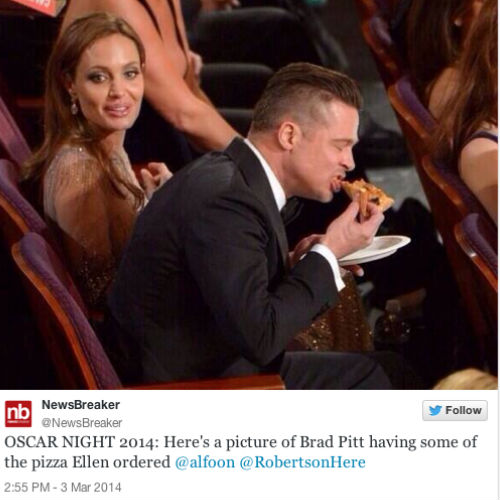 She's also brought a delightful levity to proceedings, spending much of her time in the audience, ordering pizza for all the A-listers in the first couple of rows – from a real pizza chain, Big Mama's & Papa's pizza, who got roughly $10 million in free publicity – collecting money to pay for said pizzas and arranging a selfie (see above) of major, major stars, who seemed to be having a ball posing for a photo which when tweeted out by Ellen "broke" Twitter briefly (and here's how it spread).
It was a lot of fun seeing A-list stars goofing off, and letting their hair down, and if nothing else, Ellen's easy going charm and affability gave them permission to be a little more loosey-goosey than normal.
And that was a good thing.
LUPITA NYONG'O GENUINE JOY AT WINNING ACTRESS IN A SUPPORTING ROLE
In one fell divinely dressed swoop, Lupita Nyong'o, who won an Academy Award for her role as Patsey in Steve McQueen's 12 years a Slave, took away all the cynicism and ennui usually associated with awards by radiating ecstatic joy as she gave her acceptance speech.
It was heartfelt and meaningful, guaranteed to put a smile on your face, and full of wonderful, beautifully articulated genuine sentiment.
"It doesn't escape me for one moment that so much joy in my life is thanks to so much pain in someone else's. And so I want to salute the spirit of Patsey for her guidance. And for Solomon, thank you for telling her story and your own." 
Frankly she can everything from now on, as long as she reacts the way she did last night.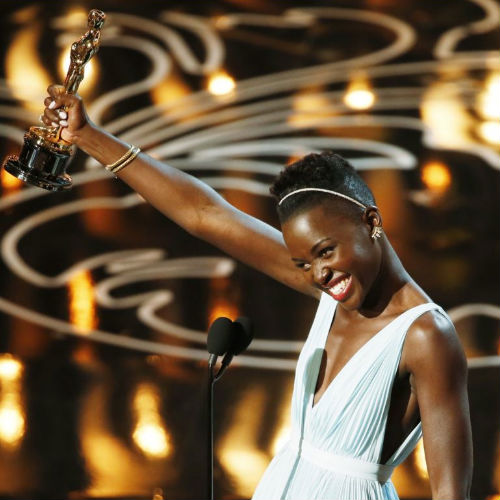 P!NK SINGING "OVER THE RAINBOW"
It was billed as a 75th anniversary tribute tio the enduring popularity of The Wizard of Oz and it was very bit as show-stoppingly powerful as you might imagine.
Granted I was expecting Judy Garland's kids to do the singing honours but while they were feted at the start of the segment, it was pop star P!NK, in a stunning full-length red gown that sang the iconic song with power, nuance and resonant emotion.
It was a stop-what-you're-doing moment that demanded you sit still, take it all in, and thank producers Craig Zadan and Neil Meron for having the prescience to hire a star of P!NK's calibre for this prestigious gig.
It was a highlight of the night and rightly so.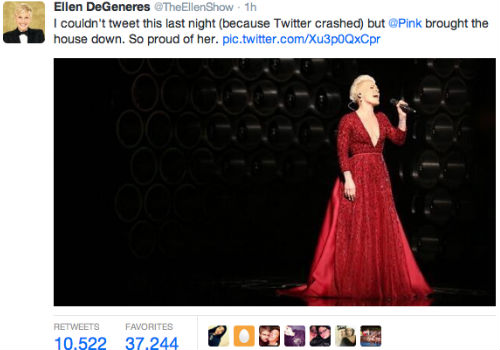 AUSSIES WINNING! CATE BLANCHETT AND CATHERINE MARTIN GRAB GOLD
It's no secret that there are legions of Australians at work in Hollywood, some more high profile than others – Chris Hemsworth aka Thor was one of the presenters on the night – and it's great to see them recognised for their talents, whatever they may be.
Catherine Martin managed to nab not one but two Oscars for The Great Gatsby, directed by husband Baz Luhrmann, for Costume Design, and in concert with Beverley Dunn, Production Design (which incorporates set design).
She delivered earthy, grounded and very Aussie speeches, clearly delighted to have fun.
Cate Blanchett was another Down Under star who came away a winner, garnering Actress in a Leading Role for Woody Allen's sublimely wonderful Blue Jasmine, in which she played the brittle, barley holding it together riches to rags ex-wife of a corrupted Ponzi Scheme architect.
Delivering a perfectly nuanced performance that managed to turn a dislikable self-involved woman into a figure of sympathetic tragedy, her win was pretty much a foregone conclusion but hardly any less thrilling because of it (she previously won an Actress in a Supporting Role award for 2004's The Aviator in which she played Katherine Hepburn), and she used her speech to make a powerful statement about the place of women in Hollywood.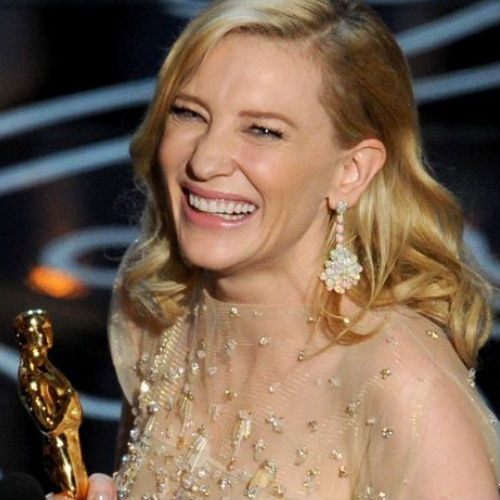 THE FUN MEMES, VIDEOS AND TRAILERS ASSOCIATED INSPIRED BY THE TELECAST
There isn't a major or minor pop culture event these days that doesn't inspire a raft of instant, and usually very well executed tributes and the 86th Annual Academy Awards was no exception.
First up, Alex Pall and Drew Taggart from The Chainsmokers, took their chart topping hit and used it as the soundtrack for the Twitter-crashing selfie pic that almost stole the night.
Then some quick-witted person thought to superimpose Ellen's face all over the selfie pic to hilarious effect on tumblr …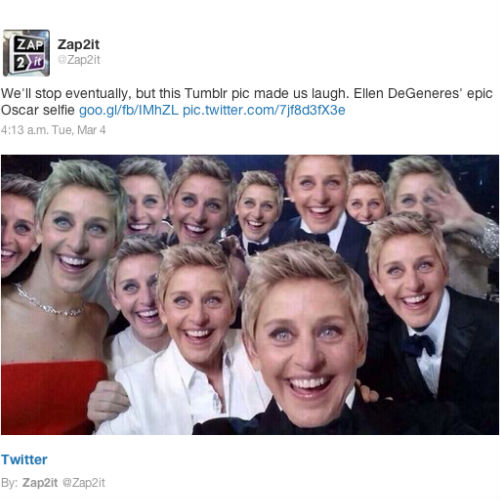 And The Muppets, counting down to the release of Muppets Most Wanted, released another of their zeitgeist-skewering funny marketing videos, this one with a decidedly awards show edge …
And in a tradition dating all the way back to 2012, Jimmy Kimmel released this year's fake Oscar trailers featuring a raft of stars including Meryl Streep, Adam Driver, the Hemsworth brothers, Kevin Spacey and Samuel L Jackson for movies with titles like Bitman Begins and Ameowadeus.
They're so good you wish fervently they could, in fact be real movies.
And someone at slate.com has already – my lord they're fast! – created a site where you generate your own mangled John Travolta mis-pronouncing at the Oscars name (he pronounced Idina Menzel as Adele Dazeem for some unaccountable reason), and another inspired, quick on their feet person has created a parody Twitter account for yes, Adele Dazeem.
Even The Simpsons got in on the selfie act!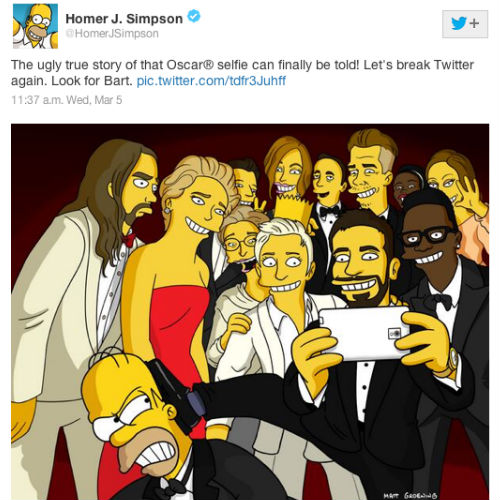 * The ratings for this year's Academy Awards were particularly strong, the strongest in a decade in fact, which bodes well for a return engagement for Ellen Degeneres.