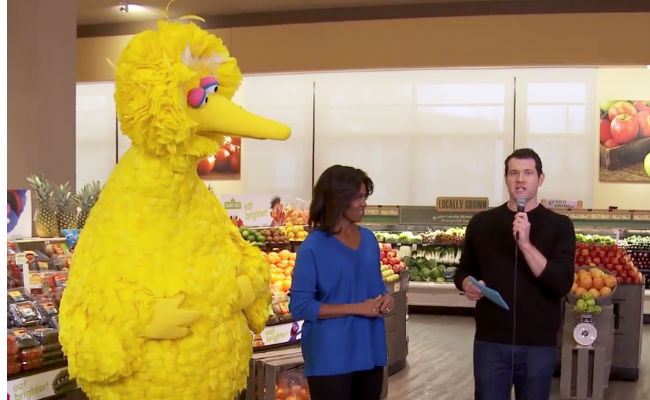 Despite their prevalence on early evening TV network schedules, I can frankly take or leave quiz shows.
Usually leave, but if you tied me to a chair in a head hold that forced to look straight ahead at a TV screen and only at the TV screen with the remote taped to my hyperactive cat who refuses to come near me, then I'd likely stick around to watch an episode of Family Feud or Jeopardy.
Otherwise, give me a scripted drama or a book any day.
However if every quiz show featured the hilariously LOUD Billy Eichner, the First Lady of the United States (FLOTUS), Michelle Obama, Big Bird, and one of Eichner's most popular guests on his Funny or Die segments, Elena (she of the casually disdainful putdown), then I'd be watching nothing but quiz shows.
And in line with the laudable Eat Brighter that Michelle Obama is promoting, a program designed in partnership with Sesame Street and the US produce industry (part of her 5 year old Let's Move initiative), to get kids eating fresh fruit and vegetables, I would naturally be chopping on cucumbers, carrots and mushrooms while I took in what would be a consistently thigh-slappingly funny show (best to pre-pad your thighs with cushions I think).
In this episode of Ariana Grande or a Carrot?, which features questions asking whether you'd prefer Martin Short or corn, or whether Abraham Lincoln or Barack Obama is sexier – hint: the answers are not the ones you might be expecting as is Eichner's unpredictably funny want – Big and FLOTUS dance to Aerosmith's "I Don't Want to Miss a Thing", FLOTUS is pushed around the grocery store the segment is filmed in while Eichner recites Gwyneth Paltrow's "Shakespeare in Love" Oscar acceptance speech (isn't that how everyone shops?), and Elaina expressed her undying love for One Direction.
And who knew how much Big Bird loves The Facts of Life? He knows the cast and the theme song and I suspect has a big box of DVDs of the show tucked away in his nest on Sesame Street. (FYI Elena is not a fan.)
It's all a huge amount of silly fun, at which Eichner quips he could die at any time after inadvertently bumping into FLOTUS's hand (the Secret Service takes a dim view of that sort of thing), and all for a very good cause.
Enjoy, eat carrots, ponder the authenticity of Ariana Grande's ponytail and laugh.
Laugh a lot.