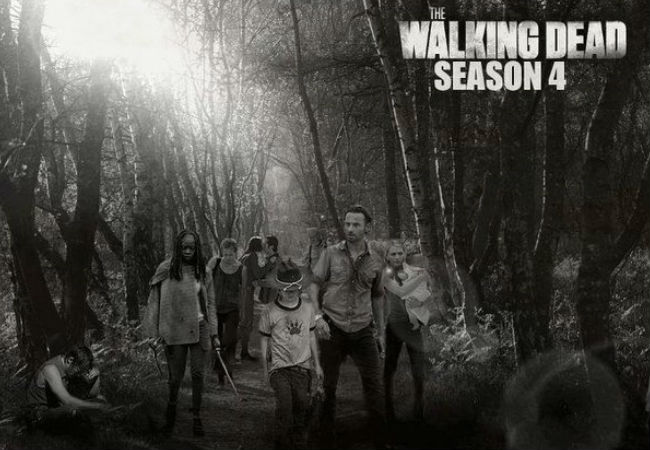 OK this is seriously eerie.
Walking down an empty hallway, convinced you hear footsteps and voices even though no one is there, CREEPY.
I am not surprised that Rock, who you would think would be inured to anything unnerving by now, turns around to listen to a voice that doesn't sound like anyone in the group.
Quite who, or even what they are – remember Robert Kirkman has promised there will be a third unspecified threat this coming season that is neither their fellow man or zombie – isn't made clear in this blink-and-you'll miss-it clip but it's enough to make you wonder just what Rick and his beleagured bunch of survivors will find if they investigate.
As it is they have their hands full with zombies massing by the hundreds at the gate – someone has been planting animal carcasses on the perimeter fence to attract them – and the very real threat that, vegetable garden and settled life or not – they will have to flee the prison that has become their home.
That may well turn out to be a blessing in disguise as promos are indicating there may be a threat inside the prison walls as well as out.
With all that going on, a creepy, disembodied voice may be the least of their concerns.
Oh hell what am I saying?
It's CREEPY.
* 4 Taiwanese promos have leaked online. For descriptions of what they reveal and to check them out, have a look at ibtimes.com
UPDATE (6 Sept. 2013)
Via blog.zap2it.com, here's the latest promo poster for The Walking Dead which shows an isolated Rick Grimes (Andrew Lincoln) standing alone in the prison, the walls broken down around him. It speaks to the great vulnerability that Rick, and his now expanded band of survivors (thanks to the Woodbury influx) face in a world of zombies, an unhinged running amuck Governor (David Morrissey) and that unspecified but third threat …