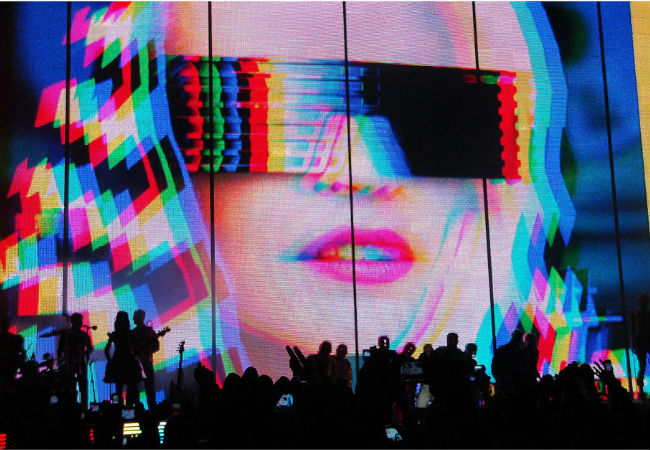 One of the best parts of keeping an eagle eye on the pop culture landscape is witnessing the amazing outpouring of creativity that goes into the promotion of TV shows and movies.
Admittedly keeping tabs on this tsunami of promotional activities can all feel a little overwhelming at times but if you stop and take a close look at the effort and thought that has gone into say the posters that are released on an almost minute-by-minute basis, you tend to forget it's all about getting bums on seats, and simply stand back and appreciate the creativity inherent in many of the works.
So you can indulge in this art gallery of advertising along with me – BYO champers darling; It's not a catered post alas – I've picked some posters that I particularly love about shows and movies I can't wait to see, all of which are worth taking some time to appreciate, if only for the talent and creativity that went into making them a reality.
AGENTS OF S.H.I.E.L.D.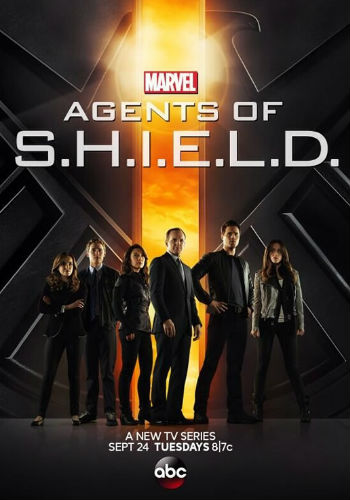 SNAPSHOT
Fresh from his role in the summer's box office smash, Marvel's The Avengers, Agent Phil Coulson (Clark Gregg) returns to the worldwide law enforcement organization S.H.I.E.L.D. He puts together a small, highly trained, team of Agents to tackle the cases that haven't been classified yet, the new, the strange and the unknown. That team consists of straight arrow Agent Grant Ward (Brett Dalton), an expert in combat and espionage; pilot and martial artist Agent Melinda May (Ming-Na Wen); and brilliant if socially awkward scientists Agent Leo Fitz (Iain De Caestecker) and Agent Jemma Simmons (Elizabeth Henstridge). They'll be joined by civilian new recruit and computer hacker Skye (Chloe Bennet).
What I love the most about this new poster is not so much the poster's design – not that it's not attractive: it definitely catches the eye but it's not an out of the box design to be fair – but the way it was released.
Following the appearance of Marvel's Agents of S.H.I.E.L.D., to use the show's full title as this year's Television Critics Association (TCA) summer press tour, Clark Gregg, who plays the resurrected Agent Coulson, who last we saw was impaled and rendered quite dead by "a certain Asgardian fellow" (his words) in The Avengers, tweeted one piece of this poster.
Once enough excited fans had retweeted this tasty promo morsel through the length and breadth of the Twittersphere, fellow cast member Ming-Na Wen followed suit till the whole poster in all its glowing glory had been shared by the cast and crew of the new Joss Whedon show.
Way to get fans to pay attention to their Twitter feeds!
And naturally it worked a treat, getting a huge amount of buzz going over an extended period of time.
Thankfully for those of us who don't want to piece the various tweet-sized pieces together with a virtual glue gun, the show has released the full poster with nary a sign of sticky tape or teeny tiny pixelated creases.
Marvel's Agents of S.H.I.E.L.D. debuts 24 September 2013.
DON JON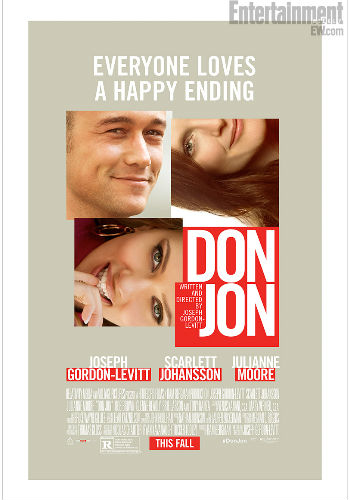 SNAPSHOT
Jon Martello objectifies everything in his life: his apartment, his car, his family, his church, and, of course, women. His buddies even call him Don Jon because of his ability to pull "10s" every weekend without fail. Yet even the finest flings don't compare to the transcendent bliss he achieves alone in front of the computer watching pornography. Dissatisfied, he embarks on a journey to find a more gratifying sex life, but ends up learning larger lessons of life and love through relationships with two very different women. (source: metacritic.com)
Is there nothing that Joseph Gordon-Levitt (500 Days of Summer, Looper), who first got noticed on 3rd Rock From the Sun, can't do, and do very, very well?
I think not.
He is a regular creatively-inclined renaissance man, and if you need any more proof of his extraordinary artistic abilities across a broad range of disciplines, let me present you with Don Jon.
Releasing officially in the USA on 27 September 2013, after premiering at the Sundance Film Festival in January earlier this year, Don Jon was written and directed by Gordon-Levitt, who also stars in the movie.
That's triple threat activity and indication of just talented this man is.
The new poster is also quite clever as insidemovies.ew.com, which premiered the poster, pointed out:
"Whenever characters in comedic movies or TV shows end up looking at porn they always do that "head-tilt" trope, which suggests whatever they're seeing (and the audience isn't) is so twisted they're having a hard time telling up from down.

The new poster for Joseph Gordon-Levitt's Don Jon very subtly tricks the viewer into doing the same, at least if you want to get a good look at the seductive looks Julianne Moore and Scarlett Johansson are giving off.

Coincidence? Probably. But it's also appropriate given this film's twisted take on love and sex."
Don Jon is a timely lesson on the dangers of disappearing so far into fantasy – understandable in one sense given how dissatisfying reality can often be – that you lose any appreciation for what's in front of you, and the poster seems to be having some fun with the idea of how we view things and how that can skew our perspective.
GRIMM (season 3)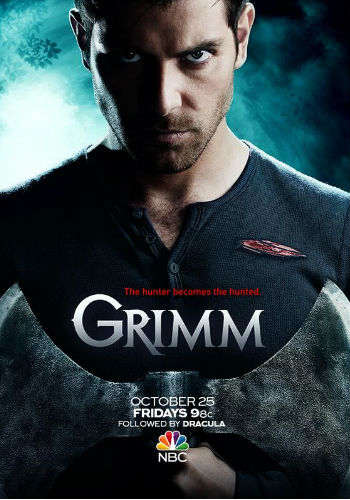 WHEN LAST WE SAW GRIMM…
"Grimm ended its second season with quite the cliffhanger in its finale, "Goodnight, Sweet Grimm": Nick (David Giuntoli) is captured by Eric Renard (James Frain) and Baron Samedi and is beginning his transformation into one of the Cracher-Mortel's zombie creatures, and Monroe (Silas Weir Mitchell), Rosalee (Bree Turner) and Juliette (Bitsie Tulloch) are left surrounded by enemies with escape looking less and less likely … At least Juliette and Nick finally completely reunite in the Season 2 finale."(source: blog.zap2it.com)
Grimm ended season 2 with just about everyone in all kinds of mortal trouble.
While there's no doubt they will all escape to fight another day, getting to that point looks like being a long and hard fought battle (as the poster featuring a clearly angry Nick makes clear), with plenty of epic moments along the way as the cast of Grimm made clear when they sat down with entertainment weekly at this year's San Diego Comic-Con:
"Mitchell [Silas Weir Mitchell who plays Monroe] added that episodes 1 and 2 — which pick up right where Season 2 left off — are 'cinematically big' and feature 'rock-em, sock-em zombie fightin' times.'"
But there will be some love and marriage in amongst all the fighting for survival with Monroe and Rosalee (Bree Turner) finally headed down the aisle in the sort of mixed-Wesen wedding that would not have gone down well in the old days.
As for the keys that everyone in the Wesen and Grimm worlds want to get their hands on – understandable since they carry with them the promise of the sort of unlimited power of which Bond villains, among others, often dream – showrunner David Greenwalt makes it clear on blog.zap2it.com that they have quite figured out that part of the equation yet:
"'As soon as we figure it out, [the keys] will be fully explained,' Greenwalt joked. 'You might see a second key this season. Eventually it will lead to something really big and unbelievable.'"
The starkly beautiful poster, which carries on the tradition of lush, almost cinematic Grimm artwork, also makes reference to the show's new Friday night companion, Dracula, a thematic kindred spirit if ever there was one.
Grimm returns for season 3 on 25 October 2013.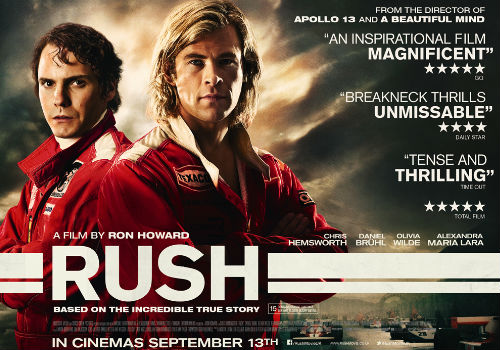 SNAPSHOT
The epic action-drama stars Chris Hemsworth (The Avengers) as the charismatic Englishman James Hunt and Brühl (Inglourious Basterds) as the disciplined Austrian perfectionist Niki Lauda, whose clashes on the Grand Prix racetrack epitomized the contrast between these two extraordinary characters, a distinction reflected in their private lives.

Set against the sexy and glamorous golden age of Formula 1 racing, Rush portrays the exhilarating true story of two of the greatest rivals the world has ever witnessed–handsome English playboy Hunt and his methodical, brilliant opponent, Lauda. Taking us into their personal lives on and off the track, Rush follows the two drivers as they push themselves to the breaking point of physical and psychological endurance, where there is no shortcut to victory and no margin for error. If you make one mistake, you die. (source: rushmovie.com)
It's back to the 70s for acclaimed director Ron Howard (who will forever be Richie Cunningham from Happy Days to me) and his screenwriter collaborator Peter Morgan who last visited the era of flared pants and lava lamps in Frost/Nixon.
This time they are focusing on rivalry of a different kind, that between flamboyant English F1 driver Brit Hunt and his methodical, measured competitor Niki Lauda (Daniel Brühl) who battled it out on the racetracks of the world at speeds approaching 180 mph.
The movie specifically focuses on the 1976 F1 championship season, giving us a look into a world where everything was larger than life including the battles for supremacy which were literally life and death at the speeds the drivers regularly used in racing.
Filming a movie like Rush was not without its risks as Howard noted in an in April interview with Yahoo! Movies:
"Of course, those things are dangerous," Howard said, "And the scenes we were throwing them into were particularly dangerous." So the scenes that called for top speeds were done by stunt drivers. But, Howard explained, the actors "had to get good enough so that they could come tearing into the pit stops and then accelerate out. And that's around people, and that's harnessing the power of those machines in a situation that really requires precision."
But filming concluded with minimal injuries and the capture of real time, real life racing action, which means we will be able to experience the amazing feel of being at the racetrack with these two men who while they grew to respect each other, remained fierce rivals right to the end.
The poster reflects that beautifully with the two men shown back to back. arms folded in defensive postures, neither yielding anything to the other.
Rush promises to be quite a ride when it opens in USA in limited release on 20 September 2013 and Australia on 3 October 2013.