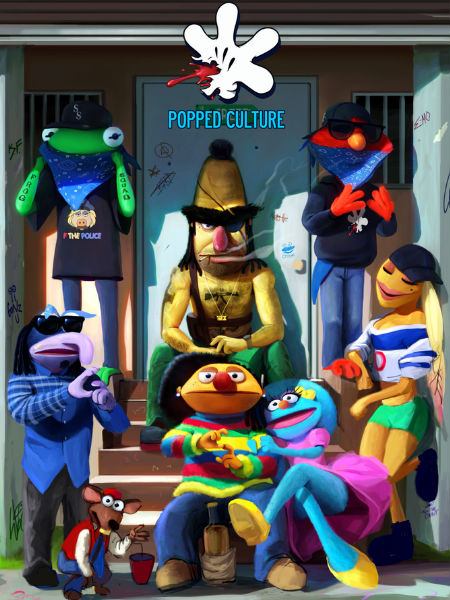 SNAPSHOT
POPPED CULTURE features 64 pages of Dan LuVisi's bizarrely skewed takes on popular culture in one eye-popping book. Some of the images contain short stories, explaining the disturbing and/or sometimes thoughtful backstories behind the characters. The book also includes some amazing work from several guest artists: Chase Conley, Jason Edmiston, Dave Wilkins, Richie Pope, Alex Konstad, Allison Smith, Sterling Hundley, and more! (synopsis via Kickstarter)
I am a big fan of anyone who subverts the established order.
And that's even when I am an enthusiastic supporter of the established order.
Principally because there is no existing system, no matter how enjoyable, and pop culture most certainly is, that can't benefit from having a satirical eye cast across it.
Nothing in this world is perfect; not even – GASP! – Bert & Ernie or Kermit or Buzz Lightyear, or least the apparatus that supports them, and I applaud enormously clever artists like Dan LuVisi and his stray burrito scrap (check out the video and this will make sense) who are willing to use their art for necessary satirical ends.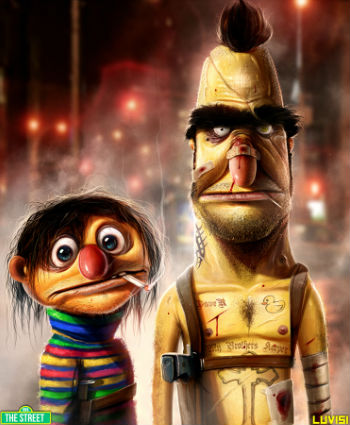 LuVisi, who began drawing Teenage Mutant Ninja Turtles in a colouring book with his father, and moved on after more than a few knock backs to drawing for DC Comics and launching his own successful graphic novel LMS: Killbook of a Bounty Hunter, has quite the eye for this sort of undertaking.
Yes, his images are shocking as we see characters in settings and roles they don't characteristically undertake, but he uses these depictions effectively, taking care to retain the physical essence of the character, to make some salient points about the way the business side of pop culture can often take sweet innocent ideas and twist them into unrecognisable shapes if it means making a quick buck.
To make sure his amazing art and its important message gets out to the world at large, LuVisi has launched a Kickstarter campaign to raise funds for his book Popped Culture, which will feature the kind of the artistic impressions of beloved characters you see on this page.
The art is clever, insightful and frankly, just a whole lot of fun – why wouldn't you want to support it?
And here's some more of Dan LuVisi's brilliantly-clever art (which you can own if you support his Kickstarter campaign).