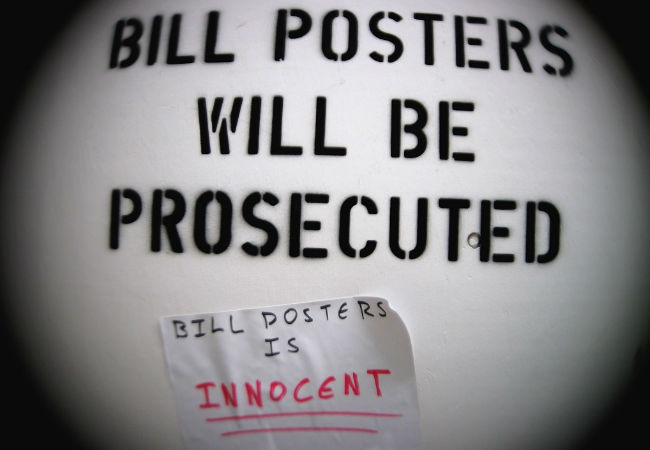 I have written long and often about my love of really clever, visually striking movie and TV promotional artwork.
Not everything produced in the art department salt mines of the movie studios and Tv networks is worth featuring of course but a great deal of it is, since let's face it, if it doesn't strike a chord reasonably quickly and in a memorable way then you have to question if it was worth producing in the first place.
Thankfully the following examples are definitely worth some serious eyeball time, and have beguiled me enough to include them in this post.
You're welcome.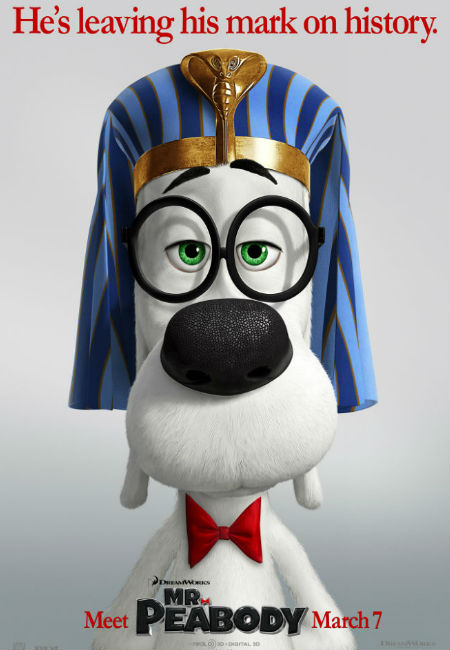 Only a month or so back I talked at length about my excitement that Mr. Peabody and Sherman, about a highly intelligent dog, and his adopted son who travel through time in the WABAC Machine, and which was originally segment on The Rocky and Bullwinkle Show, were going to get a movie all of their own.
In the movie Sherman (voiced by Max Charles) is trying to impress his lady friend Penny (Ariel Winter) with his time travelling prowess when he goes and rips a rather nasty time-altering tear in the fabric of history.
Hello ripped and shredded timelines and a whole lot of Butterfly Effect moments!
It's up to his dad, Mr. Peabody (Ty Burrell) to save the day with no doubt some sage lessons learned all around in the process.
While I still harbour some reservations about whether the wit and intelligence of the original series of short, sharp stories can be translated to a much longer format, complete with the overlay of modern sensibilities, the artwork is certainly more than up to scratch.
This poster, courtesy of moviefone.com, shows Mr Peabody standing like an ancient Egyptian (cue The Bangles because you know your earworm is playing it on a fearsome loop already) and promises all kinds of time-travelling shenaningans.
Mr. Peabody and Sherman opens in USA on 7 March 2014.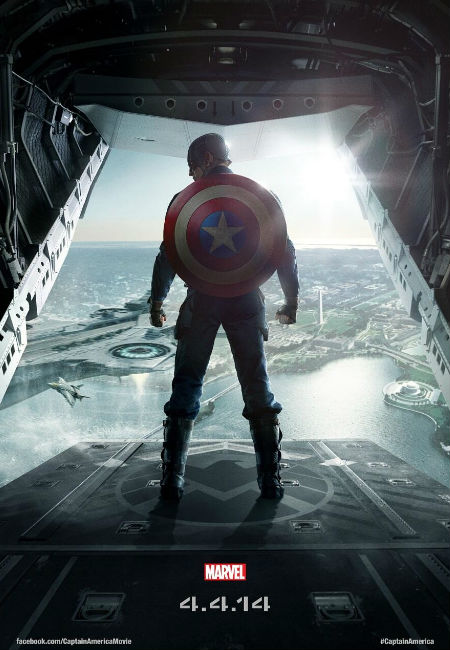 CAPTAIN AMERICA: WINTER SOLDIER
SNAPSHOT
Captain America: The Winter Soldier will pick-up where Marvel's The Avengers left off, as Steve Rogers (Chris Evans) struggles to embrace his role in the modern world and teams up with Natasha Romanoff (Scarlett Johansson), aka Black Widow, to battle a powerful yet shadowy enemy in present-day Washington, D.C. (source: hypable.com)
I have a shameful admission to make.
Somewhere in between Thor, Iron Man 1, 2 and 3 and The Avengers convincing me that superhero movies don't have to be all annoyingly vapid – admittedly Christopher Nolan's Batman trilogy helped in that regard too but hey, it's from the other franchise … SHHH), I forgot to see the first Captain America movie.
Yes, yes I know it's an egregious oversight and one I intend to rectify before Captain America: Winter Soldier, which stars Chris Evans, Scarlett Johansson and Samuel L Jackson among others, wends its way to theatres in Australia on 3 April 2014 and USA on 4 April 2014.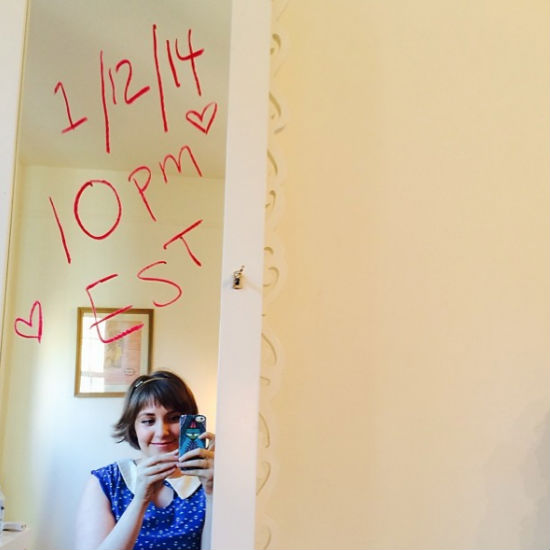 SNAPSHOT
Hannah, Jessa, Marnie, and Shoshanna are four 20-something girls living in New York and trying to figure out life, love, and themselves in the HBO series created by Lena Dunham. (source: metacritic.com)
I am overjoyed!
One of the most clever, insightful, and understated dramedies on TV, Girls, is back and back early in 2014!
While it took me a while to get around to watching the show thanks to a million other TV show commitments, I fell instantly and completely in love with the show.
It made sense why people were hailing Lena Dunham as such an inspired talent.
Of course I can also see why other people didn't like it since it is confronting in certain ways, unafraid to be honest and real, and almost wince-inducing at times as you wonder how these people are going to make it through life.
But I related to the sense of "what the hell are we actually doing here?" that pervades the series, a universal truism that pretty anyone can relate to if they actually stop for long enough, and unplug themselves from all their digital distractions, to confront it.
Three cheers for Lena Dunham for telling it like it is and doing with such good humour and sharp insight!
Girls, as the wonderful sign above says, returns on 12 January 2014 on HBO.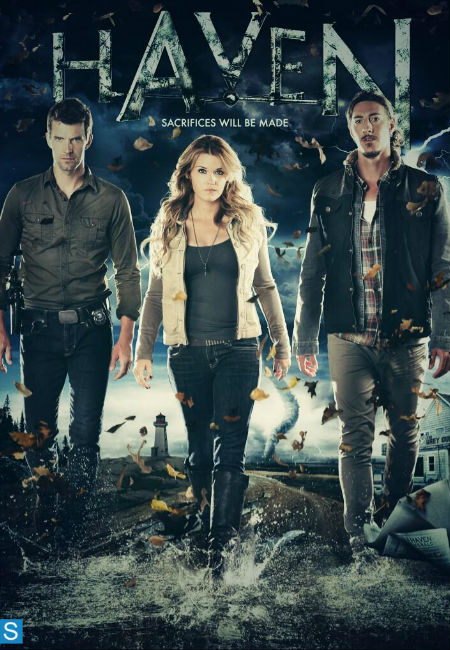 SNAPSHOT
Deep in the heart of Maine, Haven is a town where people with supernatural abilities have migrated for generations because it mutes their powers, allowing them to lead normal lives. At least, until recently. When hot-shot FBI agent Audrey Parker is called to Haven to solve the murder of a local ex-con, she catches the killer but uncovers a much deeper mystery about this town. Each week, as the town-peoples' dormant powers begin to express themselves, Audrey will try to keep these supernatural forces at bay while unraveling the many mysteries of Haven – including one surrounding her own surprising past in this extraordinary place. (source: aceshowbiz.com)
Haven is one of those shows that crept up on me when I wasn't looking.
Somewhere in the middle of watching Fringe, Eureka and Warehouse 13, I somehow missed this gem of a show which rests on a premise every bit as beguiling as the three shows I mentioned.
My housemate has faithfully watched it through all three seasons and is no doubt salivating at the prospect of catching the fourth series, which essentially resets the show with Audrey now a whole new woman with a tantalising new mystery on her hands.
Haven kicked off series 4 on 13 September this year.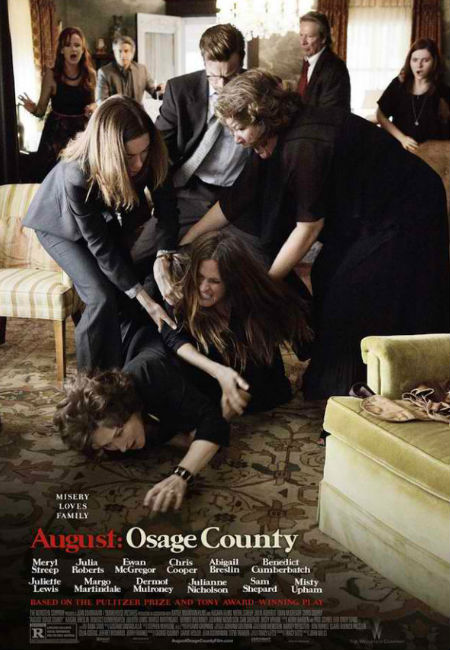 SNAPSHOT
A look at the lives of the strong-willed women of the Weston family, whose paths have diverged until a family crisis brings them back to the Oklahoma house they grew up in, and to the dysfunctional woman who raised them. (source: imdb.com)
August: Osage County, based on the play of the same name by Tracy Letts (who also wrote the screenplay), is an impressive movie in many ways.
Thematically it tackles one of the great constants of drama down through the ages – the role families play in our lives for better or worse (no prizes for guessing which way this movie leans for the most part) – with a star-studded cast that includes Meryl Streep, Julia Roberts, Ewan McGregor, Chris Cooper, Abigail Breslin and a whole of others.
Add to that the fact that it's been produced by the talented team of George Clooney, Jean Doumanian, Grant Heslov, Steve Traxler, and Bob and Harvey Weinstein and you have a movie that is pretty much unmissable.
While controversy raged over the end of the movie after its premiere at the Toronto Film Festival this year – the movie's ending is nowhere near as bleak as the play's, angering devoted fans of the story – the fact remains that it looks like a compelling, deeply involving and thought-provoking movie which has Oscar contention stamped all over it.
August: Osage County opens in USA on 25 December 2013 and Australia on 2 January 2014.