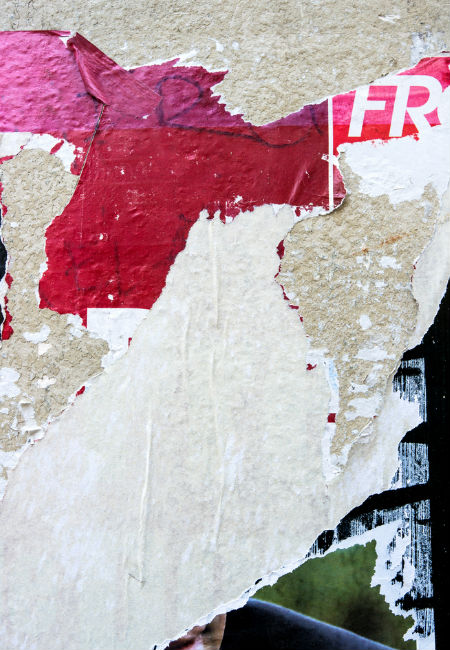 Ah the end of the year.
So many movies, so little time (yes even with holidays at our disposal, there seems to be more cinematic temptations on offer than there are hours available to spend sitting in darkened theatres, popcorn in hand)!
Working out just what to watch is made just a little easier by the posters that are released, that if done well, can tip the balance over seeing a movie with a less compelling piece of promotional artwork to its name.
Are we really that superficial?
Yes and no, but there's no denying that a great piece of movie art can make all the difference when you're deciding what you'll go and see.
Whether the following posters achieve that end is up for debate but I have gathered them together because, persuasive or not, they speak beautifully about the movies I hope to go and check out in coming months.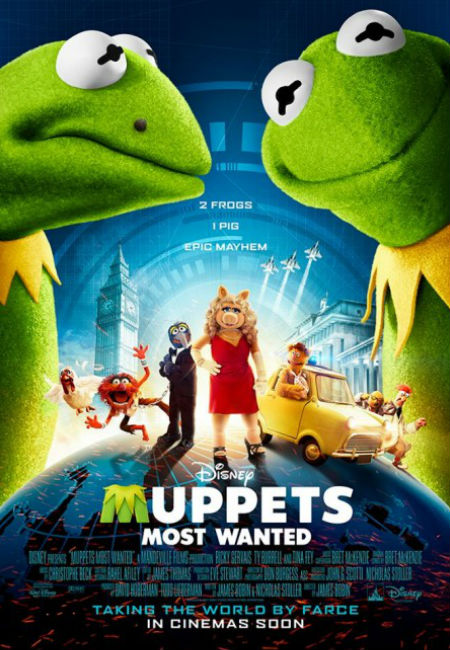 SNAPSHOT
Disney's Muppets Most Wanted takes the entire Muppets gang on a global tour, selling out grand theaters in some of Europe's most exciting destinations, including Berlin, Madrid and London. But mayhem follows the Muppets overseas, as they find themselves unwittingly entangled in an international crime caper headed by Constantine—the World's Number One Criminal and a dead ringer for Kermit—and his dastardly sidekick Dominic, aka Number Two, portrayed by Ricky Gervais, creator of Derek and the Golden Globe®- and Emmy®-winning series The Office and Extras. The film stars Golden Globe-, Emmy- and SAG Award®-winning actress and writer Tina Fey (30 Rock, Mean Girls, Date Night) as Nadya, a feisty prison guard, and Emmy Award winner Ty Burrell (TV's Modern Family) as Interpol agent Jean Pierre Napoleon. (source: heyuguys.co.uk)
It was but a week ago that I shared my excitement about Muppets Most Wanted and their new trailer, and now there's a new poster!
Does the Muppet-y goodness ever stop?
Not if this new poster, which features Kermit and his arch-nemesis Constantine and the delicious tagline "2 frogs, 1 pig, epic mayhem" with the Muppets gang arrayed below them on a globe perfectly captures the spirit of the looming loopy world-spanning caper, is any indication.
While Constantine, who succeeds in having his doppelganger locked away in a Russian prison for his nefarious activities with the application of a single black fake mole, looks on with cold, calculating intent, Kermit has his characteristic look of happy-go-lucky in place, little suspecting what is about to happen to him and his band of crazy, loveable friends.
That it will all work out in the end is a foregone conclusion but the getting there will be a fun, quip-laden ride and I can't wait till Muppets Most Wanted opens in March/April next year around the world.
WOLF OF WALL STREET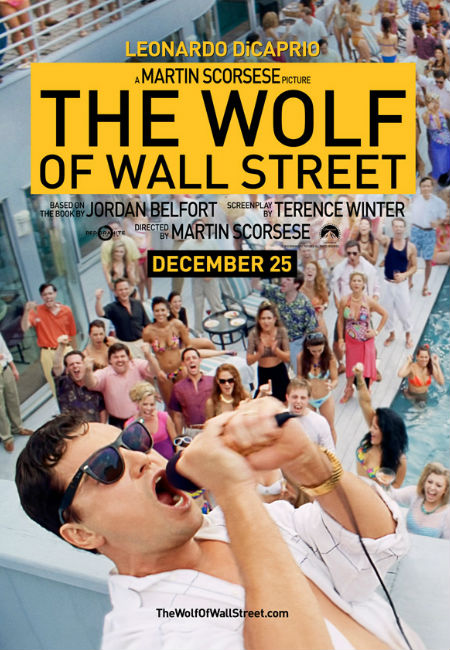 SNAPSHOT
Based on the true story of Jordan Belfort (Leonardo DiCaprio), from his rise to a wealthy stockbroker living the high life to his fall involving crime, corruption and the federal government. (source: imdb.com)
You could be forgiven for thinking that Martin Scorsese and Leonardo DiCaprio are joined at the artistic hip, so prolific has been their shared output but with fine films like Gangs of New York, The Aviator, Shutter Island and The Departed to their credit, I doubt you'll hear anyone complaining any time soon.
The Wolf of Wall Street is the latest offspring of this creative marriage and if it's anywhere near as good as the four films that have preceded it, we're in for an intense character-driven storytelling feast, this time about the hedonistic living and greed that was rife in the New York financial scene of the 1990s.
While it might not be quite as explicit as the first trailers might have suggested, after some explicit scenes were cut by Scorsese to secure a more favourable rating for the film), it promises to be never less than engrossing replete as Belfort's autobiography is with everything Hollywood loves in a gripping over the top story – the rise and fall of one overreaching man, power, loss of power, justice, debauchery, wild excess, redemption of a kind.
The posters, which granted are not the most imaginative of movie art to have ever been produced, nevertheless give you a good idea of the film that, according to Variety, one Paramount executive has described the fast moving film as "nutty, debaucherous, great".
That's all the encouragement I need to see the 3 hour plus epic which is due in theatres in USA on Christmas Day (which the cynically-minded among you might think is the perfect for a film about greed and excess to open).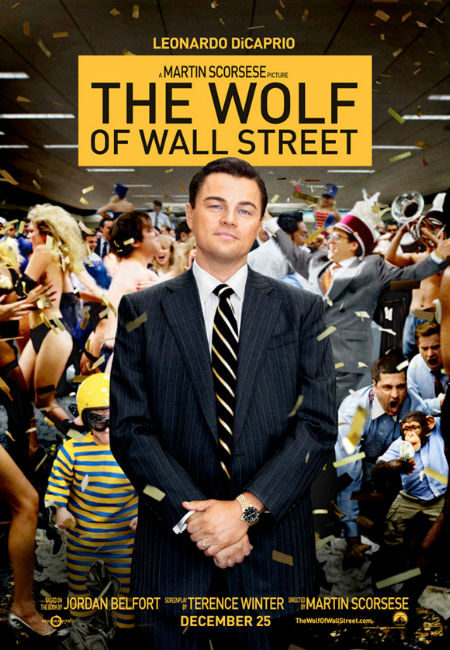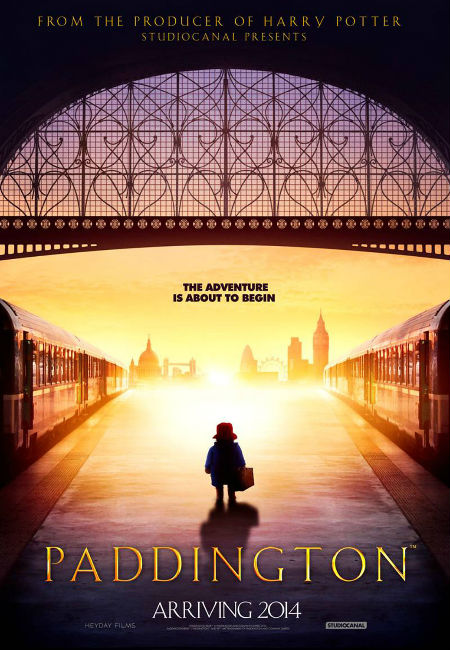 SNAPSHOT
Paddington follows the comic misadventures of a young Peruvian bear with a passion for all things British, who travels to London in search of a home. Finding himself lost and alone at Paddington Station, he begins to realise that city life is not all he had imagined – until he meets the kindly Brown family, who read the label around his neck ('Please look after this bear. Thank you.') and offer him a temporary haven. It looks as though his luck has changed until this rarest of bears catches the eye of a museum taxidermist. (source: Marmalade Films via imdb.com)
I have adored Paddington Bear, Michael Bond's impossibly cute creation who debuted in October 1958, ever since I devoured all the books and watched the animated TV series as a child.
There was something about the brave little bear from Peru, who journeys across the world to London to find a new home, finding himself adrift and alone in a big city until the Browns find him and take him to live with them, that makes you want to bundle him up, hug him close and never let him go.
And the poster captures the overwhelmed feeling of the innocent abroad perfectly, with Paddington very much alone in the vast, impersonal surrounds of Paddington Station in London, rooted to the spot and uncertain of what to do next.
Thankfully that sense of abandonment doesn't last long but in this freeze-framed moment it looks like it will never end.
I can only hope, like I do in every instance where a treasured childhood characters is updated for a modern movie-going audience, that the producers of the movie will remember that Paddington is a polite, gentle soul and keep that front and centre in the movie which opens in December 2014.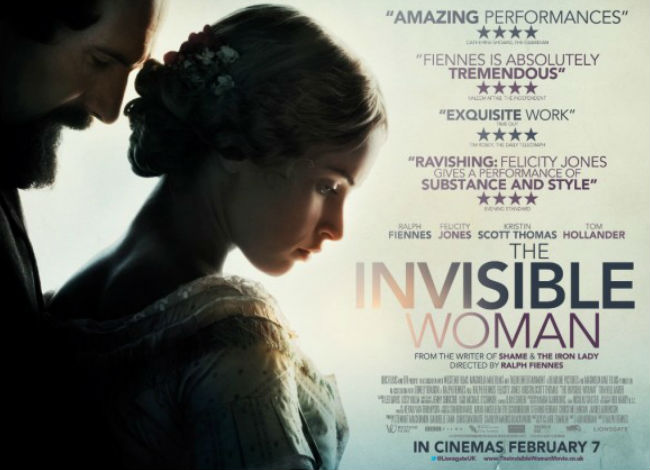 SNAPSHOT
Nelly (Felicity Jones), a happily-married mother and schoolteacher, is haunted by her past. Her memories, provoked by remorse and guilt, take us back in time to follow the story of her relationship with Charles Dickens (Ralph Fiennes) with whom she discovered an exciting but fragile complicity.

Dickens – famous, controlling and emotionally isolated within his success – falls for Nelly, who comes from a family of actors. The theatre is a vital arena for Dickens – a brilliant amateur actor – a man more emotionally coherent on the page or on stage, than in life. As Nelly becomes the focus of Dickens' passion and his muse, for both of them secrecy is the price, and for Nelly a life of "invisibility". (source: heyuguys.cok.uk)
Who knew that Charles Dickens, that towering figure of English literature whose books were as much about advocating for for the poor and espousing the high worth of the family unit as they were about telling an engrossing tale, spent 13 years of his life conducting an affair with a women almost 30 years his junior?
Apparently quite a few people if the torrent of books released over the last 100 years is any guide, all of which detail the affair between Dickens and actress Nelly Ternan which took place while Dickens, whose moral authority at the time was unquestioned, was supposedly happily married with a large brood of kids and a burgeoning successful career.
That Dickens was not fully committed to ideals he espoused is hardly a shock in one sense since very much great men and women are completely without fault, and indeed many of them drew from their brokenness to create the very art that made them famous, but seeing it writ large here will surely surprise those like myself who are more familiar with the books he has written than the man himself.
With this newly acquired knowledge of Dickens' moral double play in mind, what at first glance appears artfully simple poster takes on a whole new meaning with Nelly staring soullessly away from her lover who is close but also at a frustrating distance.
It captures the go away/come closer dynamic of many an affair but especially one where secrecy was paramount and where Dickens, a much revered figure in Victorian society, could not afford to commit his heart fully to his young love lest he lose everything in the morally punitive landscape of nineteenth-century Britain.
The Invisible Woman opens in limited US release on Christmas Day.
THE SECRET LIFE OF WALTER MITTY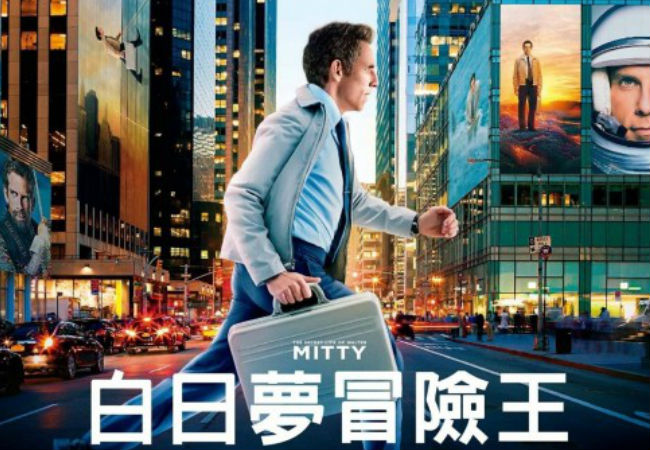 SNAPSHOT
Ben Stiller directs and stars in The Secret Life of Walter Mitty, James Thurber's classic story of a day-dreamer who escapes his anonymous life by disappearing into a world of fantasies filled with heroism, romance and action. When his job along with that of his co-worker (Kristen Wiig) are threatened, Walter takes action in the real world embarking on a global journey that turns into an adventure more extraordinary than anything he could have ever imagined. (source: heyuguys.co.uk)
I can't wait to see how this imaginative take on James Thurber's classic tale of pursuing your dreams and not having them succumb to the stultifying nothingness of day to day drudgery plays out.
While the original movie version, starring Danny Kaye as a daydreaming editor of pulp magazines, largely took place in Walter Mitty's head, Ben Stiller's updated version sees him roaming the world to live the life he has always dreamed of living, with the hope that somewhere in the midst of all this devil-may- careness he might impress the woman of his dreams.
This new international poster gives you an idea of just how far reaching Walter Mitty's larger-than-life adventures with his various incarnations as an astronaut, a swashbuckling arctic adventurer and even a fearless traveller who prefers sitting atop the plane to reclining safely and comfortably within.
It distills just how perfectly his imagination and longed for real life merge as he journeys from his thankless role as a magazine employee – ironically at Life magazine of all places – to a man of action and adventure who won't let a small thing like reality stop him from carpe diem-ing the hell out of life.
The Secret Life of Walter Mitty opens in USA on Christmas Day and in Australia on 26 December.