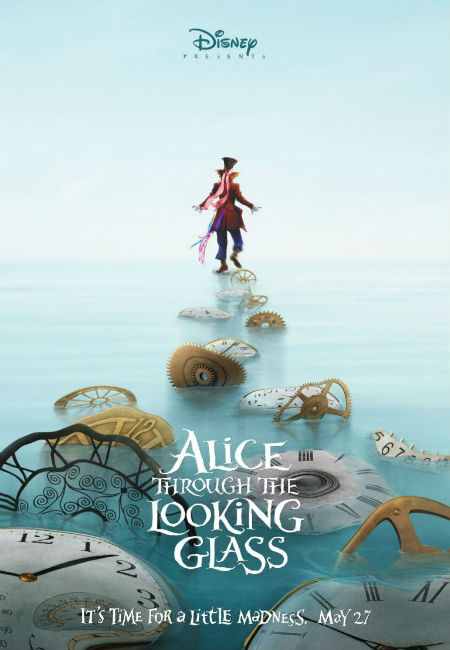 Every second year Disney holds a comic con of its very own making in Anaheim, a showcase for all its upcoming films and TV properties.
Known as D23, billed as the annual Disney fan event, it provides a wealth of exclusive insights into all the creative magic the Mouse House has been cooking up since the last biennial gathering.
This year was no exception with looks at Pixar's upcoming animated releases such as The Good Dinosaur, Finding Dory and Coco, Disney's own films such as Zootopia, new TV series, and live action movie releases.
Among the many teaser trailers and other glimpses of what's in store for the ardent Disney fan, and those of us standing on the outside looking in, Disney released some quite lovely posters for a few films …
ALICE THROUGH THE LOOKING GLASS
One of the great delights of 2010 was Tim Burton's colourfully fantastical take on Lewis Carroll's classic tale Alice in Wonderland.
While not to everyone's taste, with the films' somewhat dubious use of 3D not to everyone's liking – I think it worked for the film, lending it a necessary super luminous, otherworldly air – it met with enough success to warrant a sequel, Alice Through the Looking Glass.
And according to Zap2it, this time Alice will encounter quite a different Mad Hatter and an altogether more powerful foe, one whose presence explains the tagline "It's time for a little madness":
"Upon arriving, Alice learns from her friends that the he's 'gone darker' shedding the signature vibrant colors of his hair and clothing for shades of grey.
This simply won't stand for Alice, who decided to go back in time to rescue her friend. Unfortunately, that brings her directly against the movie's villain, Time Himself (Sasha Baron Cohen). Cohen plays time personified and isn't someone Alice wants to tangle with. 'Time is someone extremely powerful. He's not someone you want as your enemy,' the teaser warns Alice."
Quite how Alice and the Mad Hatter fare will be revealed on 27 May 2016 in USA and 14 July in Australia.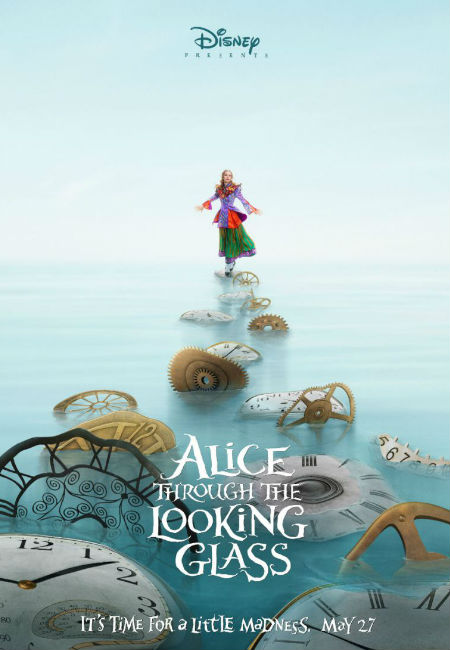 Disney is not immune to the current mania for remaking classic films in modernity's questionable image.
But at least with the remake of The Jungle Book, based on Rudyard Kipling's book of the same name – the original animated version came out in 1967 – they have eschewed an animated redux in favour of a live action version directed by Jon Favreau.
While there's no trailer available for the film as yet, attendees at D23 were treated, according to Screen Relish, to a "sneak peek of footage" as well as being given the following poster which features man-cub Mowgli (played by newcomer Neel Sethi) and Bagheera the black panther, which will voiced by Ben Kingsley.
We will find out if the 3D remake, which also features Lupita Nyong'o as the mother wolf Raksha, has been all the creative effort when the film opens in 2016.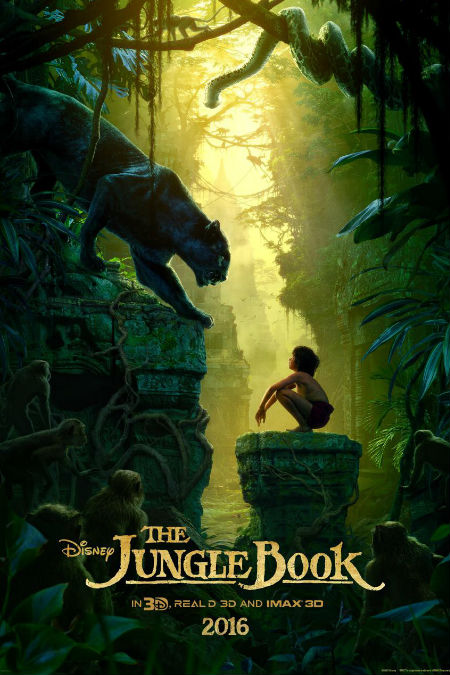 Oh yes and they also release some new posters for a small film you may have heard of called …
Of course everyone, even those people who mysteriously choose to live under rocks and miss pretty much everything, know there is a new Star Wars movie in the offing.
Every teaser trailer and full trailer has been dissected to within an inch of its galactic life for hints to the film's storyline which has been kept tightly under wraps by director J. J. Abrams, and now speculation can begin anew thanks to a bright shiny new poster by the much-venerated Drew Struzan, who, as IGN notes, "created the most iconic posters for the original Star Wars and Indiana Jones trilogies (among others)."
Featuring Harrison Ford as Han Solo, John Boyega as Finn, a stormtrooper who undergoes an epiphany of sorts, Adam Driver as Kylo Ren, a wielder of the dark side of the Force as well as a nifty cross-shaped lighsaber, and Daisy Ridley as Rey, a scavenger on the desert planet Jakku.
It's not an official poster as such, intended as a commemorative poster for those attending D23 but it looks amazing and for those of us who saw the original films in the cinema in the late '70s and '80s, will bring back a lot of wonderful memories.
Star Wars: The Force Awakens opens in Australia on 17 December 2015 and in USA on 18 December.