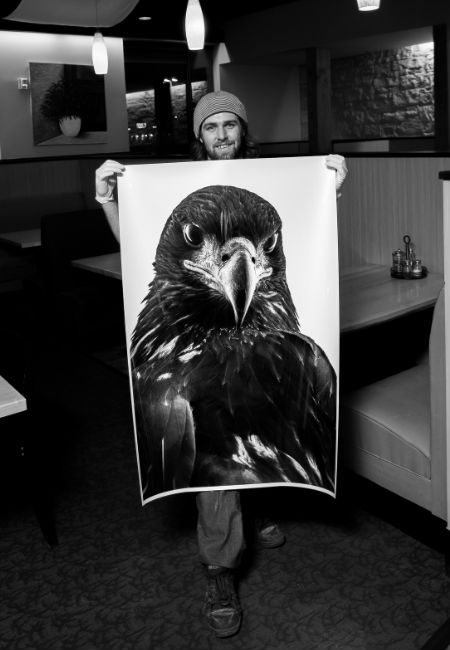 They, whoever they are, may be intent on prosecuting poor Bill Posters but the rest of us can't wait to see what else the master of promotion does next.
I will grant you that threats of prosecution usually accompany physical posters on hoardings and buildings and so on but I would like to think that in this digital day and age that Bill has kept up with the times and moved into the realm of virtual posters and images.
Having said that, I would say it's highly unlikely that anyone but the most curmudgeonly of pop culture haters would want to do anything but shake Bill's hands for the following highly imaginative, fun posters.
But if you see him, you might want to tell him to lay low till I'm absolutely sure that's the case.
I'll be the one eating his popcorn … and Maltersers … and Big Gulp …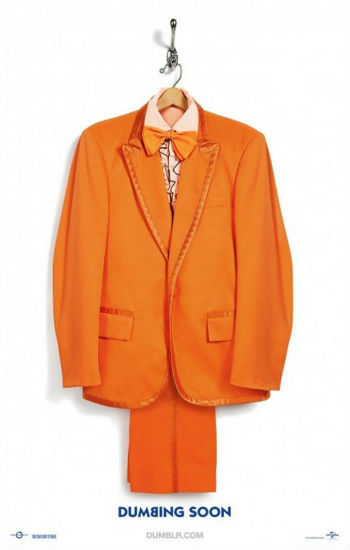 SNAPSHOT
"There is no growth out of either one of them and it's 20 years later … The story revolves around the fact that one of them may have sired a child. They want to go and find the child because he's having a kidney problem and he wants to ask him for one of his kidneys …" (Bobby Farrelly quoted in an interview on Digital Spy)
Ever since word broke that the 1994 Farrelly Brothers movie Dumb and Dumber starring Jim Carrey and Jeff Daniels would finally be getting a sequel, and then confirmation came through that it had actually started filming, I am have been in a lather of excitement.
I have been draining Big Gulps like there's no tomorrow, shag pile lining my van, and making truly weird noises just so I can yell "That's the most annoying sound in the WORLD!" to myself (hey, it passes the time).
And now as I sit here patting my headless parakeet on the, well, clearly NOT the head, Universal Pictures have released two posters   promoting Dumb and Dumber To that make me want to suit up and get in line for the cinema already.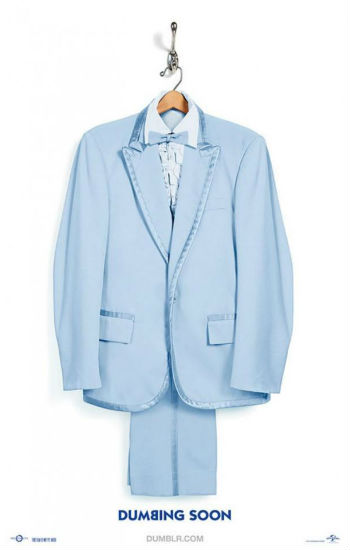 Alas I will have to wait till November 14 in USA (no dates released for Australia yet) to find out if the movie will be as funny as the original – of course it will be! Like we even need to wonder about that – but Cinemablend have released a rundown of the plot details showcased in the Universal Pictures presentation at CinemaCon and had this to say about their reaction to the footage:
"I've been vocal about my apprehension of this sequel, as the Farrelly brothers most recent run of films haven't come close to reaching the level of their earlier work, but I must say that I am actually now somewhat looking forward to Dumb and Dumber To. The humor is certainly sophomoric, as you would expect, but it's also so over the top that it got a few chuckles out of me. Most importantly, I was amazed by how quickly my brain adjusted to seeing Daniels and Carrey back together in character, and it was so fun to see the duo that after the footage I immediately found myself wanting more. I'm definitely still a bit wary of the project and not 100% confident that it will work, but my optimism level has gone up."
Well that's good enough for me!
Dress up and I'll see you at the movies in November.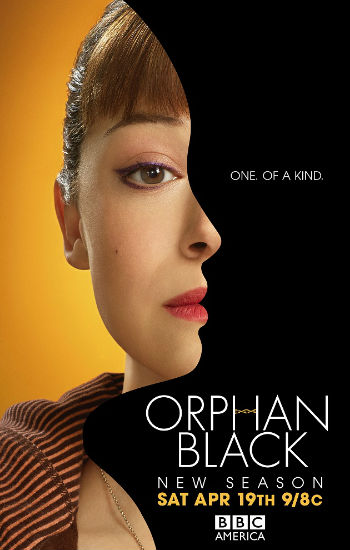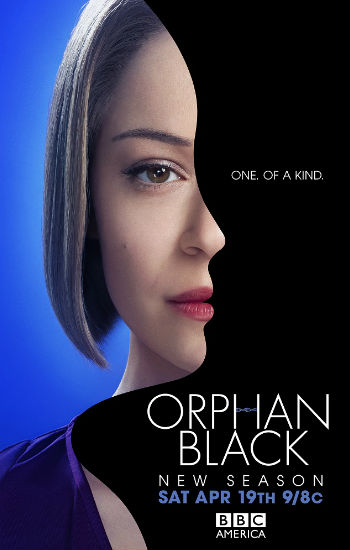 SNAPSHOT
Sarah is out of options, on the run, and pursued by deadly adversaries. Desperate to find her daughter Kira, Sarah suspects ruthless pro-clone Rachel is behind her daughter's disappearance and sparks an all out war against her. Alison and Donnie attend the funeral of her fallen friend, Aynsley, causing Alison to sink into guilt and despair. Cosima is faced with a perplexing decision that may have dire consequences. (synopsis of S2, E1 via hypable.com)
At almost the complete other end of the entertainment spectrum, the premiere of season 2 one of last year's water cooler hits Orphan Black is fast upon us and so are the many and varied promos for one of the most hotly anticipated second seasons of any show in recent memory.
Life has changed irrevocably for every single of the clones and Sarah in particular has a fight on her hands to track down her missing daughter Kira, who may or may not be in the hands of Rachel, a clone who has wholeheartedly embraced the agenda of her makers.
This battle of wills alone promises to make season 2 one to remember and just in case we're not keen enough already, BBC America has released a series of arresting posters for the upcoming episodes.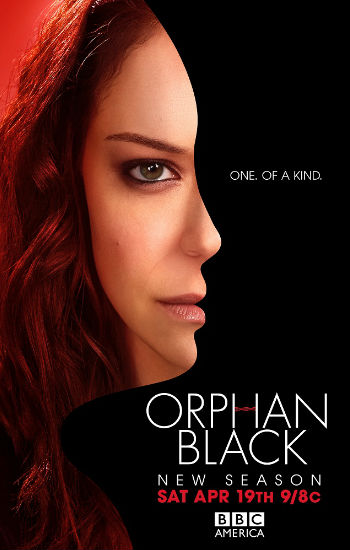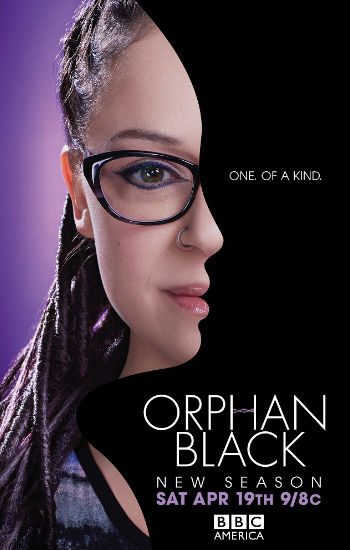 They feature Sarah, Alison, Cosima and Rachel (all played by the inordinately talented Tatiana Maslany) and every single last one of them is impossible to look away from, much the show itself.
They join a trailer and a featurette (below), and Instagram clips which have given us tantalising glimpses into the high octane, high tension dramatic thrills that await.
Orphan Black returns April 19 at 9/8C on BBC America.
And if that's not quite enough poster goodness, here's a poster featuring the entire cast with clues aplenty for the season ahead.
Here's what Buzzfeed thinks it all means.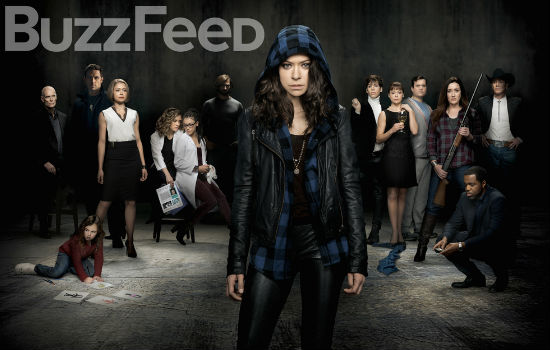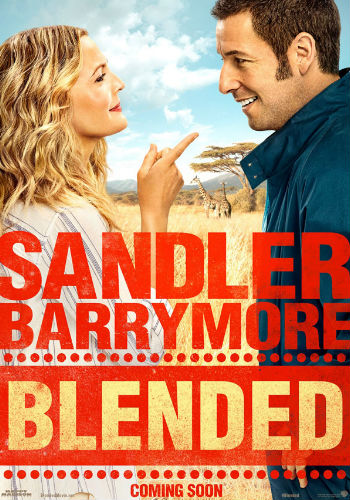 SNAPSHOT
Blended marks the third comedy collaboration between stars Adam Sandler and Drew Barrymore, following their successful onscreen pairings in the hit romantic comedies 50 First Dates and The Wedding Singer.

After a disastrous blind date, single parents Lauren (Barrymore) and Jim (Sandler) agree on only one thing: they never want to see each other again. But when they each sign up separately for a fabulous family vacation with their kids, they are all stuck sharing a suite at a luxurious African safari resort for a week.
(synopsis via comingsoon.net)
I have to be honest, I am not a great fan of Adam Sandler in general.
Yes I know he makes a gazillion dollars a picture and is revered and loved by teenage boys the world over for his sophomoric, trenchantly juvenile humour, and will likely retire a rich man to a private island somewhere while I and my disdain, um, don't, but I find it enormously hard to sit through any of his movies.
Which is why I largely haven't, save for two of his few dramatic departures, Punch Drunk Love (2002) and Reign Over Me (2007), in which he proved he could act when he puts his mind to it, and his two collaborations with Drew Barrymore, The Wedding Singer (1998) and 50 First Dates (2004).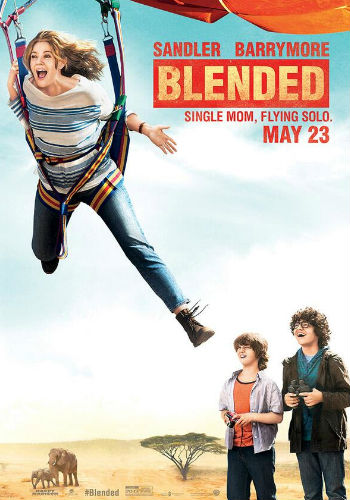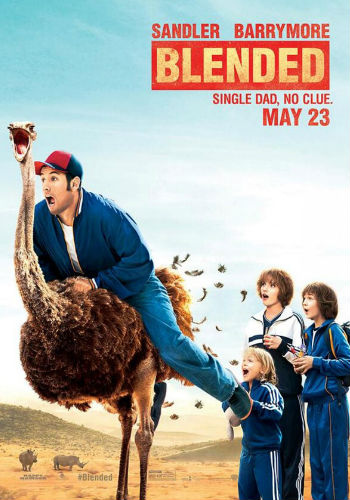 And it's these last two films that will likely be the only reason I may go and see Blended, since Drew Barrymore does seem to bring out the goofy, sweet best in him.
Quite whether that will happen in a movie as contrived and slapstick-favouring as this one is hard to predict but if there's one thing Cinemablend and I can agree on him, these posters are kind of fun, if a bit one note funny and Photoshopped to hell.
Enjoy them because it's entirely possible with Sandler involved that this is as good as Blended gets.
Blended opens in USA on 23 May 2014 and in Australia on 12 June 2014.