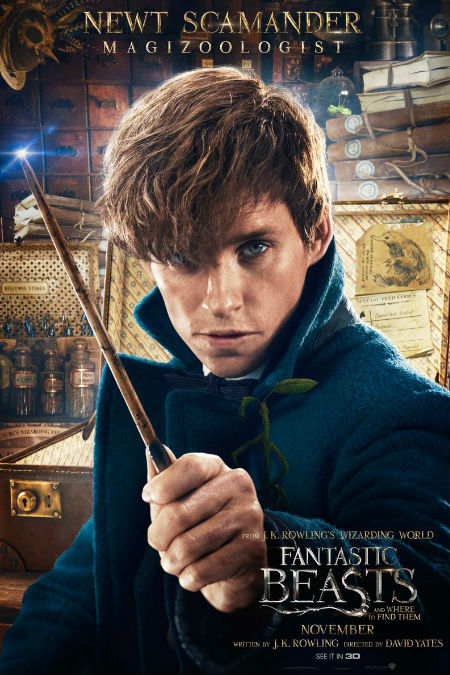 SNAPSHOT
Fantastic Beasts and Where to Find Them is an all-new adventure returning us to the wizarding world created by J.K. Rowling. Academy Award winner Eddie Redmayne (The Theory of Everything) stars in the central role of wizarding world magizoologist Newt Scamander, under the direction of David Yates, who helmed the last four Harry Potter blockbusters.

Fantastic Beasts and Where to Find Them opens in 1926 as Newt Scamander has just completed a global excursion to find and document an extraordinary array of magical creatures. Arriving in New York for a brief stopover, he might have come and gone without incident…were it not for a No-Maj (American for Muggle) named Jacob, a misplaced magical case, and the escape of some of Newt's fantastic beasts, which could spell trouble for both the wizarding and No-Maj worlds. (synopsis via Coming Soon)
It goes without saying, but naturally in need of pithy introduction for my post, I will say it anyway, that Fantastic Beasts and Where to Find Them is one very eagerly-awaited film.
Returning to the magical realm from which Harry Potter sprang forth but half a world away in the USA, the film looks to be every bit as big and well, as fantastic as everyone hoped for.
To add to the breathless sense of anticipation here in the No-Maj world where Muggles everywhere are cock-a-hoop with excitement, Warner Bros have released a slew of character posters, all of which come with extraordinary detail in the backgrounds and provide tantalising insight into each member of this impressive new group of magical, and not-so-magical people.
It looks it will be an amazingly otherworldly ride!
Fantastic Beasts and Where to Find Them opens in Australia on 17 November and in USA and UK on 18 November.
(source: Hypable)