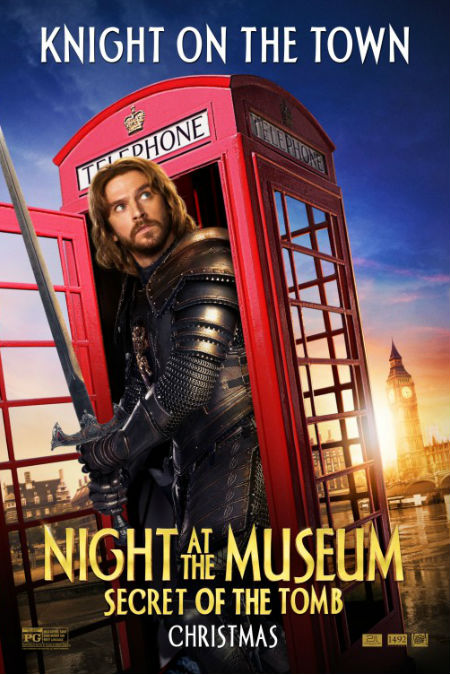 SNAPSHOT
[Night at the Mueum: Secret of the Tomb] starts at the original home, New York City's American Museum of Natural History, where the vibrant exhibits were discovered after closing time in 2006's Night at the Museum (2009's Night at the Museum: Battle of the Smithsonian took place in Washington, D.C.).

But the source of the life-giving magic — the Egyptian Golden Tablet of Pharaoh Ahkmenrah — begins to corrode, forcing international action.

Larry and museum exhibits including Pharaoh Ahkmenrah (Rami Malek), Teddy Roosevelt (Robin Williams), Attila the Hun (Patrick Gallagher), Sacajawea (Mizuo Peck), Roman centurion Octavius (Steve Coogan) and Jedediah (Owen Wilson) wind up at the British Museum's famed Egyptian wing to solve the deadly mystery. (synopsis via and (c) USA Today)
Ever since I saw the first Night at the Museum, I have been in love with the franchise's gleefully embrace sense of over the top silliness, the absurd and the downright playfully ridiculous.
This is a series of movies that knows how to have fun.
It knows it's not necessarily high art, Oscar-worthy bait of the highest order but it cares not, setting its characters loose on gallivanting adventures that resemble the hilarious silly undertakings of a certain group of Pixar toys.
Each group of characters aren't supposed to be alive, to be self-aware but they are, and they are, quite understandably also determined to hang onto their sentience come what may.
If it involves leaving the safety of their museum for Washington or London then so be it; whatever it takes to hold onto their precious self-awareness and the friendships and meaning it gives them.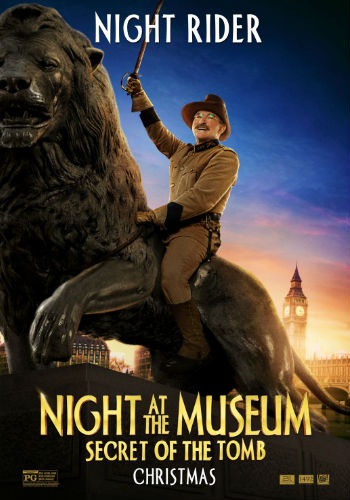 It's the desire of these characters to hold onto what makes them special that lends these admittedly lightweight though well-made movies the poignancy and substance they surprisingly possess.
On the surface it's all hilarity and tomfoolery, Keystones Cops-esque hijinks of the highest order, each step on the adventure more chaotic and messy than the last.
But beneath that, there's an innate and deeply satisfying sense of humanity that lifts the Night at the Museum franchise above the ordinary.
That said, the movies exist ultimately to entertain and to make us laugh, and the new pun-tastic posters released for the third film in the series Night at the Museum: Secret of the Tomb fit that zany, pedal-to-the-metal sensibility perfectly.
They will have you suitably giggling like a child until the film opens on 19 December 2014 in USA and UK and on 26 December 2014 in Australia.