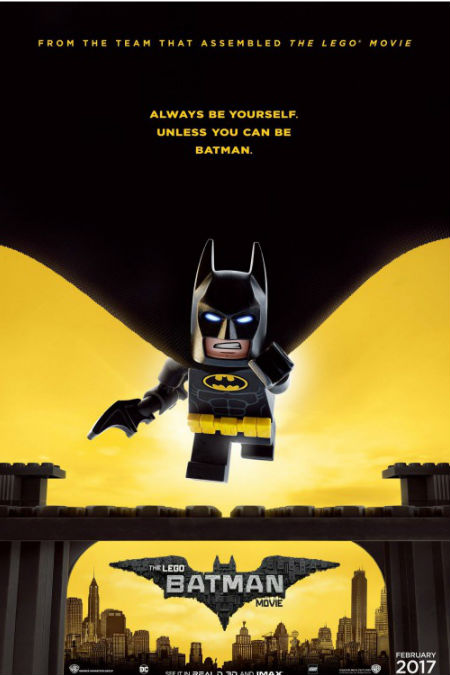 SNAPSHOT
In the irreverent spirit of fun that made The LEGO® Movie a worldwide phenomenon, the self-described leading man of that ensemble — LEGO Batman — stars in his own big-screen adventure: The LEGO® Batman Movie. But there are big changes brewing in Gotham, and if he wants to save the city from The Joker's hostile takeover, Batman may have to drop the lone vigilante thing, try to work with others and maybe, just maybe, learn to lighten up. (synopsis via Hypable)
We all know that Batman is dark and tortured soul. Yes, even LEGO Batman.
But even so, the assumption in the latest trailer for the hilarious The LEGO Batman Movie is that the millionaire playboy heads home "to party the night away with friends and lady active wear models" (and not snakes or clouds of which he is, apparently, deathly afraid).
Way wide of the mark people.
Batman is in fact a Netflix viewer of one – he actually does chill after some binge viewing – a lone dolphin-accompanied pool swimmer and a man not really into raising his ward, Robin, who shows a mark lack of interest in wearing superhero costume pants. (All soundtracked by "One is the Loneliest Number" by Three Dog Night.)
As for having a steady Bad Guy, well that's not even happening really either; he's actually fighting around A LOT and the Joker is devastated to learn he's not Batman's one and only nemesis.
Life can be cruel and if you're the LEGO Batman movie absolutely freaking hilarious despite all the angst and avoidance of pressing family issues.
We'll find out just how existential trauma and laugh-out-loud silliness go together when The LEGO Batman Movie opens in USA and UK on 10 February 2017 and Australia on 30 March.