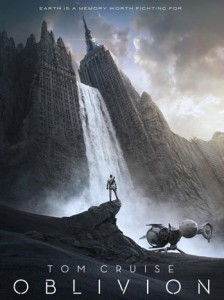 Behold the trailer for the upcoming apocalyptic movie Oblivion, where once again mankind has not played nice with planet Earth, rendering our precious blue and green ball irradiated and unfit for habitation for neither man nor beast.
Or so the remnant of humanity, safely ensconced in towering cities above the clouds has been led to believe.
But naturally there is more to the accepted truth than meets the eye, and it is one Jack Harper (Tom Cruise in another action adventure role), a drone repairman whose job involves him descending to the wasted land below on a regular basis (and who, in classic style, is just weeks from retirement), who stumbles across it.
At which point, of course all hell breaks loose, mysteries are solved and clouded still further seemingly all at once, and it is up to Jack to save the day and unite those who dwell below, led by Morgan Freeman's stoic yet purposeful leader, with their long estranged brethren above.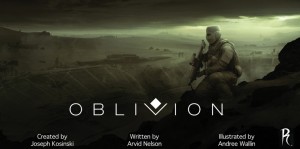 Based on the richly detailed graphic novel from Radical Publishing, which was created by Joseph Kosinski, written by Arvid Nelson, and illustrated by Andrée Wallina – Kosinski penned the script for the movie – the movie looks like one of those swashbuckling, fight-for-the-truth movies that Cruise handles with aplomb.
It is due in IMAX theatres in April 2013, with general release following shortly thereafter.