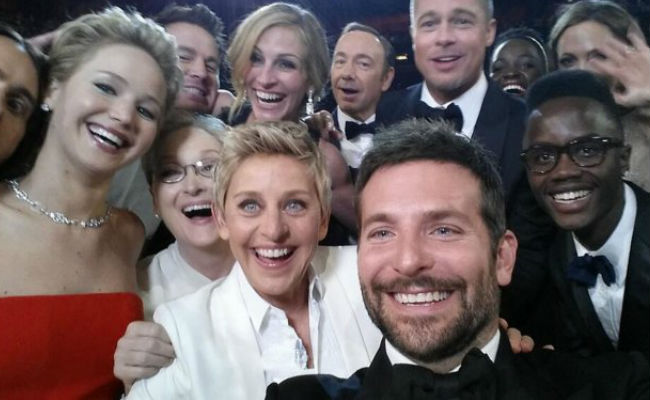 2014 was a phenomenal year to be a movie lover.
It seemed like every time you turned around, taking great care not to spill your oversized jumbo pack of popcorn or smear your choctop onto the blouse of the lady next to you, there was another engaging indie drama, entertainingly clever animated film or fun-filled blockbuster that didn't suck your brain out of the back of your head.
The reason it felt like that was not just because this was a big year numerically for movies with some 650+ being released overall – but because so many of them were such well-crafted love letters to cinema's power to entrance, move, envelop and utterly capture your attention.
Here then are the 10 films that meant the most to me, with an additional 21 runner-up films in alphabetical order.
* Please note that I have picked movies that came out in Australia this year which is why Nebraska for instance made the cut despite its 2013 release stateside.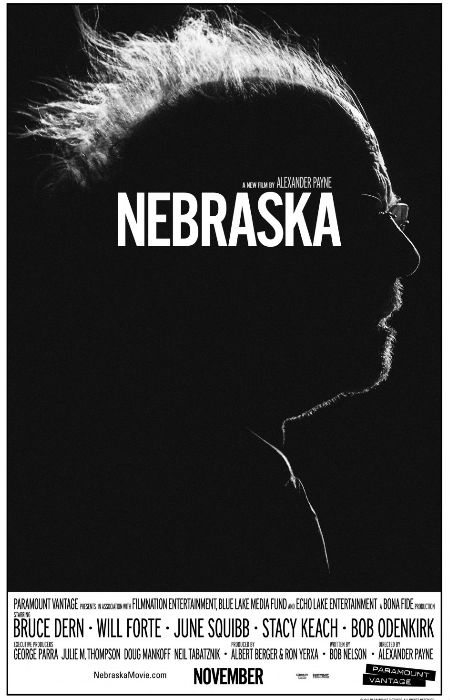 It wasn't simply the elegant starkness of the black and white filmography that captured my attention to such a degree that I felt like I didn't breathe through the whole movie.
What is so arresting about Nebraska is Alexander Payne's willingness to talk about life as it really is with precious few heartwarming bells and whistles.
Life is hard, and people make mistakes, and you can see the effects of all that flawed living in the faces of Woody Grant (Bruce Dern), who is obsessed with getting to Nebraska to pick up non-existent lottery winnings, his last chance he believes to make something of his life, his fed-up wife Kate (June Squibb) and their son David (Will Forte), who bravely sets out with his him on this decidedly quixotic road trip to seemingly nowhere.
Nebraska, I noted, "never delves into cheap and easy accessed answers or emotions, it's happy ending of sorts rooted quite firmly in the bleakness and monochromatic nature of life, where every victory or sweet moment is hard fought for, and all the more worthwhile for that."
Here is my full review of Nebraska.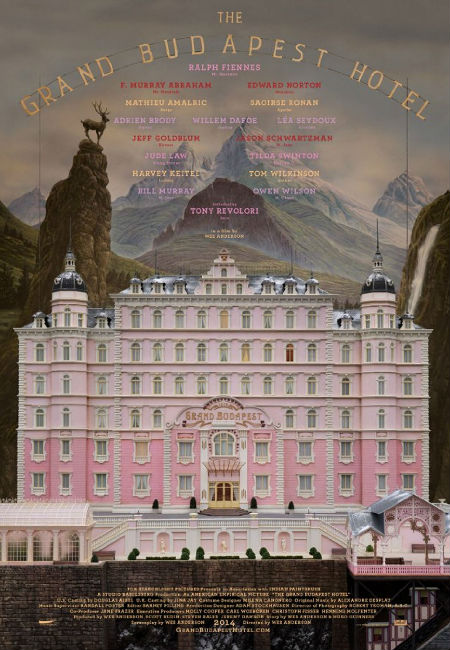 Oddly it took me a few films to fully warm to Wes Anderson's gorgeously retro style but once I did there was no turning back, with The Grand Budapest Hotel the latest, and I would venture to say, the most complete fulfilment of his vision to create stories that don't just speak to the human condition but do it in a way that is quirky, funny, meaningful, visually stunning and populated by characters so charming, madcap and verbally delightful that you can't help but like them, or at least be intrigued by them.
The Grand Budapest Hotel, which focuses on world class concierge M. Gustave (Ralph Fiennes) determined though whimsical efforts to clear his name after he is wrongly accused of the murder of one of his favourite customers and occasional lovers Madame Céline Villeneuve Desgoffe und Taxis (Tilda Swinton), with the help of his resourceful protege Zero Mustafa (Tony Revolori), is a delight from start to finish with nary a visual effect, joke, or insightful observation out of place.
As I noted in my review, the film sparkles with a "candy coated lunacy that suffuses the whole undertaking, a darkly-filled confection of slapstick comedy, artfully constructed yet wholly delightful and accessible wordplay and fantastical flights of fancy that somehow manage to co-exist quite happily within a reasonably linear and thoroughly entertaining narrative."
Here is my full review of The Grand Budapest Hotel.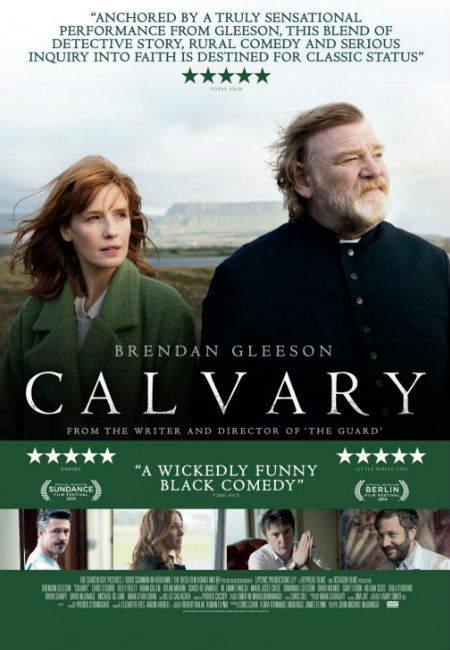 Calvary is grim, desperately grim in so many ways and yet for all its wringing of hands about the human condition, watching it is a transcendent experience, thanks to a mesmerising performance by Brendan Gleeson who invests his central character of Father James Lavelle with a world-weary but moving humanity that is never less than utterly engrossing to watch in action.
Fallible though he is, Father Lavelle is a "good priest", a man that doggedly keeps tending to his flock of broken, almost fatally-flawed parishioners, despite the fact that one of them, via the anonymity of the confessional, has vowed to kill him in a week's time.
The film's great value lies, I observed in my review, "in its willingness to ask the big questions, and answer them with an well-considered and far from glib affirmation that though there may be evil in this world, there is also goodness and hope (embodied in people like Gleeson's majestically-rendered Father Lavelle), that though imperfectly expressed, is worth holding onto even if it costs you more than you could have ever expected."
Here is my full review of Calvary.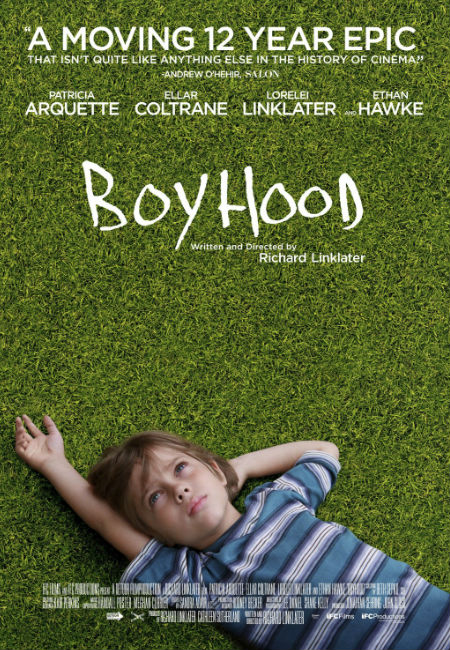 Boyhood is a remarkable achievement.
Filmed over 12 years by writer/director Richard Linklater, and using the same group of actors who gave up a couple of weeks each year to pick up where they left off the year before, it tells the story of Mason Evans Jr. (Ellar Coltrane) journey "from video games and daydreaming into the early stages of manhood and college in real time".
The story itself may not be so remarkable, a reasonably by-the-numbers recounting of the usual ups and downs of life as viewed by a young man just starting to make his way in the world but with Linklater's deft direction, a smart, literate script, and a host of talented actors including Ethan Hawke, and Patricia Arquette, Boyhood is an unforgettable experience, a home movie without parallel that offers a unique commentary on growing up.
Here is my full review of Boyhood.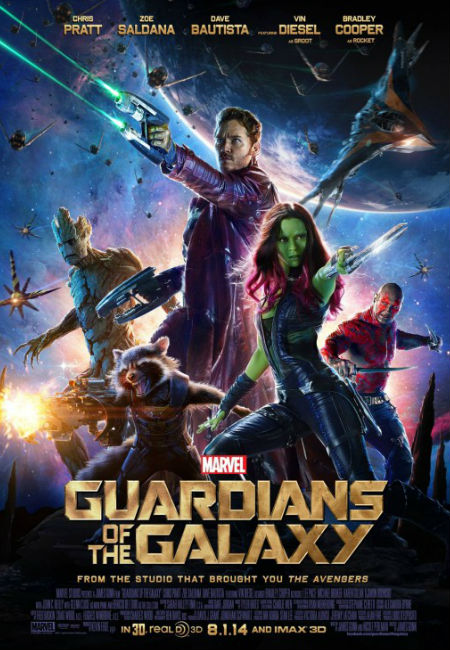 I will be honest – I am not a massive fan of comic book-sourced superhero movies, even though I have found a number of them such the Iron Man franchise and the Avengers film to be wholly entertaining, far more substantial than first appearances might suggest viewing experiences.
But there was something about Guardians of the Galaxy which grabbed me from the opening scene and never let me go, that had me grinning my long lost 12 year old inner self after he'd just seen Star Wars: A New Hope for the first time in 1977.
It's greatest asset was its ability to be both a comic book superhero flick and an affectionate send up of one at the same time, very much channelling the irreverent spirit of The Princess Bride, a film that took the best of Marvels' undoubted gift for crafting intelligent blockbuster movies and added in all manner of sly wit, verbal slapstick, deep, touching humanity and space bound thrills-and-spills to devastatingly entertaining effect.
Here is my full review of Guardians of the Galaxy.
TWO DAYS, ONE NIGHT (DEUX JOURS, UNE NUIT)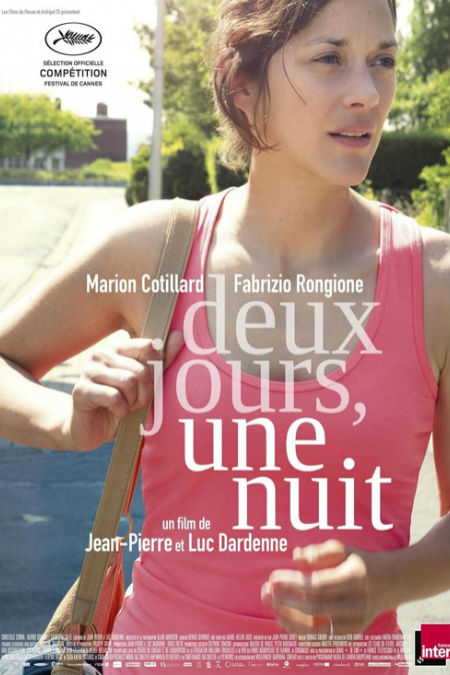 You may not think there is much a story to be told about a woman going door to door over the course of one weekend to convince 9 of her 16 workmates to vote for her continued employment at the solar panels factory where they all work, over a sizeable bonus they all need, but in the hands of director brothers Jean-Pierre and Luc Dardenne and with the towering presence of Marion Cotillard inhabiting the role of factory worker Sandra, it is richly dramatic tale that is impossible to ignore.
Barely recovered from an emotional breakdown, Sandra is just hanging in there, held aloft only by the unwavering love and support of her husband (Fabrizio Rongione) and close friend Juliette (Catherine Salée), her fight to keep her job, an "up hill and down dale fight of emotionally-epic proportions, the great gravity of which is only enhanced by the sheer suburban ordinariness of her surroundings, the day to day reality of peoples' hanging-on-by-a-thread lives forming the backdrop to her David and Goliath fight for job survival."
This is drama writ large in the most ordinary of settings and all the more powerful and impacting for it.
Here is my full review of Two Days, One Night.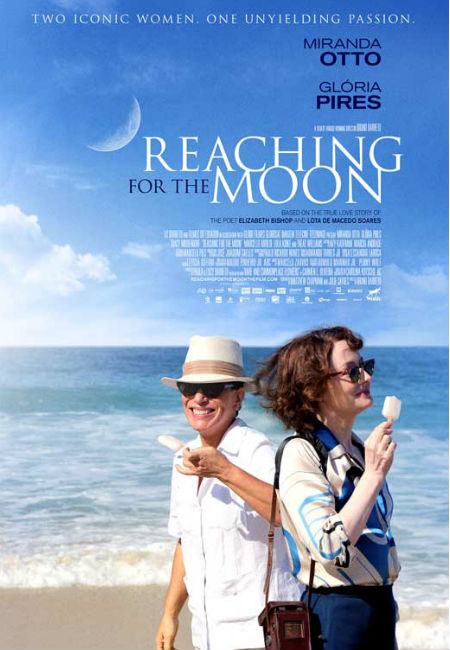 Reaching For the Moon is one of those movies that reminds how passionate, how intense, how all-encompassing true love can be, and how it can all go so horribly wrong in the hands of people ill-eqipped to be loved so purely and so well.
Anchored by superb, moving performances by Australian actress Miranda Otto and Brazilian actress Glória Pires, the film recounts the love story of "brilliant American poet Elizabeth Bishop (Miranda Otto) and the visionary mind behind Rio de Janeiro's Flamengo park (which contains the moon-like lights from which the movie partly takes its name), Lota de Macedo Soares (Glória Pires)."
It is a beautiful, immersively moving film that can't help but have a profound impact on you.
As I noted in my review:
"Reaching For the Moon is that rare creation of modern filmmaking, possessing a literate script, subtle nuanced directing, and performances so across-the-board impressive  – Treat Williams is also noteworthy as poet Robert Lowell while Luciana Souza sparkles with acerbic wit as Joana – that if there is not talk of awards for both Otto and Pires, and healthy audience numbers throughout the film's run, then we will have definitive proof that the modern world has profoundly and chillingly fallen out of love not just just with good stories well told but with, I think, love itself."
Here is my full review of Reaching For the Moon.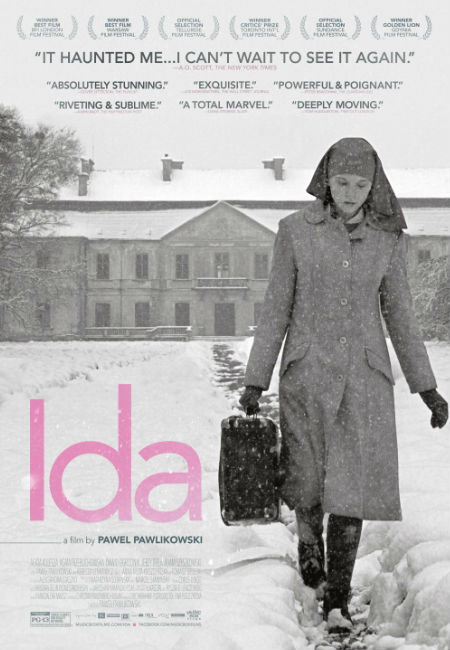 Another film rendered in black and white, Ida is a quiet, contemplative cinematic outing, a movie that relies every bit as much on the endlessly malleable facial expressions of first time actor Agata Trzebuchowska as it does on the sparsely-worded dialogue that punctuates the long, beautifully shot scenes of near silence.
Ida, which tells the story of a Polish novice nun in 1962, one week away from taking her vows who is forced to meet up with an aunt, Wanda (Agata Kulesza), she didn't know she had only to find out she is not the person she thought she was, is all about choices – what happens when life turns out to be an entirely proposition that you once thought it to be?
Do you dump everything you are and embrace the new you with gusto or quietly and rhythmically observe it, live a little and then go on as you originally meant to?
The genius of Ida, a breathtakingly beautiful film in every way, is that you're never quite sure which way this remarkably introspective young woman will go.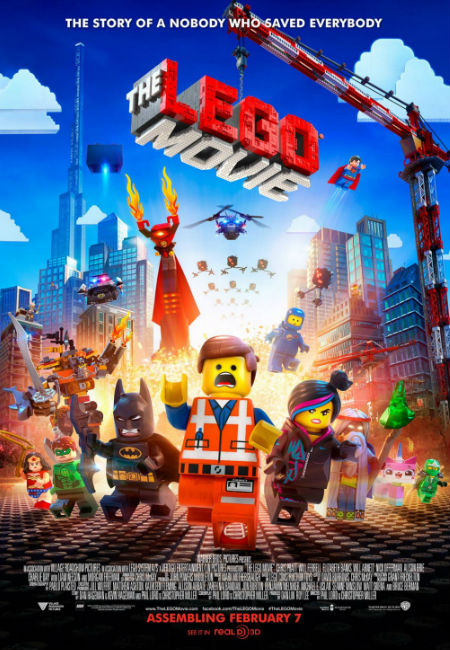 I have been a LEGO fan ever since I was old enough to successfully click one brightly coloured Danish plastic brick into another but even I, thrilled though I was at the prospect of a movie all about my favourite childhood toy, was a dubious about how good a movie this would be.
After all, as The Transformers franchise has shown all too clearly, nostalgia and a robust fan base do not always an enjoyable movie make.
Here's to expectations defied!
"A deliriously happy grin-inducing concoction, The LEGO Movie manages to channel the endlessly imaginative possibilities that anyone who has ever played with the legendary Danish blocks will easily recall, surrounding them with witty, well-rounded characters, gags aplenty and a much needed reminder that life can indeed be mind-blowingly fun and yes, of course, awesome."
Here's my full review of The LEGO Movie.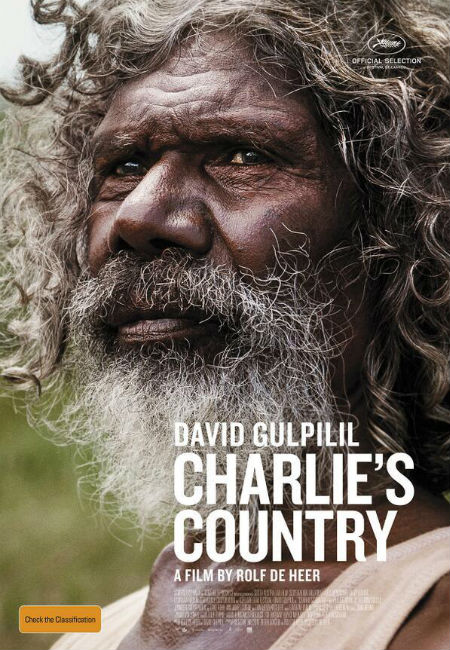 There is an arresting poetic beauty and authenticity to Charlie's Country, Rolf de Heer's latest feature film with legendary actor David Gulpilil, that is starkly evident from the silent second to opening shot of the movie in which an introspective Charlie sits in his humpy, lost in mumbling introspection, a tattered photograph held tightly in one hand.
You can help but be touched by this thoughtfully-introspective, sometimes mischievous man who for all his much-reduced circumstances and advanced age, decides that he will be better off "in country" than he is in the small, poverty-stricken township of Ramingining in the Northern Territory of Australia.
As I noted in my review:
"It is this constant resilient drive to return to the country from he was literally birthed, and which sustains him still even when he is far away from it, both spiritually and physically, that lends this deeply-affecting, haunting and and richly-rewarding tale so much of its lasting impact and meaning and which stays with you long after Charlie's final knowing gaze has disappeared from the screen."
Here's my full review of Charlie's Country.
And behold the more than worthy runners-up …
DAWN OF THE PLANET OF THE APES
THE SECRET LIFE OF WALTER MITTY