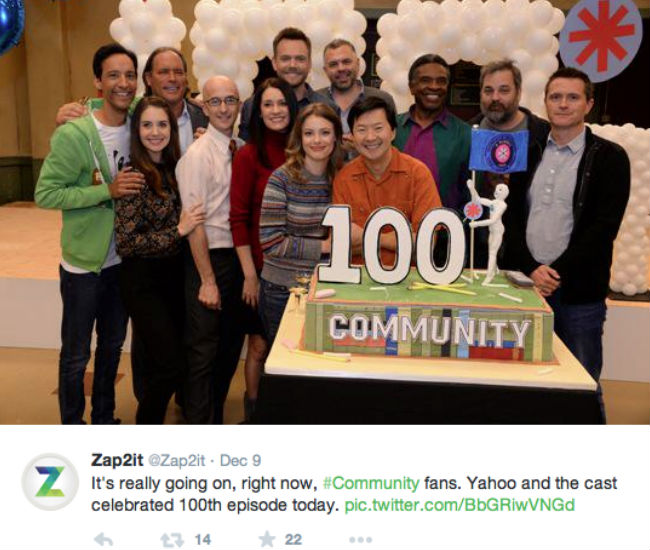 Another year, another PVR up in smoke trying to cope with the insane numbers of programs I ask it to keep track of and record.
Seriously it didn't go up in smoke but it came close, damn close, with a multiplicity of new and old shows competing for my attention, and even more on the way.
This bounty of TV viewing choices has forced some uncomfortable choices on me with highly regarded shows like The Knick and Game of Thrones (this will likely change in 2015 as my friend's boyfriend is determined I will LOVE this show and has set aside a weekend to make it happen) having to give way to other shows that for whatever reason proved more of an attractive option for me.
There is a certain amount of guilt attached to this "lifeboat" policy since it means walking away from water cooler shows that everyone else is talking about but there are only so many hours in the day and I need to juggle the time needed to watch the shows that do manage to make it onto my schedule with all the books I want to read, the movies I'd like to see and music I can't wait to listen to.
Still, for all the shows I didn't quite get around to watching, there were an awful lot that did get viewed and I have picked the 10 favourites and 10 runners-up that made this viewing year a most happy and satisfying one.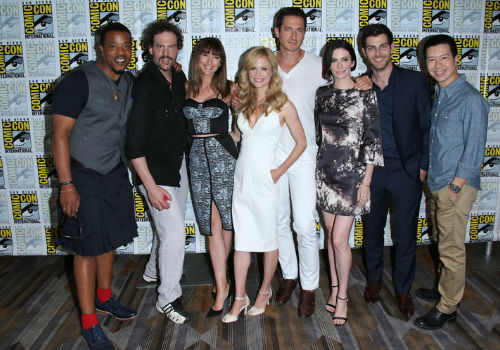 SNAPSHOT
Homicide investigator Nick Burkhardt of the Portland Police Department learns he is descended from a line of "guardians" known as "Grimms", charged with keeping balance between humanity and the mythological creatures of the world called Wesen, the German word for being or creature (pronounced as "vessen" in the show[9]). Throughout the series, he must battle against an assortment of dangerous creatures, with help from his reformed Wesen friend Monroe, and his partner Detective Hank Griffin. (synopsis via NBC)
From episode one, I have loved this show's intelligent and highly imaginative mix of police procedural, postmodern fairytale re-telling, supernatural meets the natural and challenging of the established order of things.
It's one of those rare shows that has never wavered in its commitment to fully-realised characters, fascinating story arcs and beguiling case-of-the-week plots, the proof in the Wesen pudding being the uniformly great episodes of season 4 which is currently underway.
This is how television should be – comforting and challenging all at once.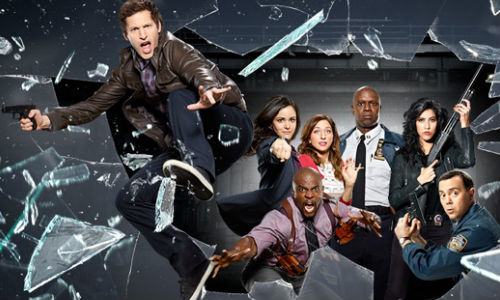 SNAPSHOT
Set in the fictional 99th Precinct of the New York City Police Department in Brooklyn, the single-camera series follows a precinct team of detectives and a newly appointed captain. (synopsis via Wikipedia)
This is such a funny show.
I wondered if I would ever find a sitcom that tickled the funny bone in quite the same way that shows like Frasier, Friends and the soon-to-depart-our-screens Parks and Recreation did and are doing.
But Brooklyn Nine-Nine is a classy, stupendously well-written ensemble comedy that gives equal time to each of its characters, somehow manages to balance their personal lives, police work and flights into the absurd in 22 gloriously good but all too short minutes and achieves that rarest of feats, making me laugh out loud more than a few times an episode.
Here's my review of the pilot episode.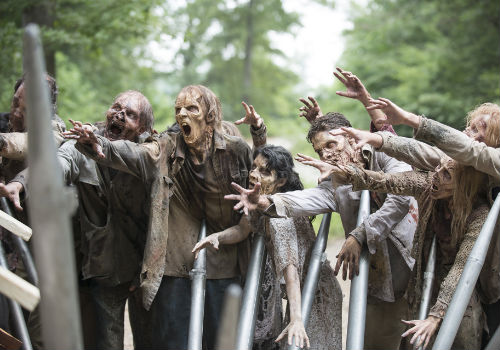 SNAPSHOT
The Walking Dead is an American post-apocalyptic horror drama television series developed by Frank Darabont. It is based on the comic book series of the same name by Robert Kirkman, Tony Moore, and Charlie Adlard. It stars Andrew Lincoln as sheriff's deputy Rick Grimes, who awakens from a coma to find a post-apocalyptic world dominated by flesh-eating zombies. He sets out to find his family and encounters many other survivors along the way. (synopsis via Wikipedia)
My housemate had to work hard last year to talk me around to watching the pilot of the series, a show I didn't want to view because of my abiding hatred of horror in any form, but once I realised how well-written and acted the show is, and how effectively the zombies and the collapse of civilisation are used to examine the human condition, I was hooked and haven't looked back since.
In fact, it is now one of only two shows who are accorded the honour of having every episode reviewed – the other is Falling Skies – and I eagerly await the arrival of each episode via satellite from the U.S. like a kid waiting for Santa Claus on Christmas Eve.
Yep, it is that good.
Here's my review of the recently-telecast mid-season finale of season 5 "Coda".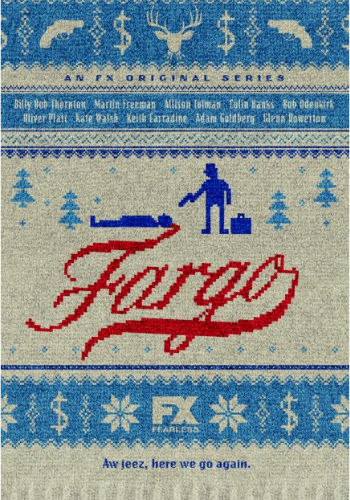 SNAPSHOT
Fargo is an American dark comedy-crime drama television series created and written by Noah Hawley. The show is inspired by the 1996 film of the same name written and directed by the Coen brothers, who serve as executive producers on the series. It premiered on April 15, 2014, on FX. Future seasons will follow an anthology format with each season being set in a different era along with a different story, cast and set of characters. (synopsis via Wikipedia)
It's not easy to mix black humour and drama together but creator Noah Hawley and the producers of Fargo manage it perfectly, in the process offering up a show that is witty, clever, engrossing, visceral and beautifully, imaginatively shot.
The protagonist, Lester Nygaard (Martin Freeman) starts off all aw-shucks-sweet but soon reveals himself as a man so amorally ambitious you get the impression, initially at least that he is shocking himself with his dark behaviour.
His accomplice in crime, a sociopath who is an accessory to more crime than you poke a blood-tipped spear at, Lorne Malvo (Billy Bob Thornton) and the police officers who do their best to bring them to justice, Deputy Molly Solverson (Allison Tolman) and Officer Gus Grimly (Colin Hanks) plus a host of supporting characters who are as absurd as they are chilling, lend Fargo the air of an intensely-arty film noir but with the easy accessibility of one of the Law and Order shows.
And it looks so gobsmackingly beautiful, Matthew J Lloyd's cinematography so evocative, that staring at unending silent vistas of snow for minutes at a time is almost meditative.
A fine, fine show in every regard.
Here's a perfect review on EW of what makes Fargo such special viewing.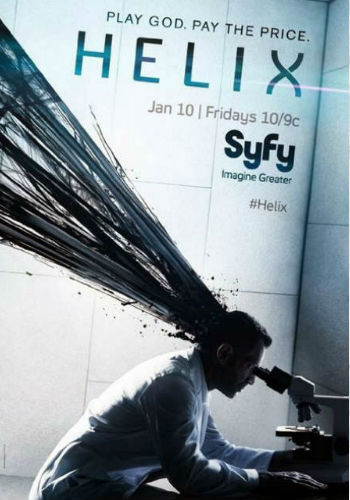 SNAPSHOT
Helix is an intense thriller about a team of scientists from the Centers for Disease Control who travel to the high-tech Arctic BioSystems above the Arctic Circle to investigate a possible disease outbreak, only to find themselves pulled into a terrifying life-and-death struggle that holds the key to mankind's salvation or total annihilation. (synopsis via Helix wiki)
Another show trading on dark, fearsomely bad expectations of the future that kept the tension high without shrill gimmicks throughout the first season, choosing to spend its storytelling energies on a far reaching mythos, three-dimensional characters (and that included the villains of the piece, who turned out to be almost everyone) and tautly-constructed narrative.
While the diseased humans acted somewhat like zombies, and were every bit as terrifying, they weren't the main game in town.
The real action was the show's unflinching examination of 1001 twisted variants on the human condition, the way in which even good intentions can be cajoled into something so horrible that you wonder how the people involved can sleep at night.
The answer? The majority are so blindly committed to their cause that all they see is a bright and shiny future where the rest of us see likely apocalyptic oblivion.
In the hands of the talented team which includes Ronald D Moore (Battlestar Galactica) that way absorbing, gripping drama lies.
Here's are my first impressions of Helix. 
SNAPSHOT Falling Skies is an American science fiction post-apocalyptic dramatic television series created by Robert Rodat and executive produced by Steven Spielberg. The series stars Noah Wyle as Tom Mason, a former Boston University history professor who becomes the second-in-command of the 2nd Massachusetts Militia Regiment, a group of civilians and fighters fleeing post-apocalyptic Boston following an alien invasion that devastated the planet six months before the events of season one. (synopsis via Wikipedia)
What a turnaround Falling Skies demonstrated in season 4 under new showrunner David Eick, with tighter, more dramatic storylines, and a sense of focus and consistency that was a considerable improvement on the up and down nature of previous seasons.
It's not that Falling Skies had ceased to be an eminently watchable show; it's simply that it often seemed to waste its meagre allotment of just 10 episodes a season, a restriction which should have concentrated minds on producing punchy drama with few fallow scenes, on episodes that went nowhere, that contributed little to nothing to the show's examination of humanity fighting not just for their lives but their entire civilisation and planet.
Season 4 however made full use of its premise, putting characters, and humanity as a whole, in harm's way, making it feel like we were actually watching a show about the apocalypse with life-or-death stakes around every corner.
And the fact that the producers have opted for a fifth and final season to wrap the show up on their terms speaks of the new disciplined approach the show's producers have adopted, one that should see Falling Skies go out with a bang and not the previously-feared whimper.
Here's my review of the double episode that finished off season 4.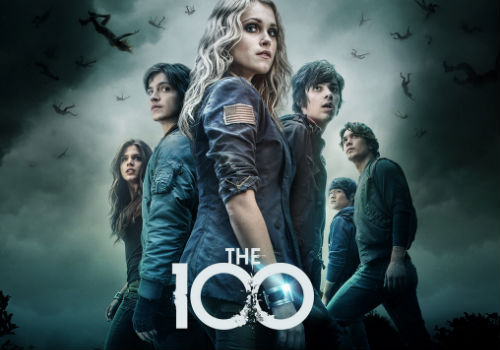 SNAPSHOT Ninety-seven years ago, nuclear Armageddon decimated planet Earth, destroying civilization. The only survivors were the 400 inhabitants of 12 international space stations that were in orbit at the time. Three generations have been born in space, the survivors now number 4000, and resources are running out on their dying "Ark" – the 12 stations now linked together and re-purposed to keep the survivors alive. Draconian measures including capital punishment and population control are the order of the day, as the leaders of the Ark take ruthless steps to ensure their future, including secretly exiling a group of 100 juvenile prisoners to the Earth's surface to test whether it's habitable. (synopsis via Pog Design)
I must admit I approached this show with some hesitation, largely because I thought I fell outside of its core demographic by, say, a decade or three.
But surprisingly, rather than a stew of teenage angst in space and on an irradiated Earth, although being a CW show there is more than a little of that, The 100 is a clever bringing together of post-apocalyptic survival tales, power politics and Machiavellian intrigue, all bundled up with some LOST-like mysteries and two-headed deer.
I expected to last just an episode or two but as I saw things come to a head in the final episode of season 1, I realised that watching season 2 when it premieres in Australia in January is all but inevitable …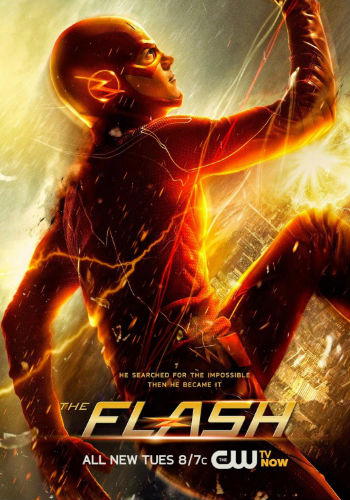 SNAPSHOT
Barry Allen was just 11 years old when his mother was killed in a bizarre and terrifying incident and his father was falsely convicted of the murder. With his life changed forever by the tragedy, Barry was taken in and raised by Detective Joe West, the father of Barry's best friend, Iris.

Now, Barry has become a brilliant, driven and endearingly geeky CSI investigator, whose determination to uncover the truth about his mother's strange death leads him to follow up on every unexplained urban legend and scientific advancement that comes along. Barry's latest obsession is a cutting edge particle accelerator, created by visionary physicist Harrison Wells and his S.T.A.R. Labs team, who claim that this invention will bring about unimaginable advancements in power and medicine. However, something goes horribly wrong during the public unveiling, and when the devastating explosion causes a freak storm, many lives are lost and Barry is struck by lightning.

After nine months in a coma, Barry awakens to find his life has changed once again – the accident has given him the power of super speed, granting him the ability to move through Central City like an unseen guardian angel. Though initially excited by his newfound powers, Barry is shocked to discover he is not the only "meta-human" who was created in the wake of the accelerator explosion – and not everyone is using their new powers for good. In the months since the accident, the city has seen a sharp increase in missing people, unexplained deaths and other strange phenomena. Barry now has a renewed purpose – using his gift of speed to protect the innocent, while never giving up on his quest to solve his mother's murder and clear his father's name. For now, only a few close friends and associates know that Barry is literally the fastest man alive, but it won't be long before the world learns what Barry Allen has become…The Flash. (synopsis via Screenrant)
As I've noted many times before, I was never a card-carrying member of the superhero comics pack growing up, preferring quirky British comics and Hanna-Barbera tie-ins.
But as an adult I have watched many of the Marvel movies like Thor and Iron Man, the DC adaptations like Batman and Superman and even some of the TV shows to date like Smallville, and while they haven't completely rocked my world, I have enjoyed them sufficiently to keep watching them as they come out.
The Flash however is the first TV superhero show, of which there are now a plethora, that I have really truly enjoyed – while I appreciate the look and feel of Gotham and Arrow to name just two, both failed to make that important personal connection with me that's needed to keep me watching – and it's got a great deal to do with the likability of the cast, chief among them Grant Gustin as The Flash who combines just the right amount of geewhiz innocence and growing capability and awareness of his powers.
I am also enjoying the various relationships he enjoys with people like his stepfather Detective Joe West (Jesse L. Martin) and stepsister Iris (Candice Patton), his imprisoned father, the mysterious Dr Harrison Wells (Tom Cavanagh) and his team, and the growing mythos building them. This is a show that clearly intends to make something substantial of its premise and I am more than happy to race along with them.

SNAPSHOT
Set in Miami, the series details the surprising and unforeseen events that take place in the life of Jane Villanueva, a hard-working, religious young Latina woman whose family tradition and a vow to save her virginity until her marriage to a detective is shattered when a doctor mistakenly artificially inseminates her during a checkup. And to make matters worse, the biological donor is a married man, a former playboy and cancer survivor who is not only the new owner of the hotel where Jane works, but was also her former teenage crush. (synopsis via Jane the Virgin)
It's a very rare thing indeed to come across a show that warms the heart, titillates the inner love for gossip, drama and over-the-top action that so many of us have, and yet manages to stay wonderfully grounded somehow.
After all, it's an outlandish premise if ever there was one, reflective of the telenovela genre which inspired it, and it's a tribute to showrunner Jennie Snyder Urman that they successfully managed to combine a crazy premise with a show that is infused with palpable poignant humanity.
That is nothing short of miraculous, and essential to the show's survival since as we all know, a hilarious premise can only take you so far as a viewer and you need something of substance added in or you simply won't care for the characters or their ongoing situation.
But Jane the Virgin has it all – the incomparable Gina Rodriguez as Jane, over the top premise, wonderful characters, witty dialogue and narration, and all the warmth and humanity you could possibly want.
You can read a full interview with Jennie Snyder Urman at Huffington Post.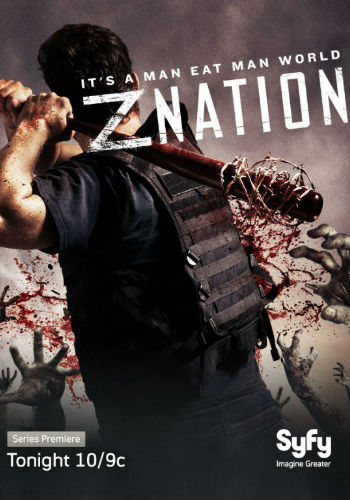 SNAPSHOT
Z Nation starts three years after the zombie virus has gutted the country, when a team ofeveryday heroes must transport the only known survivor of the plague from New York to California, where the last functioning viral lab waits for his blood. Although the antibodies he carries are the world's last, best hope for a vaccine, he hides a dark secret that threatens them all. With humankind's survival at stake, the ragtag band embarks on a journey of survival across three thousand miles of rusted-out post-apocalyptic America. (synopsis via Cosmic Booknews/Television)
I really didn't want to watch Z Nation when I first heard about it.
After all, it's from Asylum Productions, the same people who brought us the deliberate schlock of Sharknado and Sharknado: The Next One, who, while wearing their so-bad-it's-good cred proudly, didn't seem like they were the sort of people who could pull off an entire series.
A short, sharp, movie yes but an entire 13 episode run? No thank you, I have The Walking Dead.
And while I am still very much convinced their aesthetic leaves a lot to be desired, there is something insanely likeable about Z Nation and it's irrepressible silly sense of humour that just works.
I am not entirely sure how honestly but for all the dodgy CGI effects, habitually over-the-top scenarios and just plain silly action sequences, you get sucked into a show that somehow miraculously manages some poignant heartfelt moments with characters you actually begin to care about quite contrary to initial expectations.
Bring on season 2 I say! Yes I just said that …
And now for the 10 runners-up, a number of which were prime contenders for a Top 10 position but just missed out and are arranged here in alphabetical order (just so you know I am not playing favourites with them) …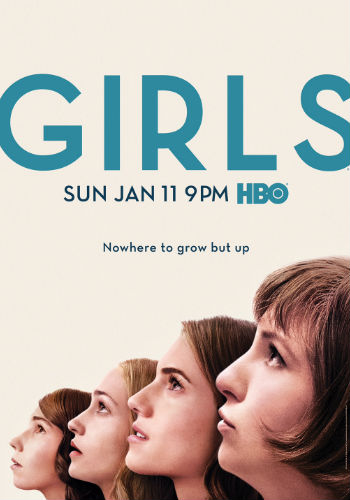 And if you're wondering which TV shows attracted the most DVR/PVR activity, Mashable have published some helpful infographics to explain who benefited from time-shifting.
It's quite an illuminating picture.