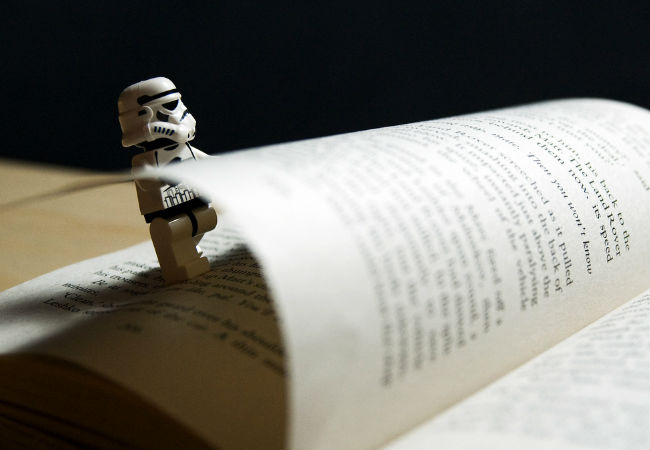 2013 was not exactly a triumph of book reading quantity over quality.
Not that any year should be of course since it is not how many books you read that matters as whether the books you do read are beautifully written, enthral and move you in some way and leave a beautiful scar of some kind.
But I couldn't help wondering why I don't manage to get through as many books as I would like to and it dawned me that reading demands a great deal more time than many other pursuits and in today's time-poor world with a 1001 distractions, that is an Achille's Heel that isn't easily remedied.
Most movies are over and done with in two hours, TV shows in 1/2 hour to 1 hour a week (unless you're binge-watching in which case, see you next week) and plays and concerts all have a reasonably finite running time.
But books, really good, deeply involving books demanding a huge part of your time and your soul and your attention, and while they are almost always worth it, finding all those things is not always easy.
I plan though to make it work a whole lot better next year because there is an altogether almost indescribable existential bliss that comes from curling up with a great book, meeting the characters within, experiencing them in adventures epically big or intimately small and losing your self in its ebbs and flows for as long as it takes.
But until that happens again and often, I shall content myself with the fact that I read some nighty fine books this year, and here are the five that really made an impact:
A WORKING THEORY OF LOVE by Scott Hutchins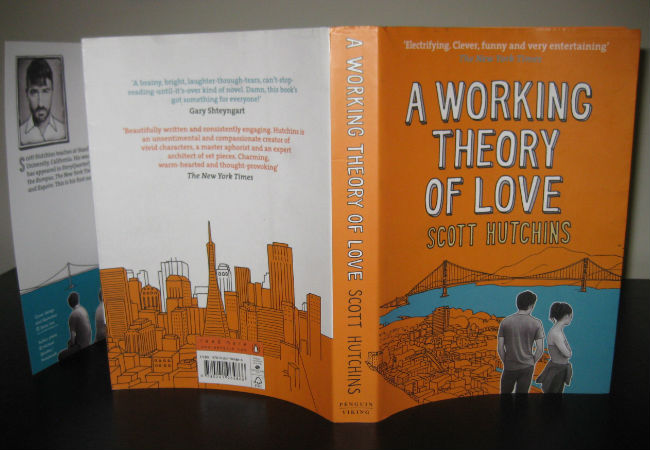 Asking what it means to be human, to truly wonder why you, or any of us for that matter, is here, is one of those recurrent themes in literature and understandably so.
It is an almost inescapable question for anyone who has moved beyond the mere fact that we do exist and wants to know the why and it is an essential part of Scott Hutchins gorgeously written, beautifully thought out, funny, sad and just plain uncomfortable (for the characters, not so much the readers) take on life in 21st century San Francisco.
In A Working Theory of Love,  Hutchins "attempts through the person of Neill Bassett Jr., a thirty-something divorced San Franciscan, to give voice to the often inchoate longings of the average person for a sense of where they're headed in life and why."
He does through a variety of means, most obviously Neill's job where he is working with others to create the first recognisable Artificial Intelligence program, using the richly detailed, unguardedly honest years-long diaries of his deceased father.
While this project progresses, Neill must confront all sorts of fissures in his life, through which he develops his own imperfect working theory of love.
It's not a resolution by any means but the journey is suffused with "wit and intelligence, compassion and understanding [and] brought to life by beautifully realised characters who assure us at every turn that while we will never have all the answers, having some of them will do for now."
This is one book I happily disappeared into for quite some time and you will too, rewarded with prose that sings, characters that stumble but accept that as part of life and down-to-earth intellectual musings on the whys of life, that is neither ponderous nor overworked but accessible and real.
Here's my full review of A Working Theory of Love. 
GREAT NORTH ROAD by Peter F. Hamilton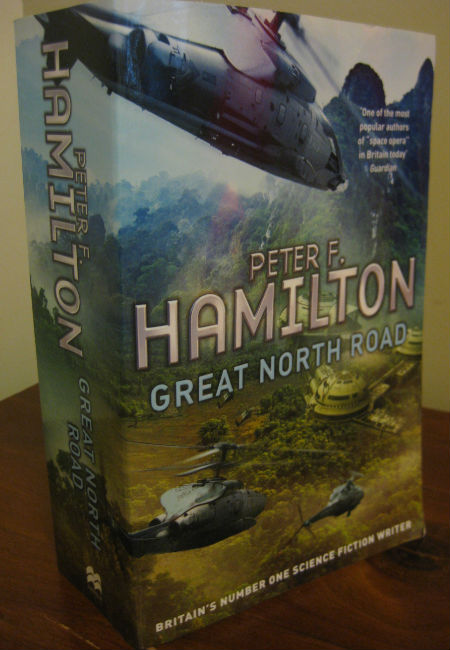 I have long loved Peter F Hamilton's, one of Britain's and the world's foremost writers of epic, clever space operas.
My bookshelves groan under the very welcome weight of his often very lengthy tomes, all of which comes complete with perfectly-realised, richly-detailed worlds, people whose actions may complete sense and so many clever ideas on what the future of humanity may look, sound and feel like that you will abuzz with the imaginative audacity of it all.
To read one of Hamilton's books is to marvel as someone in complete control of his craft – able to take words and make them into things of descriptive beauty without once losing the ability to tell a gripping, wholly immersive story.
You only have to go a page into one of his wondrous stories and you feel as if you are living in the era he describes, a citizen and active participant every bit as much as the three-dimensional souls he describes, all of whom come complete with lives as fully described as the worlds in which they live.
As I noted in my review, drawing a reader in to that degree is "quite an achievement since Hamilton has a penchant for setting his stories in far off futures where mankind has conquered the stars but not alas, at least for the idealists among us, his inner demons."
His novels may demand quite a bit of that aforementioned time and effort, Great North Road being a typical example exploring as it does not just a great alien consciousness but a very human murder mystery in its gloriously dense 1087 pages, but they are always worth whatever they ask of you.
Here's my full review of Great North Road.
THE SHAMBLING GUIDE TO NEW YORK CITY by Mur Lafferty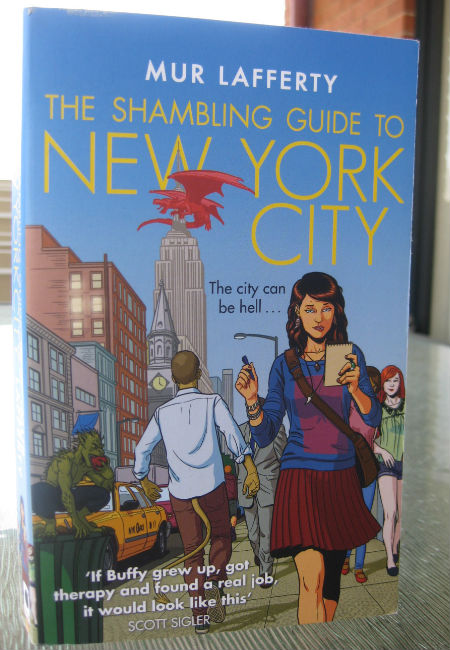 I have a great deal of time for any author who can write a post modern novel without falling into plot holes so large and encyclopaedic world building so vast and imaginative that you wonder if they will manage to find their way out.
I understand how tempting it is to take disparate mythologies, ideas and concepts and merge them all together into one intoxicatingly melded storytelling idea since it's something I have attempted in my own as yet published novel.
But the trick is making all those elements – whether its the gods from Norse mythology or Irish fae folk or Tibetan Buddhist dogma – feel as if they are organic parts of the whole you have created, believable inhabitants of a wholly made up melting pot moment in time and place.
TV shows like Buffy the Vampire Slayer, Grimm and Supernatural have managed it, but Mur Lafferty's The Shambling Guide to New York City is one of the first books where I felt like all the creatures she pulled into an altogether recognisable and yet most assuredly picture of America's greatest city – vampires, zombies, death goddesses, water sprites and the myriad of other "coterie" that populate the book – felt as they existed in a believable organically-come together society.
And one which the heroine of the story, if you can call book editor and newly trained coterie fighter (as required) Zoe Norris that, must come to grips with in all its alien complexity, if she is to emerge whole at the end of the story.
Thrown in some humour, wry observations on modern society and together you have a highly enjoyable book that feels like its very own place and time, one you only reluctantly leave at book's end.
You can read the full review of The Shambling Guide to New York City here.
SHIFT by Hugh Howey
Much like Peter F. Hamilton, newly arrived on the literary scene Hugh Howey, who found a real world publishing deal via e-books in a trend that is gathering momentum as the digital age rolls ever forward in a blizzard of 1s and 0s, knows how to construct a deeply real, expansive world with every blemish, jewel and foible writ large and palpably touchable.
Disappearing into the second part of his sprawling three part epic series that commenced with Wool and concludes with Dust, you are struck almost immediately by the fact that Howey, with minimum fuss and consummate storytelling elegance, has plunged you headfirst into a living, breathing world every bit as the one you are in.
Again like Hamilton that is quite a feat since he asks to imagine a future, somewhat dystopian world where humanity has arguably destroyed what it once was in order to exist at all.
The eternal question though through Shift and the other two books in the trilogy is whether it has been worth it, whether too much has been sacrificed to simply survive.
It's a question that vexes Troy, a man who awakens in the central silo that controls all the underground silos hundreds of years into the future in which the remnants of humanity, who have had their collective memory as a species effectively expunged, eke out an existence.
And as he remembers who he was, as opposed to who those in the know say he is now, he begins to wonder in earnest if it was all worth it.
It's an utterly absorbing, gripping read, one of those rare books that fall deservedly into the " couldn't put it down" category.
Here's the full review of Shift by Hugh Howey.
* And to finish off this year in review of my book reading efforts, here's a post I wrote for, naturally enough, Valentine's Day about some great literary couples, Love, true fictional love: My favourite couples from the pages of literature.