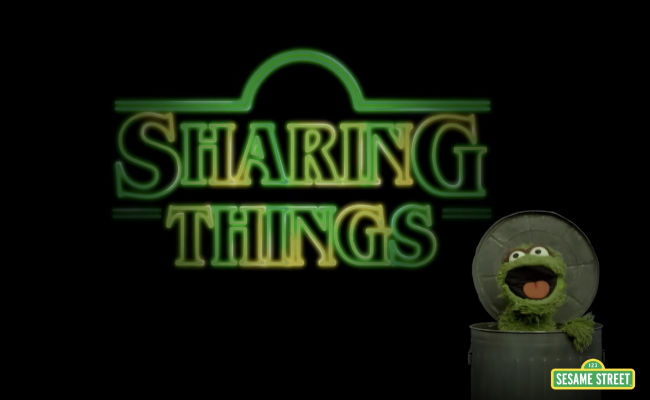 Oh Sesame Street, take me to the Snackside Down!
I'm not usually a fan of scary horrific alternate realities but when they're part of an alternate Sesame Street parody reality where Stranger Things, Netflix's hit show where up is down and down is up and your laundry bill to wash away all the slime is ridiculously high, becomes Sharing Things, then I'm all in.
In yet another masterful playfully affectionate send-up of a hot pop culture property, Cookie Monster is the Cookiegorgon, who, surprise surprise wants to eat everything, Ernie is Dustin and Grover is Lucas, "a cute, adorable child of the '80s" who simply wants to play a nice safe boardgame and 11 is, well, she's the actual number 11 with, yep you got it, a number 8 as a sister (c'mon surely you can see the family resemblance).
Oh and Barb is still stuck in the Snackside Down, hoping Nancy will remember her … but hey she has a waffle so everything's great right?
Hmmm not so much but Snackside Up everyone is learning to share with artistic evidence to prove it.
You'll laugh … you'll hop … and you'll share your lollies (candy) and cookies …