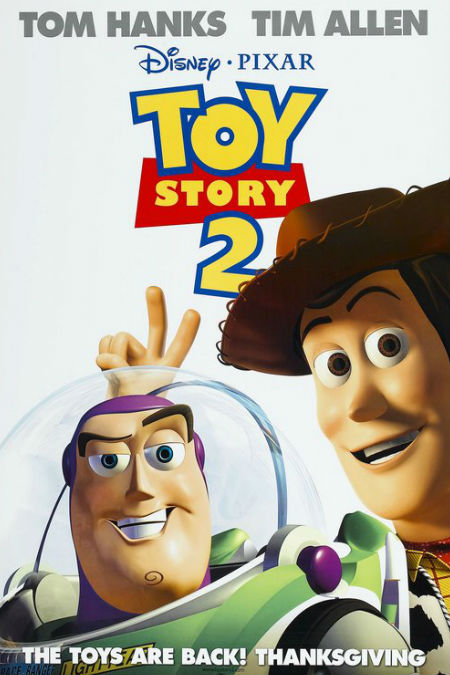 If you've lived long enough to be told you should put your childhood toys away and act like a grown up – seriously, why would you even do that? Don't, just don't, your toys need you still – you will likely have developed a feisty aversion to movie sequels.
They promise so much, trading on the all-consuming love you have for the film that started it all, and then just as hope is vaulting and springing eternal, they too often dash that goodwill and fervent belief that you can indeed go back to the well, into teeny-tiny disappointed pieces.
Do not count Toy Story 2 (1999) among that number.
The follow-up to the justly-lauded Toy Story (1995), it is that gloriously-good exception that breaks the rules, taking you to places that are , if it possible, even more simultaneously playful and emotionally evocative than the first entry in the franchise.
Sporting another narrative that takes our beloved toys far beyond the cosy confines of Andy's bedroom, it explores what it means to be truly loved, and whether than trumps being valued and treasured for your iconic and monetary value alone.
It probably won't surprise you one bit that the film comes down hard, like a tower of board games falling onto a toy story automatic door pad – trust me this makes sense when you re-watch the film – on the side of being loved and played with versus being sold for a gazillion dollars to an avaricious toy collector.
How it gets to that point, celebrating a central theme of the series that being a toy is a wonderful, special and beautiful thing because you are loved unconditionally and played with with passion and honesty, is a rollicking good ride that manages, somehow, to vault, or is that run under a succession of neon-orange traffic cones, beyond its predecessor.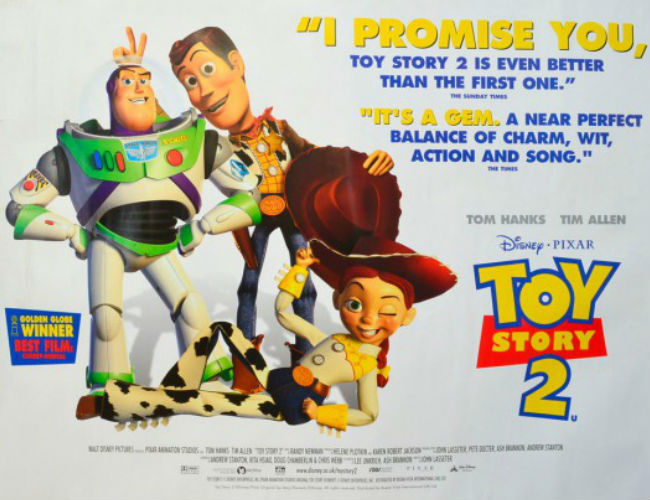 It achieves this feat of sequel-itis avoidance by taking what was good about the first film and building on it rather than repeating it.
It may seem like a sliver of a difference but there is in fact a Grand Canyon's worth of real estate between re-inventing the wheel of a first effort and, as writers Andrew Stanton, Rita Hsiao, Doug Chamberlin and Chris Webb have done in a screenplay that exudes the brio of high-calibre, mature storytelling, taking what was great about film one and making it even better in film two.
Thus, we have Woody (Tom Hanks) and Buzz Lightyear (Tim Allen) settled into their best of buddies friendship, and the rest of the toys in a happy satellite pattern around them, secure that they everything in't just back to normal, it's better than normal.
That is, of course, before Andy's mum, voiced by Laurie Metcalf, decides to have a yard sale, an occurrence that sets the plush cat among the toy pigeons in Andy's room as everyone worries about who might go, rather than who might be added. (Who knew there was this much stress and anxiety in a toy room, but presented in the masterfully meaningful way of this superlative franchise, it makes potent emotional sense.)
None of the toys we have come to know and love makes the discard pile, thank goodness – meaning that Mr Potato Head (Don Rickles), Slinky Dog (Jim Varney), Rex (Wallace Shawn, Bo Peep (Annie Potts) and Hamm (John Ratzenberger) live to be played with another day by Andy – but one toy, a squeaky penguin named Wheezy (John Ranft), whose voicebox broke and what never replaced, leading to him being, gasp, SHELVED, does.
Being the stand up guy that he is, Woody rushes down on the back of Andy's dog Buster, with whom he and the other toys have formed a charming, funny and mutually-beneficial, to rescue Wheezy from the 25c box, only to find himself on the footpath where Al (Wayne Knight) of Al's Toy Barn spies and then steals him.
For Woody, good old plain, simple, much-loved Woody, is in fact a hugely iconic toy, the hero of marionette-driven Woody's Roundup, who along with cowgirl Jessie (Joan Cusack), faithful horse Bullseye and Stinky Pete the Prospector, delighted children all over the world until fashions changed, and with the launch of Sputnik, switched to playing with space toys.
The children may have forgotten Woody's Roundup but the toy collecting adults have not, and with Woody now in the mix, Al stands to make a fortune from selling the gang to a Japanese toy collector.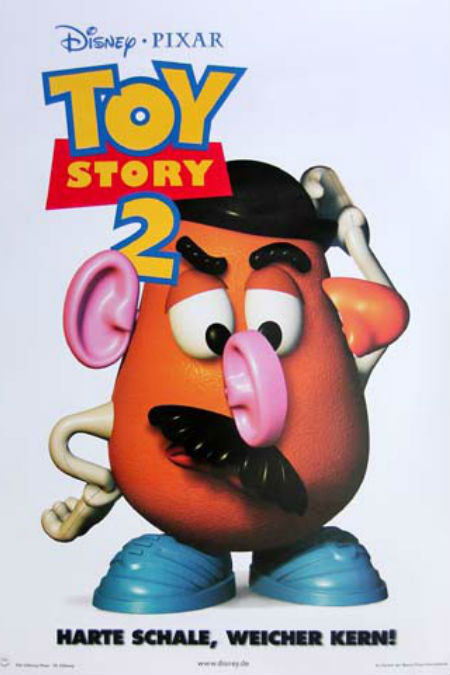 Here then is the big dilemma that pushes the narrative along at a brisk rate, sending it careening up and down elevators, through the vast Barbie-guided expanse of Al's Toy Barn and even the luggage area of the Tri-County Airport, and which gives Toy Story 2 a hugely-emotional conundrum that forces Woody to consider what matters more – going to back to Andy and the toys who set out to rescue him, or rescuing Jessie et al from the horrors and dark of storage and setting them for life and beyond in a toy museum in Tokyo.
Pushed and pulled, largely because after a rip on his right arm sees Woody get shelved right alongside Wheezy, everyone's favourite 1950s cowboy is given cause to believe he may have passed his playing use-by date, a belief augmented by the dazzling idea that he is an ICON.
So Woody decides to escape Al's penthouse apartment, decides not to and then decides to, a flip-flop routine that embodies the all-too human pendulum all of go through whenever a big opportunity comes our way – do we leave the past behind in favour of a big shiny future or stick with what we know because it just might be better, all the shinyness aside, from what we know?
It's hugely emotional, a state of being given even more potency when Jessie explains the pain of her past, via the highly-evocative, just try and stop those tears Randy Newman song "When Someone Loved Me" (sung with impacting vulnerability by Sarah McLachlan), where we come to understand why she wants to be museum exhibit rather than a plaything of some kid who will only give up her up at some stage.
This deeply-affecting heartfelt tug-o-war gives Toy Story 2 a heart the size of Texas, while also suggesting that being a museum piece, a high-price toy collectible may be better than being loved and played with by a loving child.
It's a suggestion that's quickly dismissed naturally but while it's hanging in the air as an option, it is handled in such a sensitive way that you can well understand why someone as devoted and loyal as Woody might consider giving up pals like Buzz, Slinky Dog et al, who go to an inordinate amount of hilarious trouble, in one of the funniest sequences I've ever seen in a film (crossing the road has never looked more comedically oblivious) in favour of ensuring Jessie, Bullseye and Stinky Pete (who turns out to be more than a little villainous) get their museum happy ever after.
Toy Story 2 does have its happy ever after, and it's pretty much the one you'd expect but it's executed in such a happily-enthusiastic, warmhearted and emotionally real, complete with all the hard choices that come with being alive (ad gleefully-inserted references to films like Jurassic Park and Star Wars: The Empire Strikes Back), and make no mistake Woody, Buzz and the gang are every bit as alive as we are, that you'll embrace the predictability because when you are alive, and loved and, as a toy, played with, it's the only real option worth pursuing, something Woody comes to understand in the very depths of cotton-filled soul by film's end.