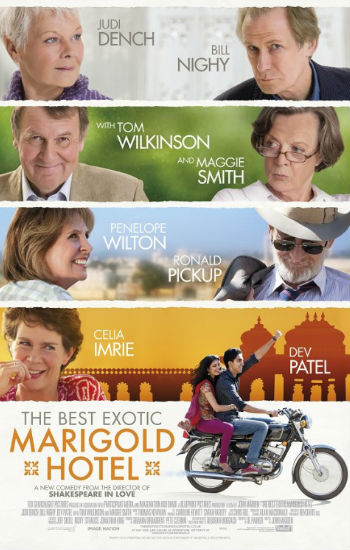 To paraphrase Dickens, old age can be the best of times, it can be the worst of times.
And so it is for the members of an intrepid group of of British seniors, previously strangers saved for one married couple, who journey to India on the promise of a luxury retirement on a budget at The Best Exotic Marigold Hotel.
They have all placed their faith in a future that, online at least, looks like the very best of times, hoping it can undo the damage wrought by the very worst of times.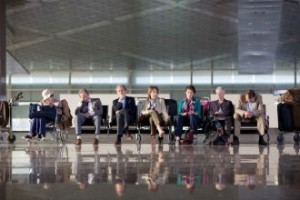 Evelyn (Dame Judi Dench) is quietly grieving the loss of her husband in whom she placed all her faith only to find he left her with nothing but debts. Graham (Tom Wilkinson) has come back to the land of his childhood seeking to heal a wound more than 40 years old. While Douglas and Jean, trapped in a marriage that died long ago, but determined to keep it going, she by implacable will, he by "kindness and loyalty" to her, arrive to make what they can of a life severely limited by financial misfortune.
They are joined by senior singles, Norman (Ronald Pickup) and Madge (Celia Imrie) who are only too painfully aware that the time left to them to find true love, or at least a way to stave off loneliness, is rapidly diminishing. And finally, Muriel (Dame Maggie Smith), callously let loose by the family she faithfully served for many years, who is in India only because it is the only way she can afford a much needed hip operation.
For all of them, this self-styled "Indian palace", is their last chance to live any sort of meaningful life in their autumn years. So when they discover that this "palace", run by the desperately ambitious, charming and ultimately well-intentioned Sonny (Dev Patel), is more aspirational than real, they all react in a variety of ways, forced once again to make the best out of less than ideal circumstances.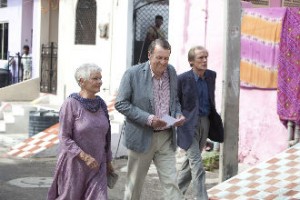 Some of them succeed better than others. Evelyn and Douglas, who begin a slow dance of courtship almost without realising it, take to their new lives with gusto. Evelyn gets a job, more out of necessity than choice, starts blogging and begins to suspect that a life beyond the one she lived with her husband is possible. Douglas meanwhile starts visiting every temple, palace, and landmark he can find, determined to get to know India.
This is while his wife Jean stays ensconced in the hotel, refusing to leave, bitterly resenting the loss of the life she had envisaged she would lead. Norman and Madge meanwhile join a local club, determined to find that social someone before it is too late. It is they who provide much of the humour in the piece, along with Sonny whose well-meaning attempts to make something of himself are initially frustrated at every turn.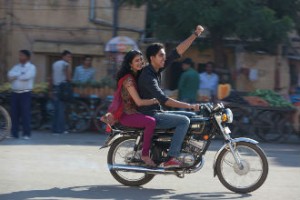 It is a movie, at its heart, about whether it's possible to have new beginnings when society has consigned you to the scrapheap, your family think they own you and can move you around like a chess piece, and your own sense of self and what you can achieve has taken a battering. It doesn't always succeed in realising these lofty goals, but the way it handles Evelyn, and Graham's stories are particularly affecting. It's these two characters, along with a slow awakening by Muriel, who provide the emotional core of the movie, their journeys symbolic of both the joys and great sadnesses that happen even late in life.
You wouldn't by any means call this a profound movie. Certainly it has aspirations to make a statement of some kind but just what that is exactly gets lost in a profusion of story lines, and the juggling of probably too many characters. Even so, it definitely struck a chord with its core demographic, with the mainly older crowd seated around us laughing in wry recognition at many of the jokes made about being in your twilight years. They laughed at the one liners about time being in short supply – Muriel's crack about not even daring to buy green bananas went down a treat – and the need for Viagra when making love. It was obvious they identified with this movie.
Still, it is, in the end an average to good feel good movie lifted considerably by some beautiful character vignettes, some pithy one-liners, and the stellar assemblage of British acting royalty who can't help but bring something substantial to even the lightest of moments. It won't change the world to be sure, but it is entertaining, and may get you thinking even just a little about life and the way it never quite plays out the way you expect it to.