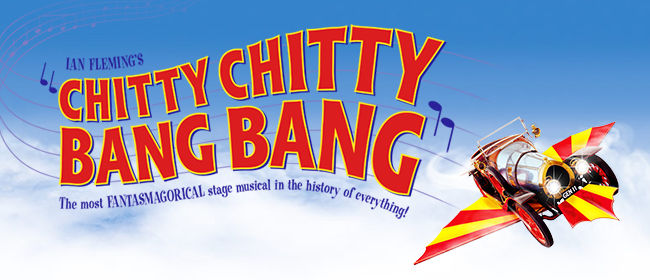 Last night, for exactly two hours and thirty-five minutes, I was a kid again.
A whooping and hollering kid, delighted with life, and frankly not caring who knew it.
No, this delightful reversion was not due to some bizarre act of DNA-reversing science, cooked up in some off-the-grid lab hidden in the back blocks of Sydney.
Rather, it was solely due to a flashy vintage car with loads of personality (which deservedly received its very own curtain call), a bright, tuneful singalong score, and an energetic cast, all bundled up in the feel good, permanent-smile-on-your-face musical Chitty Chitty Bang  Bang.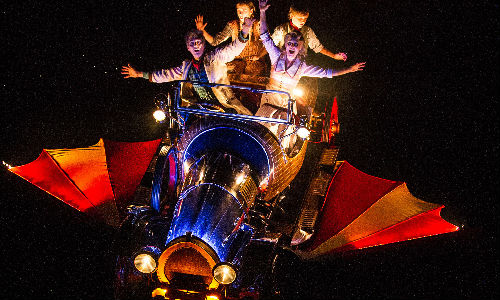 I must confess that though I was thrilled when we scored last minute tickets to the musical, which is wrapping up a two month stint in Sydney before moving on to Melbourne, I was a little worried about how a movie I adored as a child with its magical vistas that seemed to stretch on forever, would translate to the stage.
I needed have worried a bit.
From the word go, the director Tim Lawson unleashed a musical experience so joyously uplifting, without miraculously being so saccharine you felt like you had eaten an dessert bar, that any comparisons to the movie went flying out the ornately rendered Art Deco windows of the Capitol Theatre, leaving you to surrender yourself to a show that was awash in cartoon bright colours (Truly Scrumptious in particular, brought to life with just the right amount of brightness and enthusiasm by Rachael Beck, wore a series of lollypop-coloured clothing), enthusiasm for family and life itself, and a sense that anything could be brought to a successful conclusion by sheer belief alone.
The real trick with a musical as relentlessly upbeat as Chitty Chitty Bang Bang – even the Child Catcher/Junkman, played with superb menace by Tyler Coppin whose all-black outfit was the embodiment of villainy chic, channelled evil with enough comically camp touches to soften the hard, dark edges – is to make sure it is uplifting and heartwarming without descending into nauseating sentimentality.
And the cast and crew did just that.
They kept the reasonably simple storyline, which sees inventor Caractacus Potts (David Hobson, who has the most divine tenor voice) repair Chitty to her former glory after his children, Jemima and Jeremy (both played by a trio of children depending on the night) discover her in a junk yard where she's about to be sold for scrap before taking them on am amazing adventure to the kingdom of Vulgaria (with new love Truly Scrumptious, and via a outhouse-centric kidnapping, Granpa played byPeter Carroll) humming along at a brisk pace, with any warm and fuzzy moments expertly wrapped in a dazzling concoction of vibrant and unmitigated fun.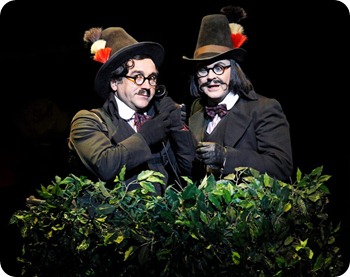 The songs such as "Toot Sweets", "Me Ol'Bamboo" and of course "Chitty Chitty Bang Bang" (the score is by the famous Sherman Brothers), are as memorable as ever, with the cast singing their way with plapable enthusiasm from the junkyard where Chitty is found to the fairground where Caractacus tries to sell one of his flawed inventions to raise the money to buy the beloved car and on to the delightfully gaudy surrounds of the Baron (Alan Brough) and Baroness Bomburst's (Jennifer Vuletic) kingdom of Vulgaria where children are banned, the adults are suitably infantile in response to their absence, and good triumphs, in a gloriously joyful way, over evil.
It is all bright, frothy giddy fun, packed full of amusing one liners and some laugh-out-loud slapstick comedy, with fabulous candy-coloured sets, brisk airy choreography, and just the right amount of sentiment to warm the heart, and silliness to delight young and old alike.
Chitty Chitty Bang Bang is as feel good as they come and one of those musicals that you'll wish you could move into and never leave.
And I dare you not to want to dance and sing your way home once the show is over …
* Chitty Chitty Bang Bang opens on 30 January at Her Majesty's Theatre in Melbourne.