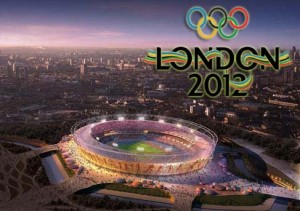 I did an extraordinary thing this morning.
I set the alarm on a Saturday morning for 5.30 am, at my boyfriend's behest, so we could lie in bed and watch the Opening Ceremony of the London Olympics 2012.
It wasn't so much the early hour of our "rising" (to be fair we stayed in bed and watched the ceremony while cozily snuggled under the doona) that was the rarity. After all, I regularly get up that early to go walking of a week day morning. Granted it's not something I habitually do on a weekend but it's hardly noteworthy enough for remarking in a blog post.
No, what was truly remarkable was that I went out of my way, albeit with some encouragement, to watch the opening ceremony of a major sporting event. I hadn't planned to. Frankly while I enjoy a piece of momentous spectacle as much as the next person, I had grown tired over the years of theatre that promised much, looked magnificent but was as hollow as thinly-shelled Easter Egg.
That is why, while I watched all of the 1982 Brisbane Commonwealth Games, and Charles and Diana's wedding, of late I had declined to watch events of a similar scale, especially ones as hyped as Olympics Games inevitably are. It wasn't hipster ennui, or jaded sensibilities that drove this refusal to partake is colossal public events; more a sense that there was so much else to see and do and why waste my time watching something that had been done to death a thousand times before?
So honestly, while I wasn't dragged kicking and screaming to watch London's attempt at creating a defining Olympics moment, I was hardly turning on the TV expecting anything more than a been-there done-that replay of all the ceremonies past, save for a few more spectacular fireworks and iconic British image or two.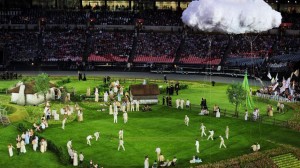 I love having my complete lack of expectation thrown back, ever so politely (this is the British Olympics after all), in my face.
What I got for my troubles of getting up at such an ungodly weekend hour was a transcendent tableau that sought to tell a story as much as it tried to impress us with viviv imagery and colourful spectacle.
Certainly there was no mistaking that this was an ambitious undertaking. Danny Boyle, acclaimed British filmmaker, responsible for Trainspotting, 28 Days Later and Sunshine, created a tableau that was every bit as rich and complex as the country it succcessfully sought to represent.
Here was an Opening Ceremony stuffed to the gills with every iconic British image known to man, and the kind of potent symbolism and imagery that the British conjure up so expertly, and yet at no time did it feel hackneyed, twee or drowning under the weight of its own earnestness.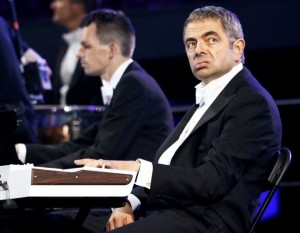 In fact, at times, it was positively mock-reverential such as when Rowan Atkinson, channeling his impish Mr Bean persona performed a series of slapstick-inspired manoeuvres while he coped with the boredom of hitting the one note over and over as his modest contribution to the performance of Vangelis's inspiring and goose bump-inducing music, Chariots of Fire.
He texted on his iPhone, used an umbrella to keep hitting the one note he has been allotted while he rummaged in his bag for a hanky, even imagined himself running along the beach with all the athletes from Chariots of Fire, all the while subverting it like only Rowan Atkinson. It rightly earned him a standing ovation and it is a wonder that famed British conductor, Simon Rattle, managed to keep a straight face as he conduced the London Symphony Orchestra with Atkinson's comic genius in full play before him.
It wasn't the only light moment.
The depth and breadth of Britain's modern musical heritage was powerfully displayed by the playful courtship of Frankie (Henrique Costa) with a young man she gets to know via the power of social media (a sequence which included the appearance of Tim Berners-Lee, widely hailed as the creator of the World Wide Web) was accompanied by giant text messages writ largely across a giddily colourful scene of night club dancing. It was accompanied by songs from a rich cross-section of British musical royalty including The Beatles (Paul McCartney closed off the ceremony too with a rendition of "Hey Jude"), The Rolling Stones, Sex Pistols (performers bouncing along in giant crazy-faced Vivienne Westwood-esque masks were a highlight), Boyle collaborators Underworld, and the Eurythmics.
And none of us are likely to forget the Queen and James Bond (Daniel Craig) parachuting into the stadium after a dramatic helicopter ride from Buckingham Palace. While this playful segment marked the Queen's acting debut (when she uttered the lines "Good evening Mr Bond), and it has to be said, that of her three corgis, it did not signify that the British monarch had taken up extreme sports of any kind (with obviously an actor doing the actual skydiving), with the real Queen preferring to walk to her seat, prior to opening the games a little later on in the ceremony, by more conventional means.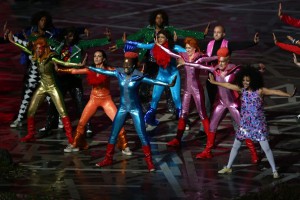 These lighter moments, which were still vital components of the wider story Boyle wanted to tell, and not simply throwaway scenes for the sake of light relief, punctuated a ceremony that was rich in meaning and import without being dull and earnest.
Commencing with a stone plaque that marks the origin of the mighty Thames River in Kemble, Gloucestershore, Boyle whipped us along the route of this iconic waterway with breathtaking speed, slowing only to hone in on scenes of British life such as village cricket (reinforcing the anchoring theme of poet William Blake's "Green and Pleasant Land" refrain) or rowers at Henley before descending into the stadium where a romanticised vision of Britain unfolded across the stadium.
It harkened back to an age when Britain was largely rural before the advent of the Industrial Revolution which profoundly altered the union. As chimneys rose where green fields had been, and an army of grime-caked workers flooded out onto the stadium floor, forging the Olympic rings that were then dramatically hoisted aloft, this transformation was powerfully conveyed with elegant potent imagery that didn't seek to belabour the point.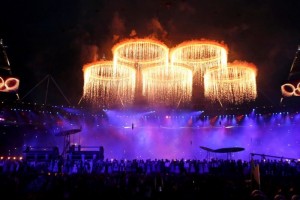 And that was the beauty of the ceremony throughout. From his recognition of notable British achievements, which included the National Health Service (with a particular tip of the hat to the Greater Ormond Street Hospital which is funded largely through monies earned by J. M. Barrie's Peter Pan), its film and music, its contribution to children's literature – a treat here was Harry Potter author J. K. Rowling reading from Peter Pan while notable villains including Cruella de Ville and Lord Voldemort cavorted around children on hospital beds until they were seen off by a host of Mary Poppins dropping from the roof – he reminded the world how great Britain's contribution to the culture of the world has been (without resorting to naked jingoism).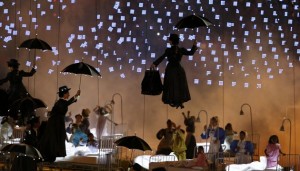 He also tugged at the heart strings but again not in some manipulative way, during his evocative 27 million pound love letter to Britain, when he paused to remember the dead from two world wars, or when Emile Sande beautifully sang "Abide With Me" as images of loved ones no longer with us, sent in by Londoners, were shown on a screen while 50 dancers, led by Akram Khan, graphically illustrated the titanic balance between life and death.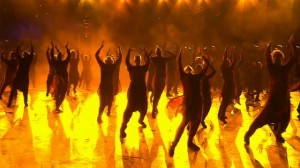 With contributions from the likes of Kenneth Branagh (who recited a passage from Shakespeare's The Tempest), Mike Oldfield (playing his hit "Tubular Bells") and deaf drummer Dame Evelyn Jennie, to name just a few, this was spectacle with meaning and message, poetically conveyed with emotion writ large.
It was also unconventional in some ways with people like Ban Ki Moon, U.N. Secretary General, and various other fighters for freedom and justice in the world carrying the Olympic flag to waiting members of the British armed forces who raised it up alongside the previously raised Union Jack.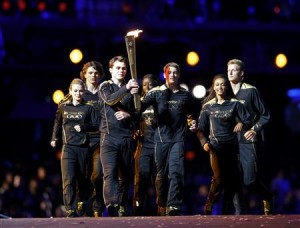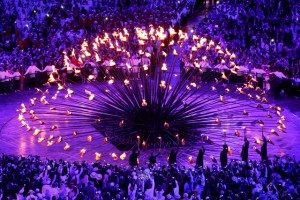 The lighting of the cauldron also followed an unexpected pattern. Composed of a series of metallic urns, one of which had been given to each country (204 in total, with each one returning to the country they have been given to, which means the cauldron will cease to exist at the end of the games, much like a flower which it resembled), it was lit, not by five times gold medal-winning Olympian, Steve Redgrave, who greeted the arrival of the flame at a jetty but by seven up-and-coming athletes handpicked by seven of the UK's most famous Olympians.
It confounded those who had been guessing the identity of the person who would light the cauldron, and provided a pitch perfect crescendo to a night full of surprises, meaningful heartfelt spectacle, in the process confounding the jaded expectations of people like me who thought they had seen it all.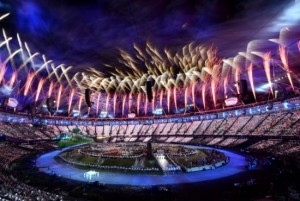 * Here's a wonderful recounting of the night by hollywoodreporter.com