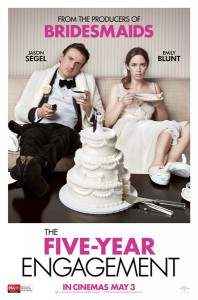 This is a romantic comedy that desperately wants you to love it wholeheartedly.
From the quirkiness of the Meet Cute (where boy meets girl) where Violet (Emily Blunt) dressed as Princess Diana at a costumed New Year's Eve party locks eyes across the room with a pink bunny costume-clad Tom (Jason Segel) to the romantic marriage proposal a year later – all of which takes place within the first 20 minutes of the film – it is a cheery, bright affair liberally laced with witty one liners, and playful zingers.
The rapport between Violet and Tom is sweet without being saccharine, and there is this real sense that they are soul mates who got lucky in love's lottery and found the love of their life. They are intensely amusingly likeable, as is just about every scene in the first third or so of this partly charming movie and all the the supporting players, who are introduced just as quickly as the main couple – Tom's best friend and fellow chef, Alex (Chris Pratt), Violet's sister, Suzie (Alison Brie) and even Tom's boss, Sally (Lauren Weedman) – are the sort of kooky yet loveable friends every romantic comedy should have.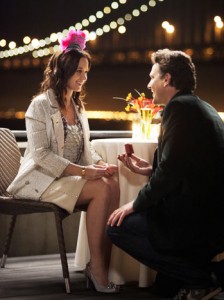 The laughs flow quickly – the succession of hilariously inept and inappropriate speeches at their engagement at a gorgeously romantic country B & B are particularly inspired – the sense of romance is real and palpable, and you know, you just know that Tom and Violet are a couple who will lead rich, engaging lives utterly devoted to each other.
It was so wonderful a world to be plunged into in fact that up until the point they leave San Francisco so Violet can complete a post-doctorate psychology degree at a university in Michigan I was hopelessly engaged with this couple and looking forward to the mishaps and hilarious trials and tribulations that will stretch their engagement out far beyond the expected short time frame.
And then, inexplicably, and surprisingly given the calibre of talent involved, all the wheels fall off the movie, it bursts into flame, and sits like a smoking ruin for what feels like an eternity. There are attempts to inject humour into their sojourn in Michigan where Tom, having given up a stellar career as a chef, grows resentful of his fiancee's obsession with furthering her own career, but they largely fall flat and rely more on slapstick than the clever wordplay and sense of place that powers the first part of the movie.
You see Tom grow a wild man of the woods moustache and beard, dress in baggy woollen jumpers knitted by his new friend Bob, and even take to deer hunting like he's been doing it all his life. But apart from a stray laugh here and there as the deer he has killed slides off his car, or he tries to clamber over an icy car ending with little to no grace, the laughs are sporadic and forced, and any sense of fun that was there in buckets before evaporates before your eyes.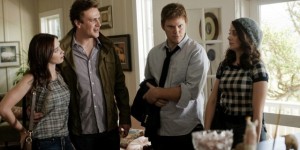 Not only do Tom and Violet cease to be funny but they cease to be even likeable as the story loses it way, concentrating far too much on the couple's separate groups of friends and co-workers. You lose all sense of them as a couple, which I suppose is partly the point since you are supposed to be getting the idea they are drifting apart as a couple. But so expertly do they drive a wedge between our two once eternal love birds, and so worn down do you become by the interminable time they spend falling out of love, or at least like, that you cease to care.
That's a remarkable achievement for a movie that had me so invested in the characters at the start. While the movie does rally in the last 2o minutes or so and recaptures the sense of innocent fun and playfulness that so marked its first inspired third – the sequence of scenes which starts with Violet and Suzie speaking in Cookie Monster and Elmo voices to resolve their differences and which leads to a re-proposal in Tom's gourmet taco van which in turn leads into a charming and funny wedding (at last!) where everything from the minister to the band and clothes is decided on the run is perfect – it is almost too little too late.
By that stage, I had fallen well and truly out of love with this charming couple who should have had me wanting to speak not just five years, but an entire life time with them.