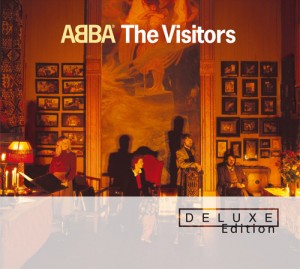 The front cover of the deluxe version which was released today [via]
I am of a certain vintage now I will admit it, and being a person of that unspecified vintage (although the Sherlockian among you should be able to hazard a reasonable accurate guess about my age simply by virtue of my great and abiding love for ABBA, a trait common to people who grew up in the…ahem… and you'd likely be right), ABBA have always heard a place in my heart that the likes of Coldplay and Annie Lennox, much as I love and adore them, won't ever occupy.
I guess that is what happens to the music you grow up with. Some people will hang on to it tightly for the rest of their lives letting no new music near their ears while others continue to explore new music while valuing that which has gone before. I am definitely in the latter camp, eagerly embracing all musical newcomers as long as they have a love for an engaging melody, and a gift for lyrics that say something truly worthwhile (or say something silly in a clever way at least) but somehow ABBA endures as the great all-encompassing musical love of my life.
So it makes sense that news of the release of the deluxe edition of their final album, The Visitors back in November or so last year sent me into paroxysms of giddy delight. The excitement index shot up even further when I discovered that as well as coming with the expected video extras, and non-album tracks (like the previous four deluxe albums plus the 30th Anniversary edition of Waterloo), ABBA were including a medley of demos of "Like an Angel Passing Through My Room", recorded between May and November 1981.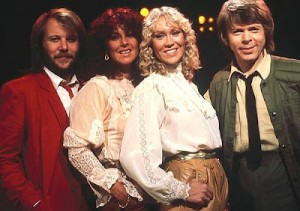 Carl Magnus Palm, who has written extensively about ABBA – he is responsible, as with all these deluxe releases, for the sumptuously-detailed booklet that accompanies the album – explains its exact nature in this passage on his excellent website, carlmagnuspalm.com:
"'From A Twinkling Star To A Passing Angel' traces the evolution of 'Like An Angel Passing Through My Room', the closing track on The Visitors. Back in 1981, this particular song was one of the more challenging tunes during original recording sessions for the album. With the first demos and backing tracks being laid down in May 1981, it wasn't until several different versions later, in November 1981 – only three weeks before the album reached record shops! – that ABBA finally landed on the version heard on the album.

As the Deluxe Edition of The Visitors was put together, ABBA's Benny Andersson had the idea that it would be interesting to revisit the various recordings of the song and put together a medley. And this he did in October and November of 2011. The nine-minute medley takes us from the very first demo, with vocals by Björn, to a run-through with Benny on electric piano and Frida on lead vocals, similar to the final version. In between are a demo recording by Frida and Benny (on grand piano) with alternate lyrics entitled 'Another Morning Without You'; a completely different "disco" attempt, played by a full band and with the final lyrics in place; and a ballad interpretation, also with a full band backing, featuring Frida on lead vocals."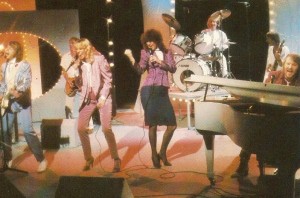 It was announced by a breathlessly excited world media as a new track, which as Benny one half of ABBA's songwriting partnership pointed out in an interview with Finnish news outlet Helsingin Sanomat in Feb 2012 (and quoted on icethesite.com) wasn't strictly speaking true.
"'Just a demo of "Like An Angel Passing Through My Room'. It is a good illustration of the process, by which the song came about." he says.
That it is a series of demos is indisputably true as the studio chatter interspersed through the approximately eight minute attests, but that doesn't diminish its value to long time fervent fans like myself. All the versions of this achingly sad song of nostalgic melancholy could have been songs in their own right, so beautifully developed are they. Even the version that open this medley, the first release of never-heard-before ABBA material since 1994's Thank You For The Music box set, which co-opts the lyrics of well known children's nursery rhyme, "Twinkle Twinkle Little Star" (reflecting Benny and Bjorn's penchant for nonsense lyrics when they were working to perfect the melody of a new song) is a thing of grace and beauty.
You can check out a more detailed discussion of what's in the medley here. 
Far from being any sort of disappointment that the medley is not a true brand new track, like "I Am the City" was on More ABBA Gold in 1993, I feel privileged to be able to listen to the creative process Benny and Bjorn employed in their famed, and much discussed, pursuit of musical perfection. It is an insight that I didn't think I would experience other than through the pages of a book, and each and every version of "Like an Angel Passing Through My Room" underscores how talented these two songwriters were, and are, and how vocally brilliant Agnetha and Frida were in realising their artistic visions.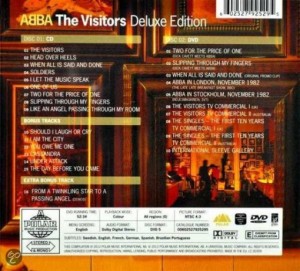 As well as this beautiful one-of-a-kind medley, the deluxe version of The Visitors includes a wealth of extras from the digitally remastered versions of all the songs including one of my favourite ABBA tracks "Should I Laugh or Cry" which features a brief count-in previously only heard by those in the UK and South Africa who bought the single "One of Us" to rare goodies on the DVD including commercials for the album, and ABBA performances on the "Dick Cavett Meets ABBA" special in 1981 and ABBA performing in London in November 1982 on "The Late Late Breakfast Show".
It's the sort of material that I would likely never come across otherwise, and while I am not the sort of person to wallow wantonly in nostalgia, it has been an enormous treat to see ABBA in their heyday on my TV screen once again.
So was it worth spending six months in a lather of excitement for? Absolutely yes – the medley is a rare and precious look at the genius way ABBA went about creating their pop gems, the unreleased, or rarely seen video and song extras are a joy, and the booklet by ABBA archivist Carl Magnus Palm is as richly detailed as you'd expect. This first class release underscores that while you can never truly go back to your past, and if you're like me, you wouldn't want to, that visiting it, especially with releases of this calibre can be a special experience that you will want to relive again and again.