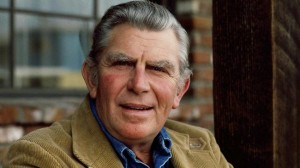 Andy Griffith died today, aged 86 at his home on Roanoke Island, North Carolina.
A man who embodied the very essence of the southern gentleman, chambering and captivating audiences over a 50 year career that included stints on Broadway, in film and of course on television.
It was on television that he found the role that would make him famous and endear him to generations – as widowed father Sheriff Andy Taylor in The Andy Griffith Show, set in the fictional town of Mayberry, North Carolina ( close to his actual home town of Mount Airy). He was a loving, wise dad, always ready with pertinent homespun advice for his son Opie (Ron Howard, who would go on to fame in Happy Days and later as the director of films like A Beautiful Mind), and the faithful nephew to his beloved Aunt Bee (the late Frances Bavier). He was joined by his slapstick-prone deputy Barney Fife (the incomparable Don Knotts) and Jim Nabors as sweet, naive gas pumper, Gomer Pyle.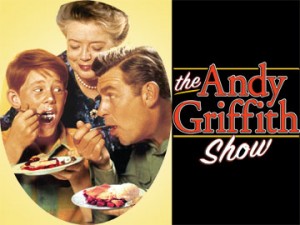 The show was the embodiment of that mythical American town that everyone wished existed. Caring neighbours, loving family members, all the amenities you might need but the peace and tranquility of life removed from the rat race where everyone knew and cared for each other. Admittedly I never saw that many episodes growing up, but when I did see an episode I felt immediately transported to a world far removed from my own.
It wasn't simply the fact that it took place thousands of kilometres from where I live that made it such a wonderful place to escape to. It was the sense that here were people who deeply cared for each other, who looked out for each other come what may, where the nasty brutal facets of life rarely got a look in, and when they did were quickly and easily dispatched. While I had a loving family, and supportive friends at my church, I also struggled through many years of living in the gold fish bowl of being the pastor's son where you're every move was monitored and criticised (savagely at times), and of being mercilessly teased right throughout school.
Shows like The Andy Griffith Show, which worked primarily because of Andy Griffith's ability to convey a loveable caring man who though sensitive to other peoples' needs, while maintaining all the manliness you could want, were the perfect way to live the kind of stress free life that many people wished they could haven including me.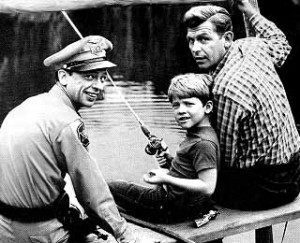 He carried his folksy persona, and the sense that right will triumph over wrong and all will be well into the courtroom drama Matlock, where he played a lawyer, born and raised in the south who used his charm to elicit confessions from those in the stand. Of course they interpreted his folksiness as naivety and thought they could best him, but naturally that never happened. While Matlock was never as popular as The Andy Griffiths Show, it cement Griffith's popularity and ensured he stayed in the public eye well beyond the heyday of his fame.
While he was active on Broadway in productions like No Time For Sergeants, and in Hollywood in movies like A Face in the Crowd, all of which made him a star, he will be best remembered as the amiable Sheriff who reminded us that while life may not be perfect where you are, it may be somewhere.
And that's quite a gift to leave anyone. Thank you Andy for inspiring us to believe.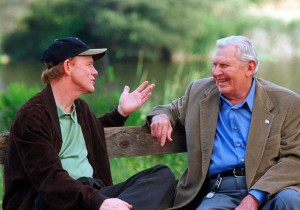 * Ron Howard posted a beautiful tribute to Andy Griffith upon news of his death:
"His love of creating, the joy he took in it whether it was drama or comedy or his music, was inspiring to grow up around. The spirit he created on the set of The Andy Griffith Show was joyful and professional all at once. It was an amazing environment. And I think it was a reflection of the way he felt about having the opportunity to create something that people could enjoy. It was always with respect and passion for the opportunity and really what it could offer people in a very unpretentious and earthy way. He felt he was always working in service of an audience he really respected and cared about. He was a great influence on me. His passing is sad. But he lived and a great rich life." (via pursuitist.com)
** Here's a lovely tribute to Andy Griffith by his on air son, Ron Howard (Opie).
*** And another one by Ron Howard recalling what he learned from Andy Griffith.