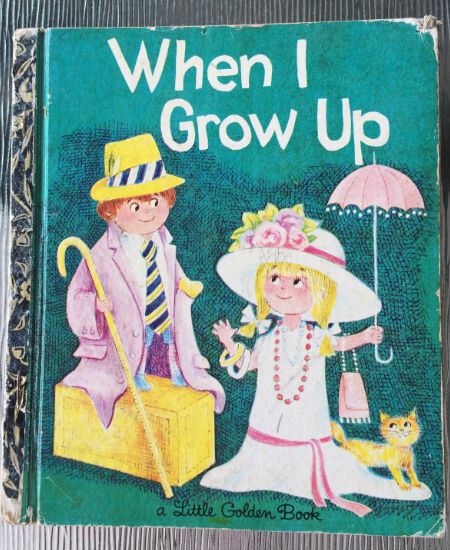 Little Golden Books, which launched in 1942 at a cost of just 25c per book, have been around my entire life.
In my lifelong love of reading, of being endlessly imaginative, of writing my own stories and trying to get them published, these small, beautifully drawn and exquisitely well-written books have been the beginning and the end of everything, the very reason why I fell in love with reading and writing and the reason I continue down the many creative paths like blogging that the modern digital age offers me.
That may sound like a grandiose statement to make, but it's impossible to overstate how important these well-made, cheaply-priced books, which were launched in the midst of World War Two in an era of deprivation and sacrifice, were to families like mine which while not cripplingly poor, nonetheless were hardly full to the brim with excess funds to spend on luxuries like books.
Little Golden Books meant that my Baptist minister father and part-time pharmacist mother – neither occupation exactly guaranteed a place on the Forbes Rich List – were able to afford to give my siblings and I a vastly greater range of material to read than would have otherwise been the case, and I will be forever grateful for that.
Thanks to this innovative publishing line, which featured many famous writers and illustrators like Margaret Wise Brown (Goodnight Moon) and the incomparable Richard Scarry (one of my great favourites), I was able to delight in and fall in love with the adventures of beloved characters like Winnie the Pooh, The Saggy Baggy Elephant, The Tawny Scrawny Lion, and the Poky Little Puppy, gateway books to a rich and rewarding reading habit which is still going strong today.
Not all of the precious Little Golden Books I read as a child survived to my adulthood, but quite a few did, and while they may not be the obvious favourites, they imprinted themselves profoundly upon me and were the ones I gathered into my archive box when the time came to leave home.
What did that Little Golden Book say? On the cover, what did it say? Did that say there will be a Monster at the end of this blog post? It did? Oh, I am so scared of Monsters!
Shhhh. Listen, I have an idea. If you do not read any further in this blog post, we will never get to the end of it. And that is good because there is a Monster at the end of this post. So please do not read any further.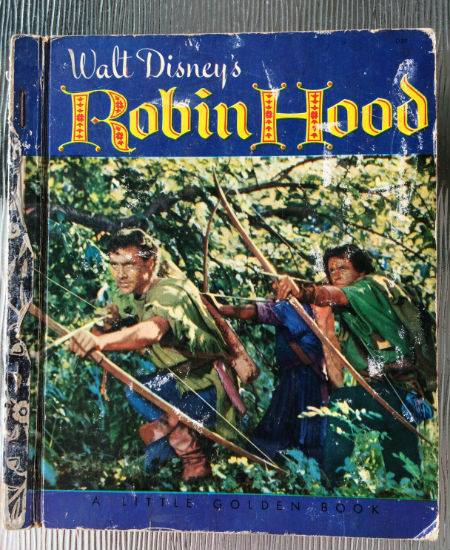 As well as reading a lot as a child, I also watched quite a bit of TV, the highlights being The Wonderful World of Disney which aired in Australia on the weekends, and Sesame Street, which was telecast daily.
I devoured everything they telecast with glee and was of course thrilled when I found out that Disney published many of its titles via Little Golden Books which, in the words of the official company web page, "have mirrored children's popular culture over the years, having featured Lassie, Raggedy Ann, Uncle Wiggily, Roy Rogers and Dale Evans, Howdy Doody, Annie Oakley, Captain Kangaroo, Bozo the Clown, Gene Autrey, The Lone Ranger, Smokey Bear, Disney, Warner Brothers, Hanna Barbera, Sesame Street …"
Being able to have my own little piece of Disney, which I could read over and over and over again (the worn look of the Robin Hood title, above, testifies to how often these books were in my hands), in an age where VCRs weren't commonplace, and merchandising was in its infancy, was such a special thing, and again I am thankful that Little Golden Books always kept culturally relevant.
It made a real difference to have the world as I was experiencing via TV reflected in the books I was reading and the fact that we ended up with so many Disney and Sesame Street titles reflects how much this mattered to me.
They are also presaged my current flourishing love of pop culture, the existence of which owes much of its existence to Little Golden Books and their willingness to embrace a multitude of characters that weren't wholly and originally their own.
You read further down the post! Maybe you do not understand. You see, reading further will bring us to the end of the post, and there is a Monster at the end of the post … but this will stop you from reading. See? I am tying the paragraphs together with rope so you cannot …
YOU READ FURTHER! You do not know what you are doing to me! Now … please stop reading!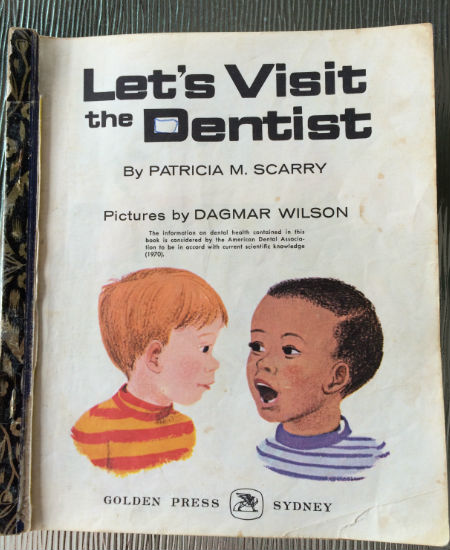 Let's be honest, no one actually likes going to the dentist.
But somehow this book, which told the story of Bobby and his friend Tommy's visit to the dentist, made it seem far less scary than it was commonly assumed to be (and as an added bonus provided you with up to the minute knowledge on dental health; well as at 1970 which I will grant is a good few years ago now) and prepared me for the inevitable visits that childhood all but demanded.
I am not sure if it was part of some grand plan on my mother's part to soften me up in advance of these visits but it had the desired effect, making my trips to get my teeth checked far less traumatic than they otherwise would have been, with each and every one transformed into a living, breathing Little Golden Book as far as I was concerned.
(In that respect, Little Golden Books were like Sesame Street, being entertaining and educational all at once.)
My only great disappointment?
The receptionist at my dentist didn't give out toy cars like the one in the book, but she did have lollipops (this was the '70s after all; you get toothpaste tubes now which aren't quite the same but probably better for you) so that almost made up for it.
An added bonus of this book was it reflected a multiracial friendship, something that made great sense to a boy raised for his early childhood in Bangladesh where my parents were missionaries for a time, who found the preponderance of Caucasian faces at school when we came back to Australia incredibly perplexing (where were all my wonderful Bengali playmates?).
There, I Andrew, am nailing this paragraph to the next one so that you will not be able to turn it, and we will not get any closer to the Monster at the end of this post.
All right! All right! All right! Do you know that every time you read another paragraph … you not only get us closer to the Monster at the end of the post, but you make a terrible mess!  Right this will stop you from reading any further. A heavy, thick, strong brick wall. I would like to see you TRY to read down to the next paragraph.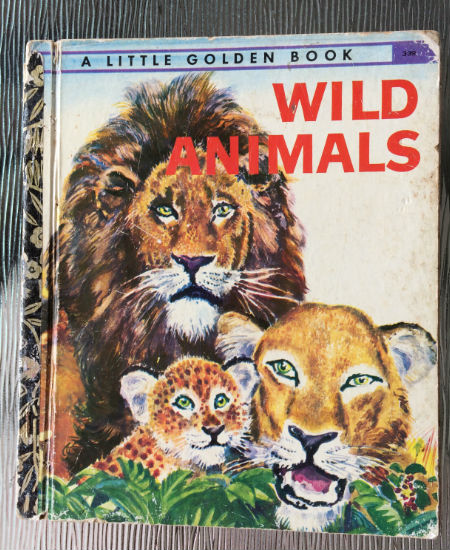 Many of my friends will agree that the Discovery Channel and National Geographic, not to mention the many wildlife BBC documentaries by Sir David Attenborough, are my natural home.
Yes I love HBO's grittiness and sass, syfy's love of the supernatural, the bizarre and the galactic, and AMC's fascination with the undead, but my real television home is the wildlife documentary.
And I am certain that my love of watching hour long programs on everything from plovers to Asian elephants and wildebeest migrations had its beginnings in books like Wild Animals which takes you on a tour of the wild world, introducing you to animals as varied as lions, skunks, woodchucks, rhinos, and of course, koalas (which are erroneously referred to as "Koala Bears" in the books, something I am happy to forgive given how much the book, and other Little Golden Books like it, have enriched my life.
Do you know that you are very strong?
The next paragraph is the END of this post and there is a MONSTER at the end of it. Oh, I am so SCARED! PLEASE do not turn the page. PLEASE. PLEASE. PLEASE.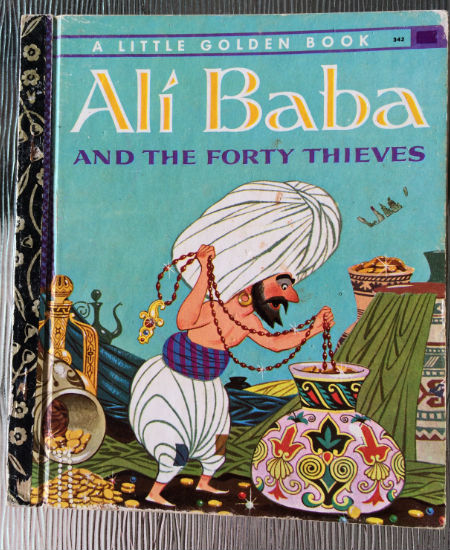 One of my other great abiding loves in life is reading books that take me far away from the humdrum ordinariness of life.
They can be galaxy-spanning space operas, fantasies full of dragons and wizards, re-imagined fairytales or even the gentle rambunctiousness of The Wind in the Willows, but as long as they lead my imagination off along magical, anything-but-ordinary paths, I am happy.
And once again, I am sure that this enduring obsession with tales beyond paying bills and commuting to a cubicle, had their genesis in books like Ali Baba and the Forty Thieves which opened my eyes to countless more grown-up tales just waiting for me down the road.
The genius of Little Golden Books was that they could distill the essence of these stories to a level a small child could comprehend without robbing them of one iota of bedtime story magic, an act of real creativity and dedication of behalf of the many talented authors behind this line.
Well, look at that! This is end of the post, and the only Monster here is … GROVER. Good old, loveable, furry old Grover is the Monster at the post.
And you were so SCARED! I told you and told you there was nothing to be afraid of.
Oh I am so embarrassed.