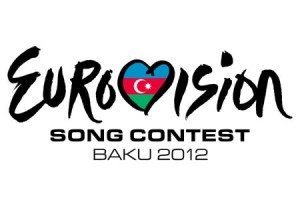 Yes it's time to review this week's crop of Eurovision hopefuls and what have I gone and done? Left my Ukrainian grandmother at home! Now she won't be able to burst into the blog post at a completely unexpected moment and dazzle you all with her totally surplus-to-requirements writing (much like when she dashes into Eurovision song entries mid way through).
No matter. I will soldier on, try a totally unexpected key change or two and perhaps throw in a blindingly bright moment of pyrotechnics when none is required! (Which let's face it is pretty much never this being a blog and all.)
Onwards and upwards to kitsch and beyond!
LITHUANIA: "Love is Blind" – Donny Montell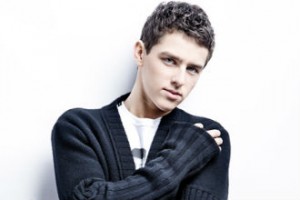 Here it is at last! The song I have been waiting for and so far in my quest into the very heart of Eurovision 2012 songdom it had cruelly eluded me.
The overwrought song of heartache, longing and loss. Every Eurovision Song Contest has them although what they're doing in an event celebrating the joyous coming together of people is still a mystery to me. Regardless, Lithuania has decided in its Baltic wisdom that this is the song that will represent them, and on a first listen, it has everything that a Eurovision voter would like in a song.
It's passionate. Its heartfelt. It starts off slowly – while Donny Montell, a singer songwriter whose father was in a heavy rock band back in the day, is wearing a blindfold no less just in case the deep meaning of the song title eludes you – and builds to a bouncy mid tempo beat that had the audience hooting and hollering with unalloyed fervour.
While I am huge fan of Lithuania in general, and this song does have its merits, I fear that though he is good looking (once the blindfold falls off midway through the song) and emotes in the grandest tradition of Eurovision lovelorn chanteurs with a fervour that makes you believe he was dumped mere moments before going on stage (how could she do that to him?!), his unremarkable voice, and the rather ordinary beat, lets him down.
FRANCE : "You and I" – Anggun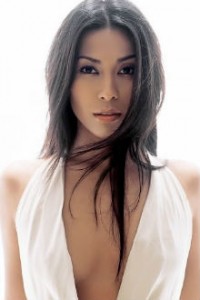 Oh my lord this is catchy! If there is any justice at all in this world, Anggun representing La France will finally leap, nay  vault with élan and grace (for that is how France acts at all times naturellement) to the top of the Eurovision pack, clutching multiple douze pointes in her perfectly manicured hands.
Helping this talented Indonesian-born, French-naturalised singer with an illustrious pop career behind her along are some of the most insistent trance-influenced beats to infect a dance floor. The song is punctuated by militaristic whistling that lends an already beats-fuelled song even more melodic urgency.
I am also desperately hoping that Anggun, who is one of the most talented singers I have seen front for Eurovision in many a long glitter-infested day, brings the gorgeous men who are peppered through the official clip like candy at a five year old's birthday party.
The big surprise is that France has gone down the super dance pop route this year. Normally they put forward a charming opera or classical singer who puts her heart into a ballad of stunning beauty that everyone… routinely ignores. It's a pity since the songs are usually beautiful and impeccably produced. But tired, I am guessing, of being ignored, France has poured this commitment to excellence into a pounding dance number, a move that I suspect will mean they are the wall flower of Eurovision no more.
AZERBAIJAN: "When the Music Dies" – Sabina Babyeva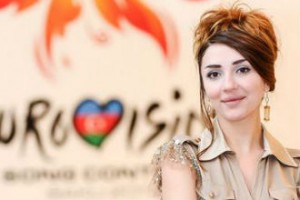 When it does what? Is this the best song to pick when you're representing the hopes and dreams of all your countrymen and women who are beyond proud that your hitherto barely noticed country has the honour of hosting this year's Eurovision Song Contest?
I would think it's the show business equivalent of a jinx? Perhaps but it seems to trouble Sabina Babayeva, a veteran of song contests it seems, not one little bit. She clearly invests her heart and soul into this beautiful ballad of love gone wrong, her powerful voice conveying perfectly the anguish of love lost.
But this draws me back to my point about Lithuania's entry. Is Eurovision really the place to work out your pain about love gone pear-shaped? Surely a therapist would be cheaper and a whole lot more private? Of course it would be, but if you did that there would be no chance to over emote till the good people of Eurovision voting land rush to you, insisting you accept their douze pointes soaked in the tears they have shed listening to you.
This song has every chance in the world to make an impression. It's well-written, exquisitely sung by an artist who is clearly a graduate of the Azaf Zeynally School of Music and knows how to use her vocal instrument to goosebump-inducing effect, and has all the passion we expect in a Eurovision ballad.
Now if we can just get her to a good therapist…
FINLAND: "Nar Jag Blundar" – Pernilla Karlsson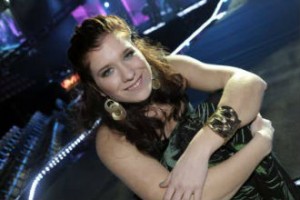 This is a beautiful song and as I have belatedly discovered Finnish sounds intensely moving what sounds to me, musically at least, like a tale of regret and sadness. Whether it is I don't know as the time to consult a Finnish to English dictionary escapes me at the time of writing.
But the music alone sounds like there is something sad and melancholic lurking around the back blocks of Pernilla's otherwise sunny world. And shouldn't she be brimming with all the sunshine in the world? She's 22, she has the world at her feet and is representing her country in Eurovision?
So if in fact her song is a mopefest of epic proportions, then I'd say to her – your voice is a thing of almost Kate Bush-esque angelic beauty and the song will no doubt carry you across the threshold held aloft by gently weeping Eurovision voters. Weep no more!
But that does remind me – what is it with all the crying this year?
RUSSIA: "Party For Everybody" – Buranovskiye Babushki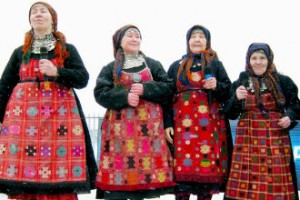 Forget my Ukrainian grandmother! Who needs her? (By the way for those thinking that I am being overly callous about a much loved aged relative, my grandmother is, in reality, as Caucasian as they come.) For now I have Russian grandmothers and not just any Russian grandmothers either!
No they are as unique as they come. These adorable ladies, who sing for the most part in their native Udmurt tongue (which makes sense given that they live in the Udmurt Republic east of Moscow) and only entered Eurovision to build their profile so they could raise enough money to build their village church which was demolish during the Soviet era.
Ranging in age from 43 to 86, according to the official Eurovision 2012 profile, they are surprisingly spry on stage and their song which was written with an unnamed mysterious British person is a jaunty folk-influenced mid tempo number that is so memorable I am still trying to stop it from bouncing around my mind like a hummingbird on a pogo stick.
Oh and since they have already have more than enough grandmothers in their outfit, I hope they have the presence of mind to bring a totally unnecessary young male dancer into their act midway though for no apparent reason. It makes sense right?
NETHERLANDS: "You and Me" – Joan Franka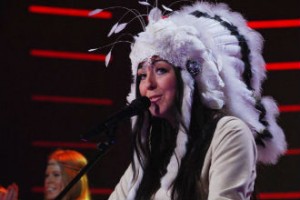 Frankly Joan Franka could be singing in Urdu dancing naked with red-tie dyed chickens and a drunken parade of surfs congo-lining behind her and all I would notice was the Native American headdress.
OK it's possible I'd notice the nakedness. And the chickens. It's hard to ignore red chickens. But front and centre would be that headdress which though it has tenuous connection to a song mourning the loss of a childhood friendship she thought would be around forever, is all I can remember of the song.
Oh yes the song. It's a sweet inoffensive piece of quirky folk pop that the Dutch seem to love. Well, most of the Dutch anyway. Joan, who came to prominence if you can call it that as a contestant on a singing talent show called Voice of Holland in 2010 when she was eliminated before reaching the finals, almost faced the same fate with Eurovision when she came last with a jury vote of just 11. However the voting public, clearly mesmerised by the headdress loved her and gave her trippy 60s-era folk a hearty 26 and the win.
Apparently she has every intention of keeping the headdress and the backup drummers and dancers for Eurovision proper. Well for the semi-finals at least because it's doubtful she will make it into the finals if the public's treatment of idiosyncratic guitar folk in year's past is any guide. It's a shame in one way because it's the quirky and the odd that make Eurovision so much fun to watch and those sort of acts are scarce on the ground these days.
Of course if she got those red chickens then she'd be a shoo-in, trust me.
So what will it be? The headdress or the Babushki from Udmurt? Decisions, decisions…