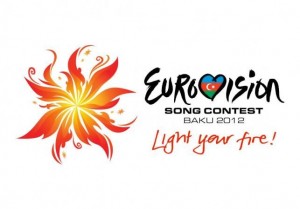 It's beginning to look a lot like Eurovision…
Why? Well they have already announced the opening and interval acts for this year's Eurovision Song Contest fiesta for one thing. Traditionally these two slots give the host country a chance to strut their cultural stuff  and the music is either resolutely traditional, as cutting edge as it gets (Norway in 2010 featured a funky hip-hop group called Madcon who performed a catchy song "Glow" along with flash mobs all across Europe), or a heady and experimental mix of both.
Eurovision.tv has just reported that Baku is planning to regale us with a synthesis of the old and the new, which befits a country in the midst of great change thanks to booming revenue from oil production. So while we wait for the contestants to do their glitter-splattered thing, the good folks of the host broadcaster will be introducing us to mugham legend Alim Gasimov – mugham is traditional folk music that blends poetry with musical improvisation – the Natiq Rhythm Band (no word yet on if they also have soul), the Azerbaijan National Dance Ensemble (I am praying to the Eurovision gods that they don't do interpretive dance) and singer and composer Elim.
While the big guns just outlined will have to wait for the Grand Final to impress us all, we will see a cavalcade of foreign dancers and singers, former contestants, DJs, and even a music band made of former Eurovision stars (something tells me ABBA won't be stepping out of retirement for this one) at the Semi-Finals.
But let's be honest you're really watching Eurovision to see countries battle it out to the musical death. So without further ado, here's this week's review of six of the countries looking to win your hearts and minds with their melodic brilliance (or otherwise)…
SPAIN:  "Stay With Me" – Pastora Soler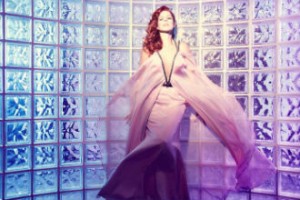 This lady has impressively lustrous follicles. That much must be said first up. Admittedly in the official clip her hair is straight but I am hoping that by the big night, she will have permed it to within an inch of its life and she will be able to do the Pantene head toss and her tresses will sweep back and forth in time to this heartfelt someone-needs-therapy ballad.
Of course, lest I be accused of being flagrantly sexist and superficial, it is not just her hair that demands your attention. Her voice powers through this song of, I am guessing, love and loss (aren't they all?) with gusto and it is a thing of impressive beauty. She uses it to devastating effect on a song that demands everything you have and more, and frankly you can't fault her stunning execution of this heart-rending ballad.
Alas, dear Pilar Sanchez Luque (just wanting to impress you with my formidably broad research), we have heard it all before. There is little that is distinctive or truly memorable about the song itself. Yes, it will likely make people sit up and take notice but that will be more a tribute to your vocal ability and earnest delivery than it will be to the song itself which sounds like something Celine Dion dropped from her been-there-done-that folio on the way to the toilet.
I think she would no doubt have more of a chance of making an almighty splash in the big pond that is Eurovision if she had included some of the electronic pop and flamenco fusions she is known for. But then I suspect if she had fronted with too imaginative or daring a song, she would have got a call just after midnight from shadowy representatives of the desperately cash-strapped Spanish government (one of the big four who pays for much of the contest) asking her to go with a dreary heartfelt ballad instead.
In fact, given the song we have before us, that looks to be exactly what happened…
GEORGIA:  "I'm a Joker" – Anri Jokhadze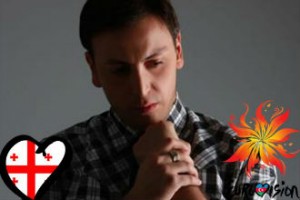 Full marks to Georgia's official representative for managing to merge Frank Sinatra's big bound sounds with a creative use of lipstick, random rhyming words and Georgian folk influences in a pop song that appears to have been blended on high camp.
It is a bizarrely impressive achievement of unfortunately dubious worth. I would love to give this quirky performer from Tbilisi, who is apparently known as "Georgia's Golden Voice", douze points just for sheer chutzpah in daring to perform a song of such chaotic weirdness but alas it is beyond me.
Having said that, he does have a good voice. No doubting that. But with a persona that is part Monty Python, part sleazy Lozario, and part camp so high you will need to be connected to an oxygen tank just to witness it, he comes across as the personification of the song's titular character, and frankly the results aren't all that dignifying.
But of course this is Eurovision, where dignity and shrieking weirdness hold hands with nervous glee, and he does follow in the grand tradition of quirky acts whose sole purpose seems to be to turn the song contest into some sort of signing mental asylum.
I can't help thinking though that while Anri is determined to be the proud upholder of all the kitsch presenters who have gone before him (and is likely BBFs with this year's quirkier than quirky entrant from The Netherlands) that he will flicker briefly in the semi-finals before the good people of Europe put out their giant shepherd's crook, yell "nul point pour toi!", and yank him off stage to join the Georgian equivalent of Batman in the pop culture shadows.
Where you will still be able to see his peroxided hair lighting the way I'm sure…
TURKEY: "Love Me Back" – Can Bonomo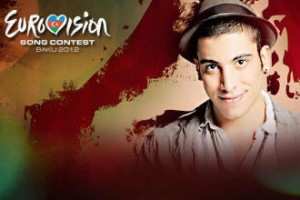 It may surprise you to know that I don't have an encyclopaedic knowledge of the Turkish legal system – trust me it's on my Bucket List somewhere I swear – but even so, I am certain that there is a law that states that every person who represents Turkey must incorporate folk elements into their songs on pain of death.
There's nothing wrong with that of course and it makes sense that if you want to put your country's best foot forward – which I suspect isn't the default intent for all countries that enter this song contest – that you incorporate whatever striking cultural elements are unique to your patch of territory into your entry. No argument there and likely I would be tempted to do the same (if I had a country, which the last time I checked is sadly lacking in my repertoire of achievements).
But sometimes it works… and sometimes it simply doesn't. For poor Can, a radio and TV personality in Turkey, and a Shephardic Jew to boot, it doesn't. Not. At. All. Lord knows the boy tries – his singing is earnest, the tune is jaunty (as befitting a song about boats… I think), his smile is sincere and he looks to be having a jolly good time cavorting with the musicians and dancers in what is a seriously nautically-obsessed song and promotional clip.
But the lyrics have all the grace and elegance of an overweight hippo trying a pas de deux in a Bolshoi Ballet production of Swan Lake, and something about the cadence and rhythm of the lyrics is so off-kilter that I kept waiting for it to topple over from the excessive syllabic staggering. It also contains one of the best – read hilariously bad – lines  I have ever heard in a Eurovision song:
"My ship is away from home
She's surging for your bed"
She's what? It could be some sort of bizarre lyrical cleverness designed to fool Turkish censors or… ah really who can figure out the whys and wherefores of the mysterious beings who craft these sentences. It is best not to even try.
Now he won't win of course but I suspect that as long as Can smiles, which he does wonderfully well, wears his beloved funky long cardigan and  co-opts a sweet but non-plussed Turkish grandmother into joining his dance troupe, then  maybe just maybe no one will notice the clunking lyrics sinking his ship before it gets anywhere near his beloved's bedroom.
ROMANIA: "Zaleilah" – Mandinga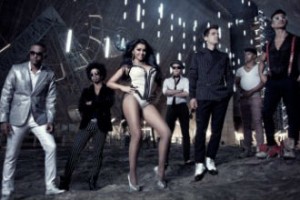 Channeling the spirit of 90s Aqua to reasonably good effect – yes I didn't realise it was possible but it is – Mandinga romps into my good graces with a song that is as much fun as it is quirky. In this case, quirky is not a euphemism for "quick run, the crazy people are singing again!" It's rather an affectionate way of saying that this band throws a myriad of offbeat elements into the song, and far from creating a musical Frankenstein that lurches through Eurovision destroying all in it's path, emerge on the other side of their sonic lab with a song that triumphs against the odds and engages you almost from the word go (or the Romanian equivalent thereof).
It shouldn't work. When first this song sashays its way across your ears, you notice that  bagpipes, drums and accordions are all mixed in to grin-inducing effect and somehow manage not to sound like caterwauling cats. The admittedly dated bouncy 90s-influenced dance beat isn't exactly cutting edge, and you do wonder why the lead singer, sultry Elena Ionescu, is wandering the desert in a succession of materially-deficient outfits that suggest budgetary cutbacks at the Romanian Eurovision headquarters, but like much about Eurovision, the more you accept it, and go with the non-logical flow, the happier you will be.
All you need to remember is that it's fun and by an act of the Eurovision gods (who do not smile on all and I suspect have smote more acts than they have blessed) it works. Only just but it does work.
Now go dance yourself silly and think not of the rampant inconsistencies in the song and the act again…
BELGIUM: "Would You?" – Iris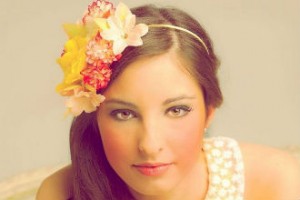 "Toto we're not in funky derivative dance land anymore!"
That's right Dorothy. From the opening stripped back tinkling of the ivories, it's obvious that the Moog synthesisers have been ordered to keep their distance, and we're firmly in plaintive ballad territory. That isn't always a completely bad thing as even I, a renowned ballad-phobe, will attest – testify brother! Not all ballads are bad; just a great heaving ship-sinking slab of them – and that is the case with the impossibly young Laura Van den Bruel who at 17 is not even of legal drinking age for drinking spirits in Belgium yet. (Of course if you wants beer and wine, it's a drunken free-for-all after 16.)
The song itself is sweet and warm and she manages to sing it without sliding down that dark and therapy-inducing slope into over-emoting. That's quite a feat when Eurovision conventions practically dictate that you find an authentic emotional place in your piece of music and vault over it so far that you're merely a speck in the distance to the audience, arms flailing, your voice warbling and cracking like old paint in the sun.
Thankfully Iris sidesteps that temptation, and pours out her heart in a song that is almost affecting in a deep and candles-in-the-air way. If it wasn't for the fact – and here we sigh with heavy heart and an ennui born of one too many by-the-numbers ballads – that we have heard songs like this a million times before. A million times a million… a billion… wait sorry I was sliding that slope into the dark sinkhole of hyperbole to join the throng of politicians, salespeople and Eurovision sings there before me.
Douze points for effort dear Iris but nil points for being memorable and standing out from the Eurovision masses clamouring for their pyrotechnic lit moment in the spotlight…
CYPRUS: "La La Love" – Ivi Adamou
Somehow transcending time and distance, the start of this catchy song from Cyprus's official entrant to Eurovision this year, Ivi Adamou channels all the luminous melodic punch of Vanessa Amorosi's smash hit, "Absolutely Everybody" before morphing into one of the bounciest dance songs I have heard in many a long Eurovision listening session… and trust me these sessions have a way of transcending time all of their own accord, and not in a "it all ends well and lives are changed for the better Star Trek kind of way" either.
Granted this song, may not win any awards for startling originality but that has rarely been Eurovision's strong suit anyway. What it lacks up for in musical innovation, it more than makes up for with unbridled exuberance, intensity and a pounding energy that rarely lets up.
I am not entirely that the song knows where it's going exactly, veering into monochrome monotony even as the melody seers a flaming trough through your consciousness but in the end who really cares? We're having fun getting there. Wherever that is…
Clearly the lady has a presence and uses it to great effect. It's probably what helped her vault to prominence when she was a contestant on Cyprus's version of The X Factor in 2009, and she uses it to exhausting good effect by rarely letting up the pace on a song that I daresay will never meet a club it won't want to have a long and torrid all night affair with.
This lady has the goods, a penchant for on-stage arm waving that could take out an eye were you to venture too close during a performance, and a catchy song that for its faults, is a grin-inducing slice of 80s-soaked pop nirvana.
Wait. Duck! She's about to do an encore…
Oh , and before I bid you adieu and goodbye – using, naturally, the two official languages of this glorious singing contest – it's time to wish the UK's Eurovisions representative, and the oldest male competitor in Eurovision a belated 76th birthday for Wednesday 2 May. In a happy coincidence, or not if you really don't like Russian grannies, he has turned the same age as one of these delightful ladies, and no doubt will be drinking some champagne with her, and blowing out the candles at Eurovision in a joint birthday celebration. Assuming they remain awake for it…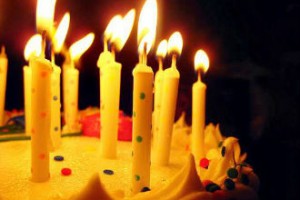 So who did you award the coveted douze points this week to?