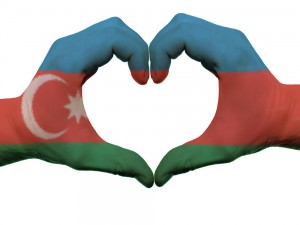 What a magnificent eyeball-searing night.
The stage was a brilliant mix of autumnal reds, oranges and yellows, bright enough to rip your retina to shreds if you stared at it too long, the hosts were ridiculously perky with an interactive patter written by the same person who scripts Oscars telecasts, and there was a wonderful mix of consummately talented professional pop acts, and those singers who should never be let out of their small video game strewn rooms again… in sort, it was a perfect Eurovision semi final and of course I adored it.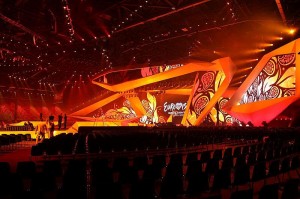 I had seen all the acts viaYouTube already, of course – far more times that is likely healthy for an adult of average size and height – but what surprised again this year, as it seems to do every year (I have a goldfish brain when it comes to Eurovision apparently) is how different acts can be between their qualifying performances, their official clips, the studio version of the song and their (hopefully) Europe-impressing performance at Eurovision itself.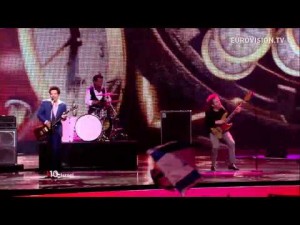 For instance, Israel's entry Izabo. They weren't selected in my semi final 1 top 10 primarily because while the song has a certain jauntiness to it, it just didn't grab me by the lapels and beg me to love it always and forever, enough. But on the stage at the Crystal Hall, they were bright, enthusiastic and a self-propelling tsunami of joyful exuberance that swept all before it. They almost made my make a last minute change to top 10 picks – include them and boot Latvia into Eurovision oblivion.
As it turns out, that is exactly what the voters of Europe did for me. Well, sort of. In a shock decision, they didn't let two acts I thought were shoo-ins for the grand final – Latvia and Finland – through but happily welcomed two acts that should have shown the door by a pack of baying Alsatians that wouldn't take "no" for an answer and were off their doggie meds.
Yes, Moldova – pretty to look at but the singing? Not so much – and Albania – wearing rat tails descending from your wasp nest around your neck is apparently all the rage in Tirana this year as is overwrought caterwauling – who redefined anguish and not in a good way.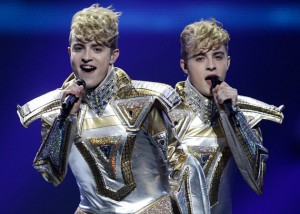 But at least the eight acts I thought would romp in did so – Romania, Greece, Iceland, Cyprus, Denmark, Russia (those babushki are so cute you want to wrap them and take them home), Hungary, and the holder of what was referred to as The Golden Ticket (the final one voted into the top ten for the night; their name was in a, you guessed it, golden envelope and walked to the stage by two of the hosts) was the, in the words of SBS host, Julia Zemiro, cordial-fueled boys from Ireland, Jedward. They leaped, bounded and cartwheeled onto the main stage with the other nine successful acts. The only thing they didn't do was romp but who could fault them? They had the lottery that is semi final 1 and have one more shining chance of glory glittering before them at the grand final.
So onward to semi final 2 my friends and more wind machines, pyrotechnics, and as much overwrought emoting as the rules will allow!