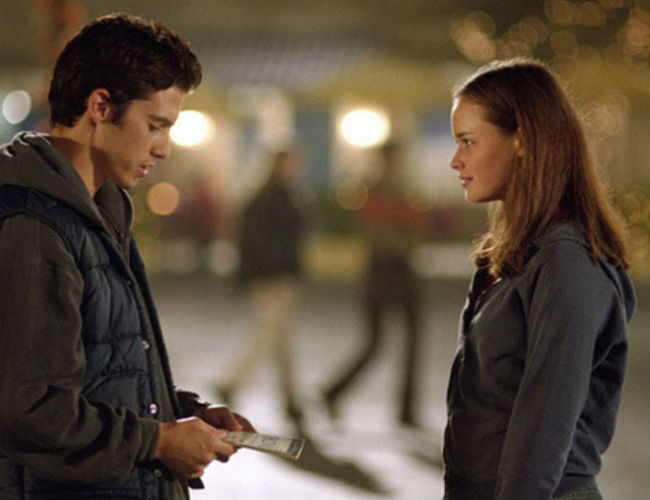 If you ever wanted a master class in how to kick off an episode of dramatic TV with as many character and narrative boxes ticked as humanly possible without it all feeling too busy or rushed, then the opening scene in "Nick & Nora / Sid & Nancy", crafted by the show's creator Amy Sherman-Palladino, is it.
In a few short but utterly delightful minutes in Luke's Diner we are witness to:
Rory (Alexis Bledel) stressing, in her delightful nerdish, excited way, about getting to school on time, wondering where her locker will be and whether this will deleteriously affect her walking time around school which she has yet to work out in any coordinated fashion.
Lane (Keiko Agena) continuing her quest to not be her strict, religious mother Mrs Kim by completing her record collection of key 1960s pieces of music which she asks Rory to collect from an amazing record store near Chilton.
Taylor Doose (Michael Winter) being Taylor, this time the strictly-by-the-rules Scout master who predicts ruin and and decay for life for anyone who dares to flout convention, using Lorelai (Lauren Graham), who jumps the queue in search of coffee and donuts, as his example A.
Luke (Scott Patterson) revealing his (a) hatred of Scouts, (b) his less than stellar view of their merit badges and (c) his poor, fractious relationship with his sister who is packing off her son Jess (Milo Ventimiglia) to Stars Hollow from the mean streets of NYC to supposedly reform and better him.
That's a lot of meat put on the narrative bones of the episode very quickly and yet in typical Gilmore Girls fashion, a show where a huge amount of anything was never really enough, it flows effortlessly and with cheery joy, proof that the show, in common with West Wing, could cram insane amounts of quirky character drama and plot in without suffering a beat.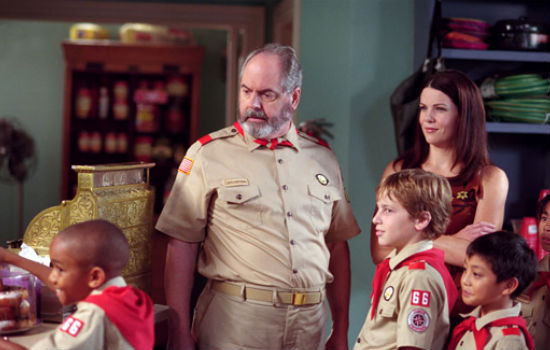 Drawing its title from two pop culture sources – the "Nick & Nora" of the title is a reference to fictional married couple Nick & Nora Charles, a crime-solving married couple introduced in Dashiell Hammett's novel The Thin Man, while "Sid & Nancy" are the fated twosome at the centre of the 1986 biopic of the same name about the life of punk rocker Sid Vicious and girlfriend Nancy – the fifth episode of the second season saw a great deal many things in train, as was Amy Sherman Palladino's perpetual wont.
The biggest show in narrative town was of course the arrival of Jess who steps off a bus in Stars Hollow, brimming with attitude, hidden books and a patent desire to be anywhere but in picture-perfect postcard Connecticut.
Just how unhappy he is about his uncalled-for new life is illustrated in deliciously musical fashion when he walks out of the diner after barely looking around his new digs to see the town in all its autumnally cute glory, all to the counterpoint soundtrack of Elvis Costello's "This is Hell."
He hasn't met Rory yet, of course, launching by default the great Jess/Rory/Dean love triangle which finds its end just a short season's worth of episodes later in "They Shoot Gilmores Don't They?", nor has he discovered that life in Stars Hollow isn't so bad after all, but then he's been shipped off with no say in the matter so you can understand his nasty attitude.
What isn't so pleasant in the town's storied surrounds is seeing Lorelai and Luke having the mother of all arguments, a rarity in a relationship usually defined by teasing, warmth and crotchety bonhomie – Luke always supplies the former, Lorelai the latter, their dance of pre-romance long and hilariously tactical – with Luke, overwhelmed by sudden, difficult parenthood furiously rejecting any input from Lorelai who has gone from warmly welcoming Jess to sternly reprimanding him as a Grade A douchebag.
They make up, of course, but not before Danish Day at the diner is ruined for Lorelai when Luke refuses to sell Rory, who he knows is a proxy for his confrontation-avoidance mother, two coffees and two Danishes, leading to a King Solomon-esque division of breakfast spoils that pleases no one, that leads to this hilarious mother-daughter exchange:
Lorelai – What is a Danish without coffee?
Rory – The eternal question springs up again.
Lorelai – Sad Danish. Lonely Danish. Step-Danish.
Lorelai eventually gets her Danish – Luke breaks the rules by way of apology the next day and gives her an impromptu replacement day – and all is well; but for a moment everything pivots on a flaky, fruit-filled crust, the very equilibrium of Stars Hollow hanging in the balance.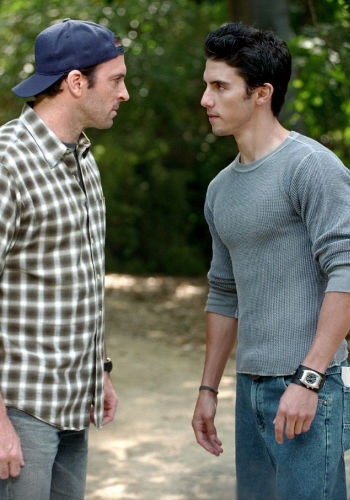 The initially virulent antagonism between Luke and Jess also gifts us with possible the finest, yes finest, piece of visual slapstick in the show's seven season history when Luke, fresh from arguing with Jess over his theft of money from a charity pot in Taylor's grocery store, pushes his nephew straight into the town's pond as they walk angrily across the quaint wooden pedestrian bridge.
Done flawlessly and with one effortless push of Luke's muscular left arm as they walked side-by-furious-side, it is hands down a glorious piece of theatre, not simply because it is damn funny but because it underscores in one simple scene just how far off being ready to be a parent Luke is, illustrated too by his insecurity-fuelled argument with Lorelai the night before.
Granted Jess isn't exactly Nephew of the Month and he did blow off yet another of Sookie's (Melissa McCarthy) anxiety-suffused cooking extravaganzas in honour of his arrival – in his favour he quickly realises Rory is a literature-loving soulmate, a rare tender moment in an episode full of angsty interactions including a series of tense moments between Rory and Paris (Liza Weil) in full mean girl mode as editor of school paper The Franklin – but clearly the man needs help and is sensible enough, when the epiphany arrives, to ask for Lorela's more than capable help.
The episode, as always is packed to the brim with pop culture references, an elegant shorthand for a whole series of rich character moments:
Music: The aforementioned Elvis Costello and "Girl From Mars" by Ash and a whole lot more including the Bee Gees, The Sonics and The Doors.
Film: The Breakfast Club and The Godfather get a look in, as does of course the titular sources for the title and even West Side Story.
Books: Oliver Twist by Charles Dickens, The Mojo Collection: The Greatest Albums of All Time, from which Lane draws her under-the-Mrs-Kim-radar record requests, and Howl and Other Poems by Allen Ginsberg, a slim volume that Jess purloins from Rory's bookcase and which is returned, thanks to Jess having read it 40 times or so, packed full of pithy, insightful margin notes.
And no episode would be complete without life in Stars Hollow being given a cinematic frame of reference, with Lorelai supplying this gem when pitching the disastrous welcome dinner to Luke:
"Sookie will cook, Rory will be there. It'll be a little 'Hey, welcome to Stars Hollow and see, everyone here's not straight out of a Fellini film' kind of an evening."
It is but one choice piece of expertly-crafted dialogue in an episode which flawlessly introduces a new character, sets up a slew of future plot points including the complicating prospect of future romance for Rory, and yes Luke and Lorelai too, and reminds us that even the gilded halls of fairytale Stars Hollow could be pleasingly tarnished with dramatic tension now and then to great, ongoing effect.