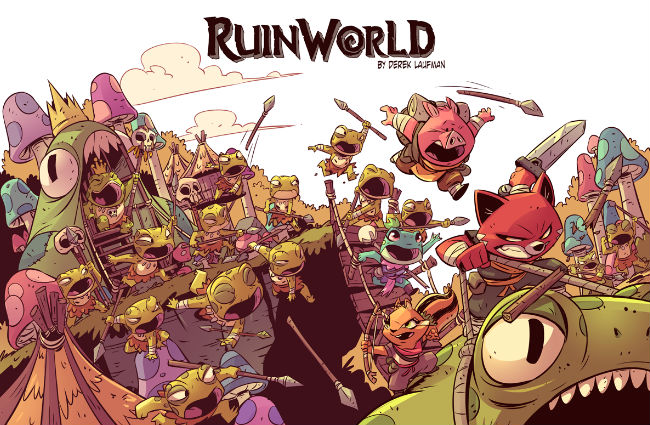 SNAPSHOT
RuinWorld is a fantasy adventure comic about treasure a couple of hunters that find themselves in a heap of trouble after stealing a cursed chest. (official synopsis via Ruinworld/Tapas)
If you're ever tempted to steal a cursed chest in a land replete with fantasy and adventure, and some damn fine quirky art, then you might to think again.
Then again maybe not, if you're treasure hunters Pogo and Rex and you want to be as entertaining as Canadian Derek Laufman, a resident of London, Ontario, Canada where he runs an independent game studio called Half-Bot, has made his thoroughly delightful webcomic, Ruinworld.
Pogo and Rex are an absolute delight, fully-formed and possessed of considerable whimsical personality which invests their story, which is 13 episodes old and available as a digital or physical collection, with a huge amount of fun, drama and idiosyncratic flair.
Ruinworld is a cut above your average webcomic, with the narrative, artwork and charactarisation at the top of its game.
It's an absolute joy to read and it's justifiably attracting some attention.
So dive on in, get on the road with Pogo and Rex and see where adventure, and Laufman's gorgeous storytelling style, takes you.