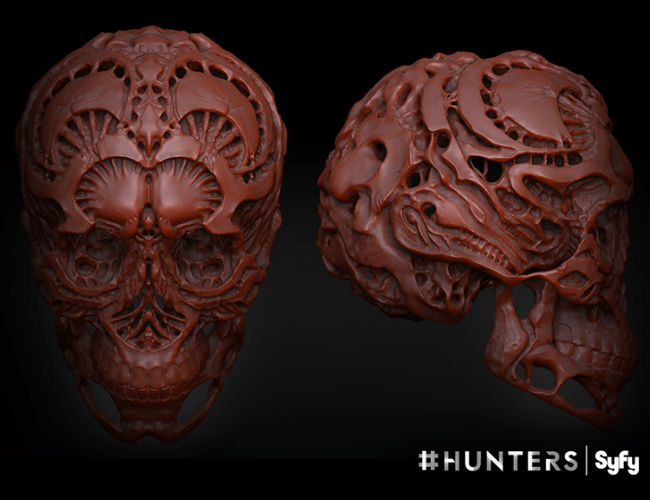 SNAPSHOT
From executive producers Gale Anne Hurd (The Walking Dead, The Terminator trilogy) andNatalie Chaidez (12 Monkeys, Heroes), Hunters is inspired by Whitley Strieber's best-selling novel, Alien Hunter, in which the disappearance of a decorated FBI agent's wife leads him to a secret government unit assembled to hunt a group of ruthless terrorists – shadowy figures that may or may not be from this world.

The series stars Nathan Phillips (Wolf Creek) as Flynn, a headstrong Baltimore FBI agent with a dark past trying to piece together the disappearance of his wife. Britne Oldford (American Horror Story) will play Regan, who is one of the government's most valuable operatives and may be keeping secrets of her own. Julian McMahon (Nip/Tuck) portrays McCarthy, an unhinged junkie and Hunter cell leader.
If aliens attacking us in broad daylight from the skies in enormous spaceships isn't bad enough, now they're lurking among us, stealing bodies and doing goodness-knows-what with them.
Recalling the ill-fated series Dark Skies, in which aliens had infiltrated Earth and it became increasingly difficult to tell who was human and who was not, and hence who was friend or foe, Hunter gives a world in which aliens are kidnapping people, presumably as part of some grand plan to subvert humanity for their own nefarious ends.
Based on the book Alien Hunter by Whitley Strieber which is either unputdownable gripping fiction or a great big pile of inconceivable tosh depending on which review you read – and I'm guessing your tolerance for over the top plotting and pacing – the 13 episodes of Hunter season 1 are an addition to syfy's programming of which they're understandably quite pleased, according president Dave Howe:
"We were so impressed by the pilot script from this outstanding and accomplished creative team led by Gale Anne Hurd and Natalie Chaidez. This fast-paced and innovative story takes viewers inside a chilling yet all too familiar world. Adding Hunters to new series such as The Expanse, 12 Monkeys, and the miniseries Childhood's End, provides us with a formidable lineup of diverse, high-end science fiction." (Variety)
With people like The Walking Dead's Gale Ann Hurd producing, the odds are good that Hunters will be less sensationalist fiction and more a thinking man's alien invasion with a bit of blood-and-gore, shock-and-awe thrown in.
Hunters premieres April 2016 on syfy.