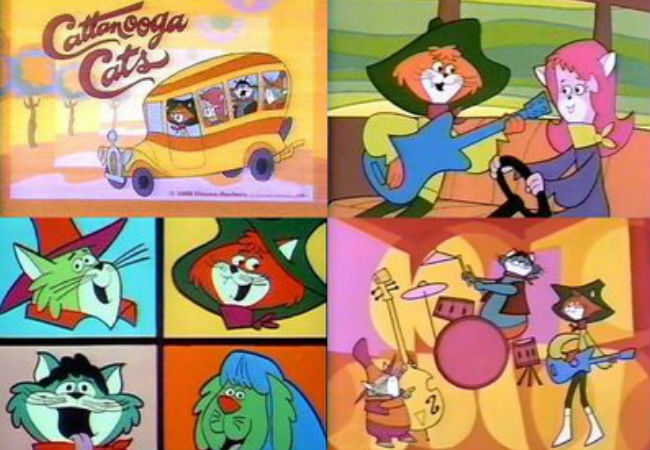 I have always been a contrary pop culture consumer.
That is to say, without any deliberate intent to swim against the tide, I have often ended up liking programs or characters or songs that never really captured the full attention of the zeitgeist with the result that my top 5 or 10 of anything such as my favourite ABBA songs, or in this case Hanna-Barbera cartoons, rarely bears much resemblance to the ones chosen according to prevailing popular opinion.
In the case of Hanna-Barbera cartoons, that means whereas most people would choose The Flintstones, Scooby Doo or The Banana Splits as their favourite programmes – all, I must hasten to add, eminently worthy choices especially The Banana Splits which is likely one of my most-loved childhood cartoon programs of all time – I usually end up plumping for shows like The Quick Draw McGraw Show (feat. Snagglepuss), The Atom Ant/Secret Squirrel Show, and of course the Cattanooga Cats, which ran from September 6, 1969 to September 4, 1971.
This pop culture consuming contrariness, it should be noted, started at any early age.
As a young boy newly arrived back in Australia from Bangladesh (i had barely discovered TV existed, let alone the wealth of programs on it), there was something utterly engaging about the psychedelic look and hippie-inspired vibe of the Cattanooga Cats, a show whose format was not that dissimilar to The Banana Splits, save for the absence of the live action segments which gave the latter show much of its appeal, along with the goofiness of its lead characters.
Unlike The Banana Splits, however, the show wasn't a ratings success – which naturally meant I was unnaturally attracted to it long before I even understood what ratings were – and spent its brief two year lifespan having its format tweaked considerably.
The first season (1969-70) most resembled The Banana Splits model with the eponymous Cattanooga Cats gloriously psychedelic musical numbers and adventures sandwiched around three cartoons, Around the World in 79 Days, Motormouse and Autocat and my enduring favourite It's the Wolf!, (which starred an uncredited but utterly unmistakable Paul Lynde), in an hourlong show.
By the second season, the latter two cartoons were off on their own in a half hour show, with only Around the World in 79 Days staying to keep everyone's favourite anthropomorphically musical groovin' cats company, who were reduced to musical numbers only.
It's a pity it didn't do better ratings-wise because it was packed full of seriously cool music, brilliantly-imaginative visuals, memorable characters and sort of kooky repetitive plots that kids usually love.
I certainly do but then, need I remind you, I am one odd cartoon-watching duck at times.
My favourite characters were not, as you might expect, the Cattanooga Cats, charming and quirky though they were but the cast of It's the Wolf!, more correctly pronounced as "it's the wool-uff!", who were engaged in a Roadrunner and Wile E. Coyote routine that never got old.
That had a great deal to do with the fact that the three central characters – the determined but hapless baddy Mildew Wolf (Paul Lynde), irrepressibly upbeat and capable Lambsy (Daws Butler) and his ever-ready protector Bristle Hound (Allan Melvin) – were all so hilariously memorable.
Their scripts were fit to bursting with the sort of catchphrases and oneliners that kids my age adored and frankly even now get me more than a chuckle.
Granted it was the same schitck over and over but it was a well-written schtick with characters that were an immense amount of fun to watch and as a result I was happy to watch them over and over again.
That's not to say that Motormouse and Autocat – a motorised cat-and-mouse narrative featuring amazingly over the top cars and witty banter where motorcycle-riding Motormouse was never bested by Autocat, of course – and Around the World in 79 Days, a serial based somewhat on Jules Verne's Around the World in Eighty Days, weren't a bundle of fun too but there was something about Mildew's camp doggedness, Bristle Hound's unfailing protectiveness and Lambsy exuberant cockiness that made me laugh and won me over every time.
The heroes of the stories, naturally, though, were always the Cattanooga Cats, the members of which have been described thus on the Cattanooga Cats page of the Hanna-Barbera wiki:
▪ Lead singer/guitarist Country (voiced by Bill Callaway); drives their tour bus, the Gashopper
▪ Singer/dancer Kitty Jo (voiced by Julie Bennett)
▪ Upright bassist Scoots (voiced by Jim Begg); his Magic Crayon could create anything as can get the Cats out of a tight spot from thin air (for example, in "Autograph Hounded," Scoot's Magic Crayon came up with a cake by which Chessie the Autograph Hound was plastered with)
▪ Drummer Groovy Groove (voiced by Casey Kasem); fond of speaking in rhyme
It won't surprise you that they were constantly pursued by a groupie/stalker called Jessie the "Autograph Hound" (also voiced by Julie Bennett and that their songs and clips were as '60s out there as you could possibly hope for.
I have to confess that as a youngster I found the musical interludes a little boring, none too thrilled with their wacky colours and dream-like visuals but as an adult I can appreciate why they were so popular, why an album of their music was released – sadly no longer in print with no plans to release digitally or on a physical format – and how wonderfully they captured the musical spirit of the era.
Obviously as a youngster I had no concept of how revolutionary the 1960s actually were in so many respects but one thing was clear – the Cattanooga Cats were unlike anything else I'd seen in cartoons to date, a breathtaking departure from the usual amusing, though conventional characters I was used to, the product I would like to think of a great deal of pot smoking in the animators' and writers' rooms.
And while I obviously can't in any way confirm the last speculative point, the fact that they were so different spoke to something inside me, that enduring part of me that appreciates it when animators push the boundaries, have some fun with their characters, even if it is within the bounds of a conventional format, and give us cartoons that are unlike anything else on at the time.
It may not have set the world on fire but Cattanooga Cats remains for me the high water mark of quirky cartoon creativity, proof that for every contrary pop culture consumer like myself, there's an equally contrary creative type waiting to tickle their fancy in ways they never thought possible.
"Wavy chitlin' gravy!"