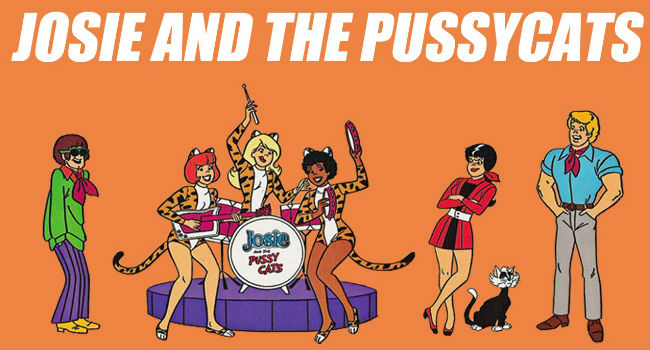 I like to think of myself as being a fairly self-aware kid, in touch with my emotions, willing to think through the big issues, and creatively critical where needed.
But hey, at the end of the day, which by the way were sooooo much longer when I was younger, I was a kid and so there was quite a deal about the books I read, movies I saw and TV shows I watched that slipped right past me.
Such as the fact that many Hanna-Barbera cartoons were, in one way or another, partial or sometimes full carbon copies of each other, visually and narratively.
Take Josie and the Pussycats, part of a considerable wave of shows in the 1960s and early 1970s that featured travelling singers – think The Partridge Family, The Monkees, The Cattanooga Cats and The Archies – solving crimes, scaring off ghosts, helping people and just making the world a better place.
It was a well-worn template that offered endless narrative possibilities; after all when your band could go anywhere and interact with pretty much anyone, what couldn't you do with them?
Well, being wholly original, as it turns out.
While the characters in Josie and the Pussycats were engaging and fun to spend some time with – let's face it when you're a kid and there's only so much cartoon-watching time available, that's pretty important – what they got up to wasn't exactly out of the box different.
It wasn't even what the characters got up to in the original comic book series by Dan DeCarlo from Archie Comics.
In fact when band members Josie (voiced by Janet Waldo/sung by Cathy Dougher), Valerie (voiced by Barbara Pariot/sung by Patrice Holloway) – the first African-American female character on a regular Saturday morning cartoon series – Melody (voiced by Jackie Joseph/sung by Cherie Moor), roadie Alan (voiced by Jerry Dexter), manager Alexander Cabot III (voiced by Casey Kasem) and his twin sister Alexandra Cabot (voiced by Sherry Alberoni) and her cat Sebastian (voiced by Don Messick) made their debut in the episode "The Nemo's a No-No Affair", they were a marked change from the characters in the comics.
They were almost much more different with Hanna-Barbera initially fighting the idea of Valerie, whom Alexander sometimes displays interest in, being African-American, their vision being for an all-white group it seems.
But the production company behind the recordings, La La Productions, run by Danny Janssen and Bobby Young – the idea originally was to have a live group sing a song at the end of each episode but this was dropped when the show went into production – held their ground, Hanna-Barbera acceded and we have the Josie and the Pussycats we know today.
Like many Hanna-Barbera cartoons, the run of Josie and the Pussycats was relatively short, accounting for only 14 episodes in their original iteration and then 16 episodes in their Josie and the Pussycats in Outer Space incarnation.
But again, that was something I really didn't notice as a kid, and I probably watched the same episodes over and over, illustrating once again that you tend to be a whole lot less critical in childhood than you are as an adult.
Nor did I notice the fact that the show drew really heavily on established Hanna-Barbera properties such as Scooby-Doo: Where Are You!, Jonny Quest, Space Ghost, and Shazzan – they shared voice actors too with Casey Kasem voicing both Alexander Cabot III and Shaggy Rogers at the same time – and in many respects hewed faithfully to the whole idea of wide-eyed kids solving mysteries, righting wrongs and making things right and annoying the hell out of the bad guys.
So, so much Scooby Doo right?
Well yes, but honestly there's such a charm to this show that you're willing to overlook the great similarities with other Hanna-Barbera shows.
Granted characters Alexandra are trope-heavy nasty, Sebastian laughs just like Muttley and the band have an amazing ability to put their stage and instruments together in no time flat even after the ship carrying them has sunk, and sure there are odd narrative leaps and continuity mishaps but somehow Josie and the Pussycats rose above all the visual and thematic sameness and became its own charming cartoon series.
Like many a Hanna-Barbera character, the Josie and the Pussycats gang had a chequered post-run life, with their last animated appearance taking place in a 1973 episode of the New Scooby-Doo Movies.
They were supposed to appear in the Battle of the Network Stars spoof Laff-A-Lympics but legal issues put paid that to that, leaving Josie and the Pussycats to live on in NBC re-runs in 1975-76, VHS releases in the 1980s, and even small song snippets in 2001 on The Cartoon Network and a 2016 comic book series.
But when a show has been a part of your childhood, no matter how derivative it might appear to adult ideas, it never really goes away and ceases to be appealing, at least in some form and so it is with this show which continues to be a delightful way to spend some time, with songs sung over chase scenes (of course) and a sense that no matter the evil, even a pop band with no military or espionage experience can tame them.
And in these current fraught times, that's kind of comforting.