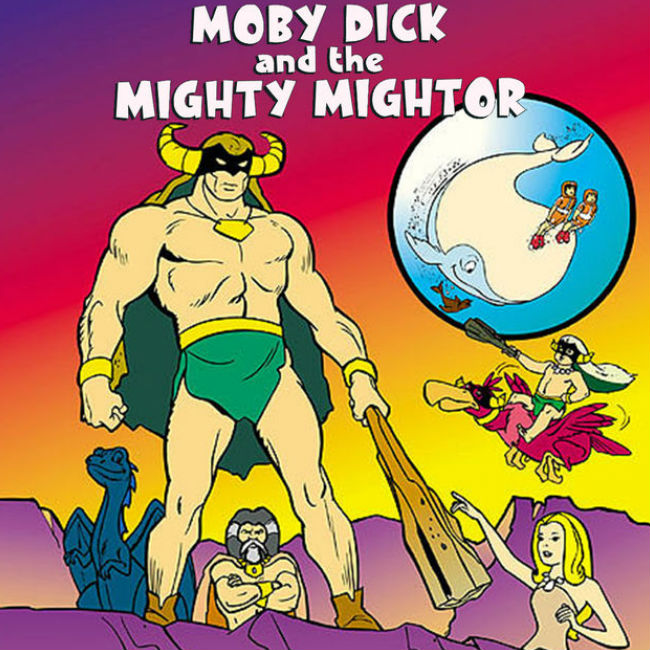 Created by Alex Toth, an American cartoonist whose work successfully bridged the worlds of comics books and Hanna-Barbera cartoons (Space Ghost, Herculoids), Moby Dick and the Mighty Mightor was a sci-fi animated series where the title inversely reflected the weighting of the protagonists featured within.
In each episode of this series, which ran from 1967-1969 on CBS (18 episodes in total), there were three segments with Mightor bookending the sole one of Moby Dick, with each full episode lasting a nice child-friendly 22 minutes.
Mightor (voiced by Paul Stewart) was, despite his secondary place in the title, the main hero of the piece, a prehistoric man of superhuman strength and endurability who, along with his fire-breathing dragon sidekick Tog (voiced by John Stephenson) saved the village of chief Pondo (Stephenson again) and daughter Sheera (Patsy Garett), the perennial damsel-in-distress, over and over again.
In reality, Mightor was the transformed version of Tor (voiced by Bobby Diamond) who, thanks to a magical club given to him by an old man he saved, was able to pack on the muscles and the superhero ability, any time he wanted.
As with any hero, he had his fans, particularly Little Rok (voiced by Norma MacMillan), Sheera's younger brother, who rode through the sky on his bird Ork (Stephenson again), pretending to save the village, sometimes simultaneously with Mightor, which, not surprisingly, caused all kinds of problems.
It was, admittedly not sophisticated storytelling with a grave threat presenting itself – stampeding dinosaurs controlled by an evil, green-eye glowing exiled villager (ep. 1 "The Monster Keeper") or an invading would-be despot (ep. 4 "Brutor the Barbarian") – everyone in the village running in fear and Mightor, through overwhelming strength and heroism, saving the day.
Not that he really got thanked for with the prehistoric superhero disappearing off from whence he came and Tor, noticeably absent every damn time, reappearing as he left.
Just like Superman, no one seemed to notice the Tor gone-Mightor there dynamic, and Sheera especially treated Tor like some dissolute, cowardly waste of space, a status he seemed content to endure.
As a young gay man of just 10, I have to admit I was transfixed by how masculine and muscular Mightor, and yes Tor were, although it was something I realised later as an adult; at the time they were simply brave, heroic superheroes who saved the day and vanquished the bad guys every time.
As a kid getting horribly bullied at school for my sexuality, the appeal of a bully-vanquishing hero was undeniable, and so I looked past, aided by the unfiltered adoration of childhood, the repetitive storylines, gender imbalances, clunky narration and exposition – much of the time it's like being trapped in a cinema next to two old dears who insisted on stating the obvious through every scene of the movie – and the cutsieness of it all.
After Mightor always won out, and who didn't want that kind of success rate, no matter how old you were?
Moby Dick on the other hand, while he won out just as regularly as his show mate, was more explorative, over the top fun.
There wasn't a single tight crevice, or small rocky wall or giant sea creature that Moby, fortunately not pursued by Captain Ahab, couldn't push his way through, demolish or crush and kill, and so his two human companions Tom Tom (voiced by Bobby Resnick) and Tub (voiced by Barry Balkin) and their dog-like seal pal Scooby (voiced by Don Messick) – cross promotion much? To be fair Scooby Doo did come slightly later – stuck pretty close by.
Oddly they never showed any real inclination to return to their uncle's ship – not that you ever saw anyway; you had to assume they had or that Moby had officially adopted them which frankly wouldn't be the weirdest thing ever in a Hanna-Barbera cartoon – a fairly important part of their backstory touched on in the introductory exposition (Mightor had a similar plot-saving intro device).
Regardless of their parenting arrangements, and their dubious ability to stay underwater for ridiculously long period of times, Tom and Tubb were a lot of fun to watch, getting up to all kinds of adventures, pretty much all of which ended in them getting into trouble and having to be saved by Moby while Scooby "barked" ineffectually nearby.
Again, not terribly sophisticated storytelling, and one that featured, through adult lens and sensibilities, a considerable amount of wanton death and destruction – not for Hanna-Barbera the cartoon-esque deaths of Warner Bros. Looney Tunes – and some morally questionable activities (invade an underseas realm and kill the inhabitants when they defend themselves? Why sure!), but delightfully escapist and just what the fleeing-from-the-reality-of-bullying doctor ordered.
Though the characters from the show lived on in various forms after their headlining demise – they guest-starred in the final six episodes of Space Ghost and even had cameos in Scooby-Doo! Mask of the Blue Falcon – Moby Dick and the Mighty Mightor was their brief moment in the sun.
Even so for all the brevity of the show, it had a profound impact on me, offering me escapism, bold adventure and characters who were deeply appealing (for all kinds of reasons) and really, as a kid, and yes, even as a semi-critical adult rewatching it and laughing knowingly as its weird plot devices and narrative quirks, that's all you want from a cartoon show.