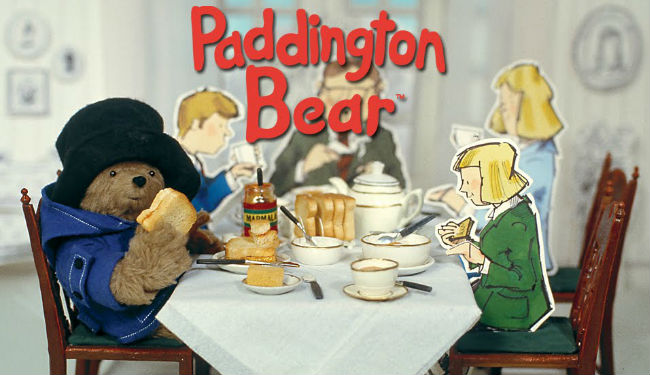 Michael Bond's Paddington is a delight any way you come to meet him.
Whether it's through the enormously charming books, the first of which, A Bear Called Paddington, was published in 1958 following the author's purchase of a single teddy bear sitting on a shelf in a store near Paddington Station on Christmas Eve 1956, or through the modern movies which have given new life to everyone's favourite bear from deepest, "darkest Peru", Paddington has made his mark on the hearts and minds of many children in his near-60 years in the pop culture firmament.
While I first him through the books, being the inveterate bookworm that I am, Paddington truly entrenched him in my life through the animated series that debuted on the BBC in 1976.
Scripted by Michael Bond himself, the short 5 minute episodes were a mix of puppetry and paper cut-outs against a three-dimensional background which actually work really well.
From the first episode, where the Brown family meet Paddington at the station from which he took his name right through to the final of three specials in 1987 (Paddington's Birthday Bonanza), the show effortlessly conveyed the bumbling, sweet innocence of this remarkably well-intentioned bear.
Much like the modern movies, the series absolutely captured the very essence of Bond's much-loved creation, filling each perfectly-contained episode with the wit, whimsy and feel-good charm of the books.
But the animated series, which is variously known as Paddington or The Adventures of Paddington, and was broadcast in Australia in the 1980s, went beyond that, bringing the characters and the setting to life in the most playful and visually-amusing of ways.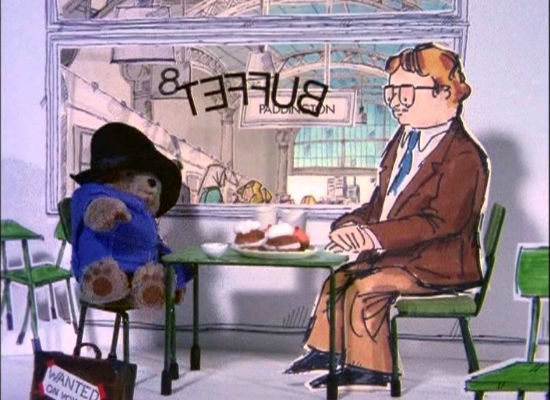 Take one of the first episodes when Paddington goes to buy some new pajamas.
Surely not much can happen there, even to an gleefully accident-prone bear such as Paddington? Ah, but you might be surprised.
For wandering off in search of a changeroom and carrying luridly-colourful PJs that appealed to the small bear but had been hitehrto shunned by other shoppers, Paddington ends up going to sleep in what turns out to be one of the shop windows.
He awakes to a huge crowd outside the windows, and profuse thanks from management for reviving sales in what had been a moribund sales week.
Or take Paddington's first visit to the London Underground to catch a train where he ends up on a perpetual loop on the escalators, attracting the ire of a beleagured ticket inspector who says that people can't treat the escalators like a toy.
When one of the Browns point out that Paddington is not a person but a bear, the inspector is stumped and everything ends amicably.
Both episodes, and pretty much every other one of the 56 episodes that made up the series produced between 1976 (series 1) and 1979 (series 2) – with three TV specials following in 1983 (Paddington Goes to the Movies), 1984 (Paddington Goes to School) and 1987 – conveyed the same mix of good intentions, chaotic fun and sweetnatured outcome where lessons were learnt, Paddington comes out smelling likes roses and the world is a kinder, lovelier place.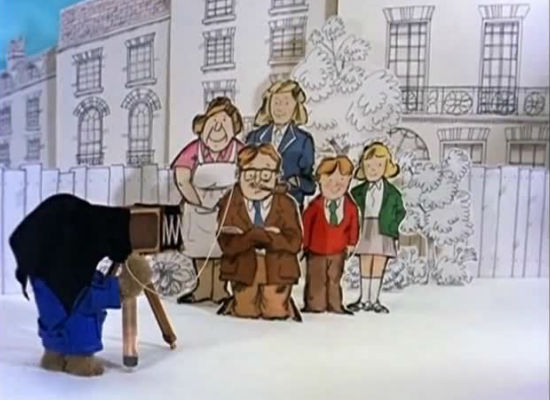 It's essentially Paddington in any form really but the animated series brought it so delightfully well to life that it become it's own sweet but all-too-short world.
Even as a teenager I was beguiled by the way the show looked, entranced by the decision to mix animation styles, giving the show its own quite distinctive look.
Paddington already inhabited his own gorgeous little world anyway but The Adventures of Paddington took it from my imagination, which had already done some fun things with it, onto a far broader canvas, in the process taking Paddington to more and more people in these nugget-sized stories that made you feel good about the world at large.
After all, while Paddington was an innocent abroad and could easily have been taken advantage of and abused of his trust in people, he always won out, emerging on top, with the people around him changed rather than the other way around.
That's not to say that Paddington didn't develop and grow because he mostly did but it was good and beneficial ways, his experiences even more wonderfully transforming the lives of those around him.
And there was just something about the way the series looked, and Michael's Hordern's voices (he voiced every single character), that amplified that effect, allowing someone like me, teased and bullied day in and day out, and at the mercy of a fairly nasty day-to-day world, to feel like maybe I too could emerge on top.
Honestly at the time, it didn't look that way but as I left high school and went to university in 1984, and took Paddington with me in my heart (and maybe in a book or two), I discovered that fanciful though it might have felt, that perhaps Paddington's guileless approach to life could work in real life too.
Whether that ultimately proved to be true or not, the fact of the matter is that The Adventures of Paddington was, and continues to be a supreme delight, one of the many beautiful ways to meet and get to know this most remarkable of bears.