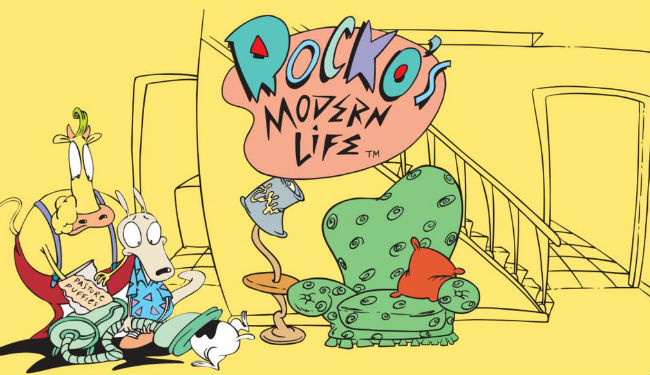 I have always liked my cartoons larger-than-life, super-absurd, colourful, silly and full of clever ideas and witty oversized characters.
In other words, just like Nickolodeon's '90s classic Rocko's Modern Life.
Created by Joe Murray, who originally invented the character of Rocko the wallaby for a comic book series that never saw the light of day, the series rang for 4 season (1993-1996) and 52 episodes, sporting a theme song by none other than the B-52s.
Every single one of those 52 episodes was an exercise in imaginative insanity, taking a basic idea such as O-Town residents  Rocko (voiced by Carlos Alazraqui) and his best pal, super excitable steer Heffer (Tom Kenny), joining a gym or going shopping with a credit card they couldn't afford and … RUNNING WITH IT.
It didn't matter how outlandish, madcap or downright nuts, the idea was, it often made it in which is how you end up with episodes such as "Jet Stream" which has just about every outlandish, weird thing that can happen in airline travel such as misplaced bags (off in space being with by aliens), annoying kids (off to the overhead luggage compartment with you) and dubious maintenance standards (plane held together by tape anyone?) parodied like there is no tomorrow.
It's that element of deliciously-realised parody of the beige-mundanities of life that makes Rocko's Modern Life such an effervescent, technicolour delight.
Lampooning was not simply done for the sake of a great visual gag, although there were many of those, but with a clear intent in mind to expose the absurdity of consumer culture ("Who Gives a Buck?") or lack of understanding of where our food really comes from ("The Good, the Bad and the Wallaby").
In other words, all that screwball, hyper-real absurdity had a point and damn good, finely-realised one that meant you were laughing, and laughing often, but always with your brain engaged too which made all the pleasure of Rocko's company all the more rewarding.
It was silliness with brains, and it worked an absolute treat.
But all that inventive parodying, and imaginative artwork – everything resembled a warped Salvador Dali-creation from the doors and furniture to the buildings and car; O-Town was not a town in love with symmetry – wouldn't have meant nearly as much without characters you gave a damn about.
In that respect, Rocko's Modern Life excelled too.
Central to the absurdist theatre was the enduring friendship of thoughtful, cautious Rocko and garrulous, impetuous Heffer.
Like many BBFs, they annoyed the heck out of each other at times – to be fair it was mostly Heffer annoying Rocko who ended up in all kinds of weird scrapes and situations thanks to his ill-thinking "woohoo let's do it!" friend – but they always had each other's backs, were solid company for each other and got through the oddities of life in O-Town, one fuelled by its owner Conglom-O Corporation which had as its not entirely reassuring slogan "We Own You".
Their relationship gave the show, which was known for its racy humour – it once has a chicken outlet called Chokey Chicken, changed to Chewy Chicken when its connection to a particularly pleasurable solo act was made a thing of – and Looney Tunes-esque scenes, a great deal of its emotional resonance.
With that anchoring of real, solid, true friendship, Rocko's Modern Life would not have had anywhere near as much appeal.
After all, all the great over the top parodies have always had a central emotional core underpinning their adventures in the out-there and the extreme, and Murray's creation was no different, giving something to care about as we clutched ourselves laughing.
Throw in a neurotic turtle named Filburt (Mr. Lawrence), Rocko's adorably faithful dog Spunky (Alazraqui) and the toad couple next door Ed and Bev  Bighead (Charlie Adler) and you had an impressive cast of characters that made watching the show as nourishing for the soul as it was a treat for the eyes and the mind.
This was cartooning writ large, with bold ideas, a willingness to push the envelope until everything crazy and colourful burst through, brilliantly-outsized characters and narratives that went there and back and then all way back there again, an underrated cartoon series that showed us clever the artform can be if you have a bunch of people brave enough to play around with it and see what happens.
For more detail on Rocko's Modern Life, check out Wikipedia and Mental Floss.

* For lots more fantastic Rocko's Modern Life clips, go to NickSplat on YouTube.
But wait! There's more …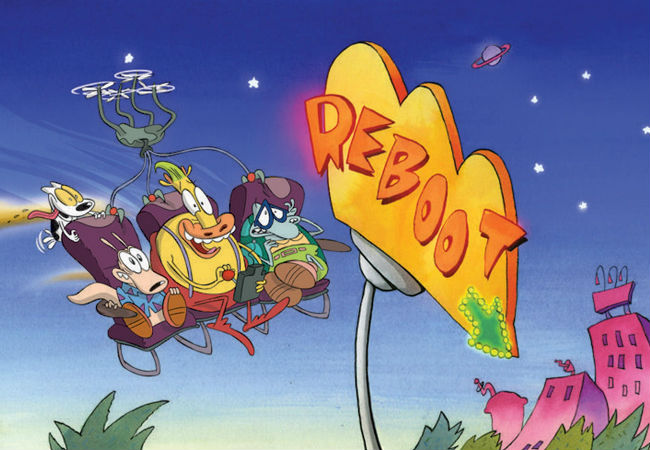 Putting the "modern" back into Rocko's Modern Life is a brand new reboot movie from the original creators and with the original voice cast that sees the gang grappling with an altogether different decade to their beloved '90s as EW details:
"After having been blasted into outer space with Heffer and Filburt in 1996, Rocko returns to Earth and struggles to fit into the world that the 21st century has long since accepted. Food trucks, iPhones, energy drinks, 3-D printers, and social media are all ripe for skewering by the gang."
Rocko, heffer and Filburt with iPhones, superhero blockbusters and food gone mega-sized and postmodern? This will be a hoot of a parody!
For more on the reboot, slated to debut in 2018, go to Entertainment Weekly.