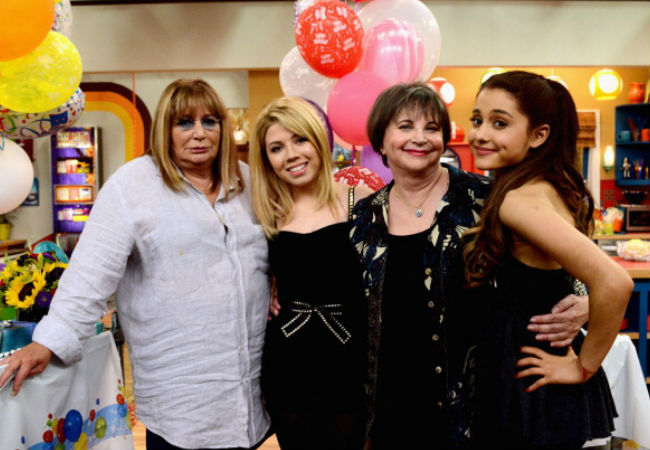 "1, 2, 3, 4, 5, 6, 7, 8 Schlemiel! Schlimazel! Hasenpfeffer Incorporated! We're going to do it!"
With these distinctive and instantly memorable opening lines, the two Milwaukee brewery workers with big dreams of a better life, Laverne (Penny Marshall) and Shirley (Cindy Williams) would lock arms, give each a reassuring look and head out on out into the wide world supremely confident they could conquer anything if they faced it together.
Alas in the years that followed Laverne and Shirley's 8 year run from 1976-1983 – Cindy Williams exited the show early after a contractual dispute with Paramount Television over her 1982 pregnancy – the two actors went their separate ways, refusing to even speak to each other at one point.
But that feud, which both insist was overblown by the press, ended long ago, with 70 year old now-director Marshall and the 66 year old stage actor Williams telling nydailynews.com:
"Cindy and I are fine," says Marshall.

"When we shot the show, Penny and I drove to the studio together," says Williams. "We're in touch all the time."
Proof that their days of enmity are long behind is their reunion on the newly launched Nickolodeon Sam and Cat, which brings together the stars of the two popular shows Jeanette McCurdy from iCarly and Ariana Grande from Victorious as two roommates who launch a babysitting service they call, naturally enough, Sam and Cat.
The only problem with this inspired idea for earning some extra money is that the name they have chosen is rather too close to that of a 1970s TV show called SalmonCat, which starred Marshall and Williams' characters who have not spoken in 30 years.
The girls must woo the two stars separately to get their permission to use Sam and Cat as their business name with all sorts of hijinks and allusions to the Laverne and Shirley stars once-strained but now close relationship.
The episode came about largely thanks to the Sam and Cat's creator Dan Schneider, according to Williams on foxnews.com:
"He loved our show. He wanted to do a little tribute."
It's an inspired idea and one that the two stars seem to have had a lot of fun with, even if, as Williams admitted on nydailynews.com, "We're not exactly at our fighting weight …"
Still she added, "… we thought it could be funny."
It sounds, and from the brief clip accessible via the link below, looks like an inspired idea, a clever way of bringing the two stars back together on the small screen, and in the process bringing a thrill to long time fans like myself.
The episode of Sam and Cat in which Marshalland Williams star "#SalmonCat", airs at 8pm ET on Saturday 9 November.
You can watch a 1 minute clip of Penny Marshall on Sam & Cat at huffingtonpost.com.
And below you can catch Penny Marshall's appearance on The Talk, where she discussed her friendship with Cindy Williams and their appearance on the Nickolodeon teen sitcom.