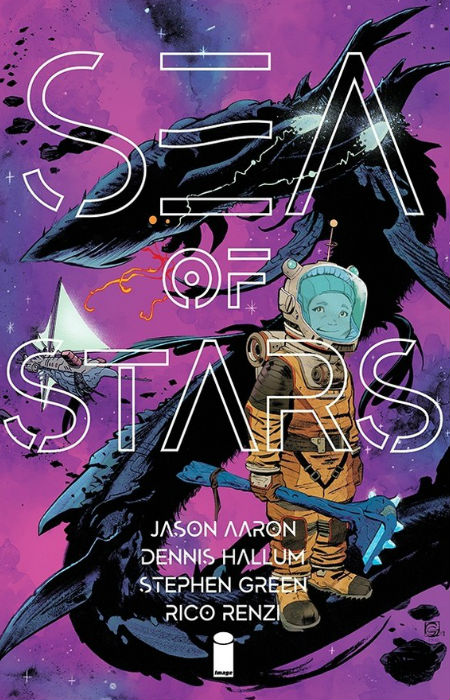 SNAPSHOT
Being a space trucker sounds like a cool job, but in reality, it can be boring as hell. So when recently widowed Gil gets a long-haul gig across the universe, he figures it's safe enough to bring his young son Kadyn along for the ride—that is, until their "big rig" gets bitten in half by a gigantic Space Leviathan! Now separated from his son—with a breached suit that's venting oxygen at an alarming rate—Gil must defy the odds and stay alive long enough to rescue Kadyn. But meanwhile, Kadyn seems to be getting all the help he needs from a talking Space Monkey riding a Space Dolphin… or maybe it's the strange powers he's suddenly manifesting?!

From the writing duo of JASON AARON (SOUTHERN BASTARDS, Thor) and DENNIS HALLUM (Cloak & Dagger, Vader: Dark Visions), with dazzling art by STEPHEN GREEN (Hellboy and the B.P.R.D.) and cosmic colors by RICO RENZI (Spider-Gwen), comes a brand-new science fiction series with all the scope and heart of the The Neverending Story crossed with the imaginative weirdness of Miyazaki—an intense, galaxy-spanning adventure that's suitable for fans of all ages! (synopsis via YouTube (c) Image Comics)
So, here's the thing – you head out on a fairly-routine run through space, confident enough in the banality of what you do for a living to expect that your son will be perfectly safe for the duration.
Yep, this is space without, so you think, the epic alien intrusions, the galactic thrills and spills and the kind of unpredictable menace; not so much Star Trek as commuting through the stars.
And then … oh yes, and then … a humongous Space Leviathan comes along, chomps on your space truck (kinda hard to avoid the word, really), ripping it asunder and separating you and your beautiful son, all that remains of the slose, small family you once had.
What can possibly save the day? Why a Space Monkey riding a Space Dolphin, of course!
Honestly, Sea of Stars, from Image Comics sounds all kinds of fabulously, emotionally-resonantly bonkers and I'm most definitely going to be along for the ride.
Just better stock on my Space Leviathan repellent first!