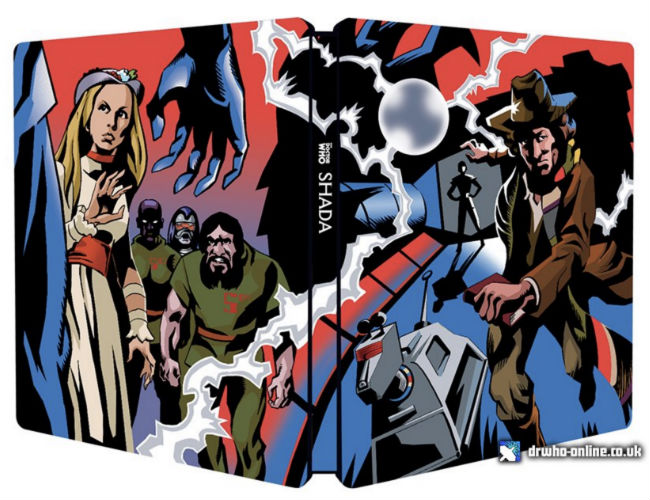 SNAPSHOT
"Shada" finds the Doctor in Cambridge working alongside companion Romana and retired Time Lord, Professor Chronotis, to defeat the evil alien Skagra who is attempting to steal the secrets to the prison planet, "Shada".
You would be hard pressed to disagree with the fact that Douglas Adams, the much lamented and greatly missed author of legedarily iconic Hitchhiker's Guide to the Galaxy, and Doctor Who are both giants of the pop culturesphere. (Yes that is now a thing, and yes, you may refer to it as such as whim takes you.)
So the idea of joining them together, especially when my second favourite Doctor Who ever, #4 played by Tom Baker – sorry good sir but I cannot deny the considerable charms of Tenth Doctor David Tennant – was firmly ensconsed in the TARDIS makes brilliant sense. I mean who could disagree with a such a sublimely imaginative combination?
Precisely no one, of course; alas, circumstances conspired back in November 1979 when a BBC strike meant that the studio filming needed to complete the episode, intended as the celebratory finale of the 17th series, was never completed as Tom Baker relates:
"'Shada' was one of my favourite Doctor Who stories. I have many fond memories of shooting the location scenes in Cambridge, and it was disappointing not to finish the story in studio. I'm so glad that BBC Worldwide have found a way to bring fans a complete visual version." (Doctor Who Online)
In a bid to bring give the Douglas Adams-penned episode the release it deserves, the team who gave us the lost Doctor Who episode, "The Power of the Daleks" and lost Dad's Army episode "A Stripe For Frazer" are hard at work restoring "Shada" to its originally-intended glory, using the voices of the original actors:
"The team have had access to nearly seven hours of raw footage from the original 1979 Shada shoot from which they are editing the new production from scratch, with all the original film negatives re-scanned in full HD and digitally remastered." (Doctor Who Online)
This augurs well for a stunning telling of this story, bringing Douglas Adams and everyone's favourite Time Lord together at last for everyone to see.
'Shada' will be available as a digital download on 24 November, and on DVD and Bluray on 4 December.