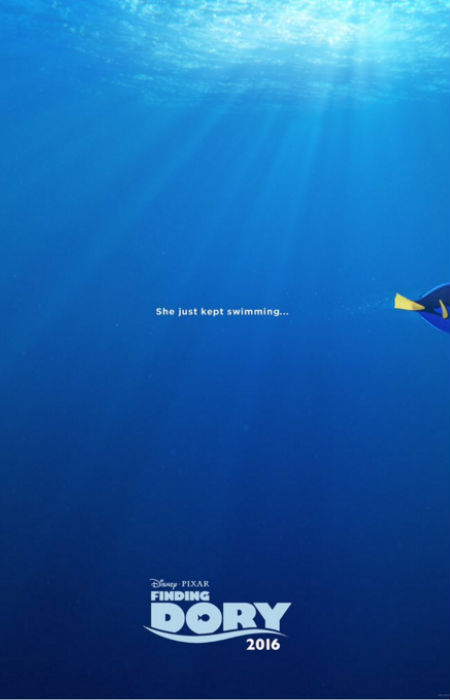 SNAPSHOT
The movie will be mostly set at the California Marine Biology Institute, a huge complex of sea life rehabilitation and aquarium, where Dory was born and raised. We will get to meet new characters, like an octopus, sea lions, a beluga whale, among others. (synopsis by Pixar president Jim Morris via Screenrant)
Ah dear sweet, forgetful Dory.
Supportive faithful friend, accidental hero, and one of the main reasons that 2003's Finding Nemo was such a delight.
Voiced by Ellen Degeneres, who at the time of the first film's launch was an aspiring day time talk show – the rest, as they say is history, with Ellen now firmly in the position once occupied by Oprah – Dory was crying out for her very own sequel.
Well, she would've had if she'd remembered she actually wanted one.
Thankfully, in the sequel, set a year after the original film, Dory, a Blue Tang fish with short term memory loss, is living with Nemo and dad Marlin in a cosy corner of a coral reef when she suddenly remembers, and then yes, forgets again, that she has a long-lost set of parents, voiced by Diane Keaton and Eugene Levy.
"I remembered something. That's not possible, is it? Is it like a picture in your head and you think you've seen it before? I just used the word before which means I'm remembering. What was I talking about?" (Dory)
Impelled to go find them in far off California – it turns out Dory was born at the Monterey Marine Life Institute from where she was released into the ocean – it becomes Dory's turn to bring her far-flung family back together, in the process raising the important, quite newsworthy theme of animals in captivity, one highlighted by the ongoing issues of theme parks like Seaworld and remarked upon by Ellen, who premiered the clip on the TV show this week:
"I think that fish should be in the ocean. It's what this whole sequel is about: It's about rehabilitation and putting them back in the ocean. And we have to protect our oceans".
With return appearances by Albert Brooks as Martin and Willem Dafoe as Gill, and a whole host of new underwater family members like Hank the Octopus (ED O'Neill) and Bailey the Beluga Whale (Ty Burrell), Finding Dory looks utterly charming, funny and redolent with a pithy, of-the-moment message, just like its predecessor.
Dory may forget to go see it but it's highly likely we won't when Finding Dory opens in Australia on 16 June 2016 and in USA on 17 June.